Who are the cast of Fake Profile on Netflix, and will there be a season two?
Meet the people bringing a tale of love and deception to life on Netflix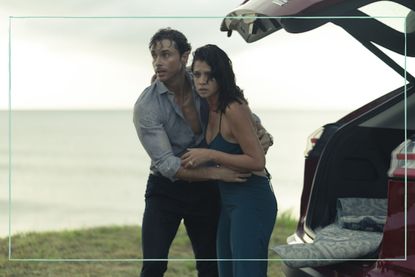 (Image credit: Renata Bolívar/Netflix/Future)
Goodto Newsletter
Parenting advice, hot topics, best buys and family finance tips delivered straight to your inbox.
Thank you for signing up to GoodTo. You will receive a verification email shortly.
There was a problem. Please refresh the page and try again.
Who are the cast of Fake Profile is the question on everyone's lips, as the stellar actors bring the compelling tale of love and secrets to life.
Netflix drama Fake Profile sees Cabaret dancer Camila create an online dating profile, in search of her perfect love. Matching with cosmetic surgeon Fernando, their instant connection leads to many steamy hook ups in Las Vegas. Things go rapidly downhill when Camila surprises Fernando by visiting his hometown in Colombia, discovering he is living a double life and has faked his entire identity. Taking the huge step of moving in next door to him, Camila sets out unravel Fernando's web of lies, finding herself embroiled in a dangerous game of sex, lies, and manipulation in the process.
Fake Profile follows in the footsteps of another erotic infatuation drama on the streamer, that also had fans asking who stars in Obsession on Netflix? Fans were also keen to know if the show was based on a true story, while the Obsession ending was not a happy one; although this appeared to be a foregone conclusion right from the start.
Who are the cast of Fake Profile on Netflix?
Carolina Miranda as Camila
Actress Carolina Miranda is 32-years-old, and hails from Irapuato, Guanajuato, Mexico. She appeared largely in telenovelas before starring in the Netflix series Who Killed Sara?, with her most high profile telenovela role being that of Vicenta Acero in Señora Acero between 2016 - 2019.
Carolina has portrayed Bicha in the movie Infelices para Siempre, a romantic comedy that is her only big screen outing so far. Despite being catapulted to fame on Fake Profile, the actress has recently returned to her telenovela roots, starring in Land of Hope. She wrote recently on Instagram "Today is the big premiere of LAND OF HOPE. Thank you all for the love and affection always!!! Are you ready?!"
Rodolfo Salas as Fernando/Miguel
Rodolfo Salas is 40-years-old and was born in Maracaibo, Venezuela. Prior to appearing in Fake Profile, he was best known for starring as Daniel in telenovela Betty en NY - this told the story of a young Hispanic woman living in New York, finding herself constantly rejected for jobs. She eventually takes one in the fashion industry that she is overqualified for, with the show charting her challenges and quest for love.
Salas also appeared Sangre de mi tierra as Cristian. The American drama series depicted the tale of two rival family wine farmers residing in Napa, California. Clearly keen on fitness, the actor's Instagram account lists him as Head Coach, Personal Trainer, and co-founder of fitness centre Core Motif.
Manuela González as Ángela
Manuela González was born in Bogotá, Colombia, and is currently 46-years-old. Spending her junior and senior high school years in Menlo-Atherton, California, Manuela returned to Colombia to study journalism. She later switched courses to study drama, where she was quickly discovered by a casting director.
Most recently, she has appeared in hit series El Señor de los Cielos. The show follows a man from humble beginnings with a desire to become a powerful kingpin within Mexican drug trafficking - even changing his face to achieve his dreams. Manuela now divides her time between Los Angeles and Bogotá, and is married to Andrés Felipe Vasco with whom she shares a son, Pedro.
Lincoln Palomeque as David
Lincoln Palomeque is a 46-year-old Colombian actor who has appeared extensively on television since the 90s. His most high profile roles include appearances in Santa diabla (2013), Hasta que la plata nos separe (2006) and La Reina del Sur (2011).
Santa Diabla tells the story of Santa Martínez, a woman seeking revenge for the murder of her husband, with Lincoln portraying Willy Delgado throughout the telenovela's one season run. Recently sharing a picture of himself with some Fake Profile cast mates to Instagram, Lincoln wrote "A #tbt with this pair of talented, generous, and worthiest colleagues... good people, we had fun recording #perfilfalso [Fake Profile] on @netflixlat @netflixcolombia."
Victor Mallarino as Pedro
Veteran actor Víctor Mallarino is 66-years-old and hails from Bogotá, Colombia. The film and television director, producer and actor studied at the National School of Dramatic Art - an institution founded by his father, also an actor. He later studied Film and Television Production in the UK. He has two aunts who were high profile actresses.
Most recently Víctor has appeared in Conniving Renata, a tangled tale of affairs and revenge. He is also known for presenting reality shows, having fronted five altogether. He has been married four times, and is currently married to María José Gómez Turriago.
Mauricio Henao as Adrian
Mauricio Henao is 36-years-old and lived in Colombia until the age of 12 when he relocated to the US with his family. After leaving school and travelling the world modeling for the likes of Tommy Hilfiger and Calvin Klein, he moved to Miami to focus on acting. After work in telenovelas, he became known internationally for the role of Tony in Nickelodeon teen drama Grachi.
Thanks to his role as restaurateur Adrian in Fake Profile, Mauricio's profile has skyrocketed. To celebrate reaching a milestone number of followers on Instagram, he recently wrote "Family, a lot to celebrate we are 1 million here on iG, thank you all for the love. I leave you these photos that we took when I was shooting Fake Profile."
Will there be a season 2 of Fake Profile?
Netflix is yet to confirm whether Fake Profile will return for a second season. The streamer usually waits for a month's worth of streaming figures before making a decision, with this date falling at the end of June.
The series finale left the door wide open for it to continue, and it's not billed as a limited series so we are keeping everything crossed for a second outing. Once Netflix have had time to see how many people tuned in to all 10 episodes, they should let the world know of their decision; but we know they can be fickle, with fans still in outrage over the abrupt cancellation of the hugely popular Lockwood & Co.
Fans of Fake Profile have come out in droves on social media to demand a second season. One fan wrote on Twitter "Fake Profile is so good. I binged watched the whole series yesterday. I know it has to be a season 2 coming," with another adding "Fake Profile on Netflix tho! The chemistry between Carolina Miranda and Rodolfo Salas is undeniable! Season 2 plsss!!!"
Fake Profile on Netflix tho 😍🔥 The chemistry between Carolina Miranda and Rodolfo Salas is undeniable! Season 2 plsss!!! 😂😅💕June 5, 2023
See more
Keeping their demands short and snappy, others simply wrote "I need #FAKEPROFILE Season 2 @netflix" and #FakeProfile is wild lol. I need season 2. Everybody is crazy af."