What illness does King George have in Queen Charlotte: A Bridgerton Story?
The long-anticipated Bridgerton spin-off has finally landed on Netflix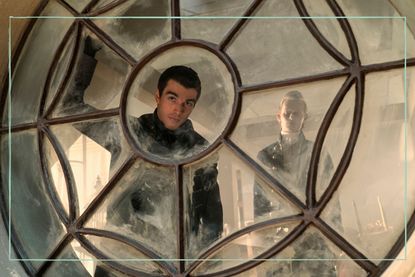 (Image credit: Netflix)
The Queen Charlotte origin story has got viewers wanting to know what illness King George has in the Netflix show.
Bridgerton fans, rejoice! Because the much-anticipated spin-off show Queen Charlotte: A Bridgerton Story has finally arrived. The prequel tells the story of Queen Charlotte's rise to power and her marriage to King George - which is sadly marred by the King's illness - and has viewers wondering if Queen Charlotte is based on a real queen, what happened to Reynolds, the King's secretary, and where the spin off was filmed, given the very regal backdrops to the show.
In seasons one and two of the original Bridgerton, King George appears only briefly, but viewers are given clues that suggest he is not in good health. The characters allude to him being unable to carry out his duties as monarch, and he no longer makes any appearance in public. And while fans will have to wait until Bridgerton season three to find out the fate of Lady Whistledown and the other members of the ton, Queen Charlotte does help to answer the question of what illness King George has in Bridgerton.
What illness does King George have in Bridgerton?
Queen Charlotte: A Bridgerton Story doesn't specify the illness that King George has, but it's implied that he struggles with his mental health. The character is based on King George III, and his illness is influenced by historical accounts of the monarch.
The main theory is that King George suffered with porphyria - a rare, hereditary liver disorder that can result in confusion, hallucinations and seizures. However, other theories as to his illness include bipolar disorder, chronic mania, and dementia.
Symptoms of King George's illness included convulsions, frothing at the mouth, rambling incoherently, bouts of depression and, later in his life, the loss of his hearing, vision, memory, and ability to walk. At one point, rumours surfaced that he'd tried to shake hands with a tree after mistaking it for the King of Prussia.
Though he suffered several bouts of mental illness during his life, after the death of his daughter, Princess Amelia, he fell into a deep depression and never recovered. He spent the last decade of his life in seclusion at Windsor Castle.
In Queen Charlotte: A Bridgerton Story, King George exhibits similar symptoms over the course of the various flashbacks. He garbles sentences, he collapses, his hands shake, and there are periods of silence where it seems as though he cannot remember how to speak. At one point, Charlotte wakes up to find him writing on the walls.
The Netflix show goes on to depict King George receiving treatment for his condition at the hands of Dr Munro, including ice baths, fasting, isolation from his family and the use of a straight-jacket.
Why doesn't King George live with Charlotte?
Initially after their marriage, King George and Queen Charlotte don't live together because George doesn't want Charlotte to know about his illness. Therefore, he leaves for Kew, where he is treated by his doctor, and Charlotte lives in Buckingham House.
However, when Charlotte becomes fed up - and suspicious of George seeing a doctor on coronation day - she takes it upon herself to find out what is happening behind closed doors. She is horrified by the way George is treated by his doctor, demanding that George leave with her and subsequently dismissing his physician.
Which King George was mad?
King George III was known as 'The Mad King'. Born in in 1738, he was two months premature and not expected to survive beyond his first night. But he became heir to the British throne after the death of his father in 1751, and succeeded his grandfather, George II, in 1760.
In 1761, he married Princess Charlotte of Mecklenburg-Strelitz, who moved from her German hometown to London. The royal couple had 15 children in total, though two died in infancy
George was the longest-reigning monarch in British history until his granddaughter Queen Victoria surpassed his tally by three years. But by the time he reached middle age, he was unable to continue ruling due to his ill health, prompting his son, George IV, to take over the king's duties, as Prince Regent. By King George III's later years, he was kept confined and out of sight, much like he is in Bridgerton.
The Royal Family's website explains, "After serious bouts of illness in 1788-89 and again in 1801, George became permanently deranged in 1810. He was mentally unfit to rule in the last decade of his reign; his eldest son - the later George IV - acted as Prince Regent from 1811. Some medical historians have said that George III's mental instability was caused by a hereditary physical disorder called porphyria.
"We may never know exactly what was wrong with George III, it may have been hypomania, but researchers studying his papers have found that breakdowns often came amid turmoil at home, including the premature death of his youngest daughter Princess Amelia from tuberculosis."
Who plays King George?
The young King George is played by Corey Mylchreest in Queen Charlotte: A Bridgerton Story. It is his first official leading role, though he has appeared on Netflix before, starring in one episode of The Sandman.
Speaking about his role to Rotten Tomatoes, Corey Mylchreest said: "George - although he's got all these demons and problems that gets explored greater depth as the series goes on - is someone that's had his whole life to get incredibly developed at putting up not necessarily a front, but he's had to be charming.
"He is surrounded by people that are constantly in awe of him or constantly requiring him to do this thing. We forget that being king is a job, and he's had to be good at that job."
Meanwhile, James Fleet plays King George in his later years. Fleet has previously starred in Wolf Manor, Operation Mincemeat and The Vicar of Dibley.
If you're after more Bridgerton news, we've got the details on everything there is to know about Bridgerton season 3, where it's filmed and a complete rundown of the season 2 soundtrack.
Video of the Week
Ellie is Goodto's Feature Editor, having joined the team as a Junior Features Writer in 2022, and covers everything from wellbeing for parents to the latest TV and entertainment. Ellie has covered all the latest trends in the parenting world, including baby names, parenting hacks, and foodie tips for busy families. She has a distinction in MA Magazine Journalism from Nottingham Trent University and a first-class degree in Journalism from Cardiff University, and previously Ellie has worked with BBC Good Food, The Big Issue, and the Nottingham Post, as well as freelancing as an arts and entertainment writer alongside her studies.