Why did Douglas Henshall leave Shetland?
Here's what we know of his departure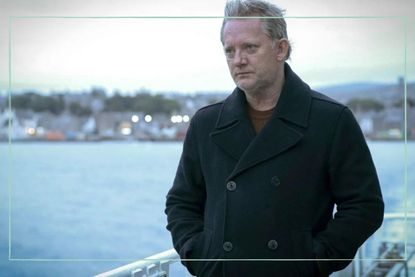 (Image credit: BBC/Future)
Why did Douglas Henshall leave Shetland? As the new series of the popular crime drama arrives, the fan-favourite lead, Jimmy, is notably absent.
If you're stuck for what to watch in November, the enduring police drama Shetland is back for its eighth series, and the popularity of the show displays no signs of slowing down. Returning fans come back for the gripping drama, and beautiful scenery - unsurprisingly, Shetland is filmed in the Shetland Islands, and viewers were pleased to find out they could visit the exterior of both Jimmy's house and the police station.
However, making the trip to Jimmy's house might be a sad affair with the arrival of the latest series, with Douglas Henshall making an exit from the role. In the same way viewers asked why did Matt Lucas leave Bake Off and why did Henry Cavill leave The Witcher, fans are asking the same about Henshall's departure from Shetland. Read on for everything we know about why the actor won't be returning to portray the Detective Inspector.
Why did Douglas Henshall leave Shetland?
Douglas Henshall left Shetland because he felt his character had completed his journey, and he hoped to explore other acting opportunities.
In a statement the actor said "It's been one of the privileges of my career to play Jimmy Perez for almost 10 years and to work with so many wonderful people both in front of and behind the camera, and also to spend so much time in Shetland. The isles were so much a part of our show and of Perez himself. I'll miss him and the place."
Later, expanding on the reasons for his exit, Henshall said he'd felt some years ago that Jimmy's story was reaching a natural conclusion. According to OK, he said "It was time to find a resolution to Perez's private life. I never wanted to ruin the things that were unique to him and our series so it felt like the right time to wrap up his story in a way that would be satisfactory to everybody."
He continued "I am aware we're not changing the world in any way, shape or form but as far as crime shows go, Shetland does really well in that genre. We tell stories that are very good, the characters are great and I wanted to go out on a high."
Speaking about his feelings when filming his final scenes, it was clear he struggled to find the words to describe how he felt. "My last scenes were filmed in a car park in Kilmacolm which was very odd," he said, adding "We'd tried to wrap three times but, because of covid, it kept being put back. So it felt a little anti-climactic in the end.
"I did say a few words of thanks to everyone who was there but it's impossible to encapsulate ten years of work. Shetland has meant a lot to me and it's going to take some time to sink in that I've left the show."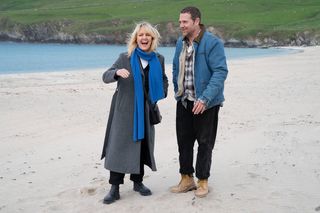 Who is replacing Jimmy Perez in Shetland?
Ashley Jensen will replace Henshall's character Jimmy Perez, starring as DI Ruth Calder. Her character is a native Shetlander, returning to the area after 20 years working in London for the Met.
Jensen will be an actress known by many, having shot to fame for the role of Maggie Jacobs in Extras, alongside Ricky Gervais. She became well known globally, for the starring role of Christina McKinney in Ugly Betty between 2006 – 2010. Recently, the actress reunited with Gervais, appearing as his father's nurse in the simultaneously gut-wrenching and hilarious After Life.
Speaking to the BBC about replacing Henshall, Jensen said "There will be a different dynamic with Ruth amongst the regular characters and a few more new interesting characters to enjoy. However the integrity of the show and the world that has been created will remain very much in the same tone as the last seven seasons."
She concluded "It's a real privilege to be asked to lead this show into a new chapter."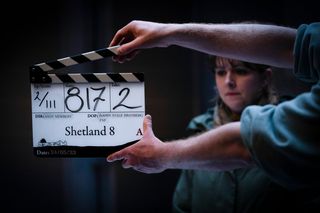 Will Duncan be in season 8 of Shetland?
Duncan Hunter will also not be returning for season 8 of Shetland. Public prosecutor Maggie Kean will also not be back for the show's latest outing.
Speaking on Lorraine, when directly asked if he was departing the series, Duncan actor Mark Bonnar initially seemed cagey. "Possibly," he said, before steering the conversation to the arrival of Ashley Jensen. "Ashley's starting, taking over from Dougie which I think is great, great casting," he said, concluding "Love Ashley."
Then apparently confirming he definitely wouldn't be back, the actor said "It was a huge part of my life for ten years and a great joy to do. Pastures new, it's very exciting to see what the team come up with." As with Douglas Henshall, Bonnar is absent from all promotional material relating to season 8, and unless he is going to pop up as a surprise, it appears fair to say Duncan is now no more.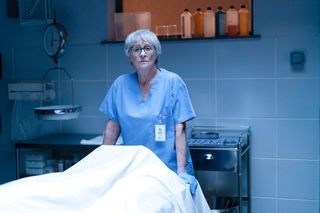 Shetland season 8: Cast
Now that we know which three characters won't be returning to the series, here are the ones confirmed to appear, along with some new faces:
Alison O'Donnell as DS Alison 'Tosh' McIntosh
Steven Robertson as DC Sandy Wilson
Lewis Howden as Sgt Billy McCabe
Anne Kidd as Cora Mclean
Angus Miller as Donnie
Conor McCarry as PC Alex Grant
Guest stars include:
Eubha Akilade
Phyllis Logan
Jamie Sives
Dawn Steele
Don Gilet
Ann Louise Ross
Lorraine McIntosh
Other popular BBC shows include prison drama Time - we meet the cast of the currently airing season 2. Boiling Point is also riding high on the channel, with viewers wondering if any of it is based on a true story. The new Boiling Point filmed in a different location to the film it's based on, and we reveal where.
Parenting advice, hot topics, best buys and family finance tips delivered straight to your inbox.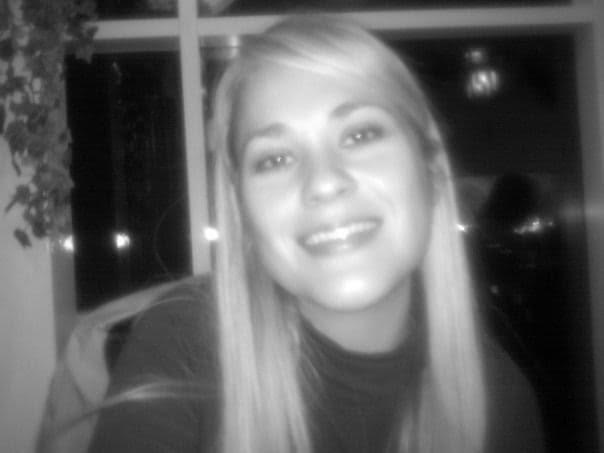 Lucy is a multi-award nominated writer and blogger with six years' experience writing about entertainment, parenting and family life. Lucy has contributed content to PopSugar and moms.com. In the last three years, she has transformed her passion for streaming countless hours of television into specialising in entertainment writing. There is now nothing she loves more than watching the best shows on television and telling you why you should watch them.