Why did Matt Lucas leave Bake Off?
The popular show has had a shake up, so why did Matt Lucas leave Bake Off?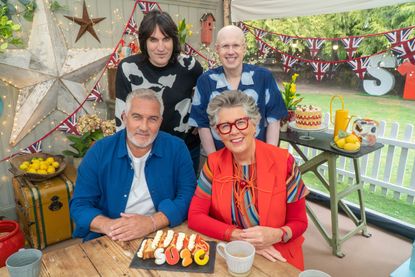 (Image credit: Channel 4; Photographer: mark bourdillon)
The 14th series not only has a new batch of bakers – a fresh presenter is making their debut which has fans wondering, why did Matt Lucas leave Bake Off? The same question is also being asked about another beloved presenter, with many questioning why Holly quit This Morning.
Matt Lucas has been a pivotal part of the show, witnessing star bakers, soggy bottoms and Hollywood handshakes a-plenty since he first joined The Great British Bake Off in 2020.
Co-hosting the show with comedian Noel Fielding, Matt Lucas confirmed the news that he would be leaving in December 2022, shortly after the 13th series had wrapped up.
In a statement posted on his X (Twitter) account – which is run by Matt's team – the 49-year-old revealed that he's excited about the prospect of watching the new series without knowing who had won.
Why did Matt Lucas leave Bake Off?
Matt Lucas has stepped down as co-host of The Great British Bake Off due to a full diary of other work commitments.
His X statement read: "Farewell Bake Off! It's been a delicious experience and I can't imagine a more fun way of spending my summers.
"But it's become clear to me that I can't present both Fantasy Football League and Bake Off alongside all my other projects.
"So, after three series and 51 episodes, I am cheerfully passing the baguette on to someone else.
"I would like to give my warmest, thanks and gratitude to everyone at Love Productions and Channel 4, and to Noelipops, Paul, Dame Prue, the crew, and, of course, the wonderful bakers for welcoming me into the tent."
Who will replace Matt Lucas on Bake Off?
BAFTA-nominated TV presenter and broadcaster Alison Hammond will replace Matt Lucas on Bake Off.
Noel Fielding – who will return to the baking show – took to Instagram to congratulate his new co-host.
In March 2023, he posted a photo of Alison on his Instagram, with the caption: "It gives me so much pleasure to welcome @alisonhammond55 into the tent. I'm absolutely pumped we are working together. We are gonna spend the whole time giggling like naughty school kids. The bakers are gonna love you to bits. ♥️❤️💛💚💙💜🖤 x x x @paul.hollywood @prueleith @britishbakeoff x".
Fans and previous contestants of the show were noticeably delighted with the news, with some commenting that they were "the best pairing".
What is Matt Lucas up to now?
Matt has been working hard on his children's novel The Boy Who Slept Through Christmas, which is out on 28 September.
The book has also been described as Home Alone-meets-Charles Dickens'-A-Christmas-Carol, as the former Bake Off presenter has written songs to go with it.
The Boy Who Slept Through Christmas has already had praise from friend and Britain's Got Talent judge David Walliams, with a jovial review: "Nearly as good as one of my books."
Matt's second novel is due in 2025.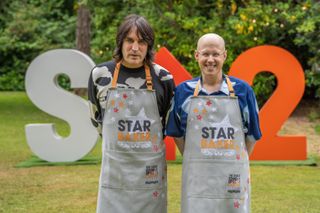 Did Matt Lucas and Noel Fielding get along?
It seems the two were good friends on and off screen. Noel admitted that he was sad to see Matt leave the show and wrote a heartfelt tribute to him on Instagram:
"Farewell buddy, thank you for three amazing years. I will really miss your spark and huge smile in the tent and I will miss your kindness as a person and to all the bakers.
"I will miss your sense of the absurd and your silliness. I will miss all the times the four of us giggled together."
Head judge Prue Leith can also attest to the pair's relationship. Days after Matt announced the news, she appeared on BBC's The One Show to speak about Matt's decision to leave the show.
"I'm really sad because I love the guy. He's such fun and he got on so well with Noel.
"They were just brilliant. But I do understand why. If [you're] close to Matt, you do know that he never stops working and he has so many projects and people keep asking him to do things and he loves theatre… he absolutely loves that kind of show."
You're probably wondering where to watch Bake Off 2023 if you missed the first episode of the latest series, and after seeing the famous white tent, you may be curious to know where is Bake Off filmed? We've got all the information.
Parenting advice, hot topics, best buys and family finance tips delivered straight to your inbox.
Daniella is a qualified journalist specialising in fitness, nutrition and women's health. She has written for a number of consumer titles including Health & Wellbeing, Stylist, Women's Health UK, and Fit & Well.
With four years' experience in the wellness space, Daniella has tried and tested the best fitness kit on the market worth buying and has a keen eye for up and coming brands to look out for. She's also interviewed celebrities and co-produced a wellbeing podcast.