Easter games and activities: 26 fun ideas for toddlers and kids
Easter activities and games are a great way to keep the kids occupied over the bank holiday weekend, while getting them to celebrate the day.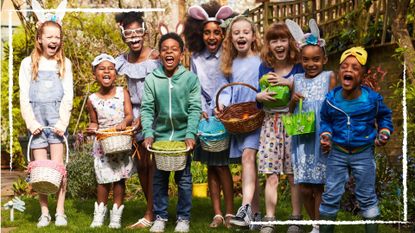 Easter games and activities can be the Holy Grail for a smooth and fun Easter holiday - especially welcomed when they're cheap and easy.
It's time to celebrate Easter! Whether you're looking for Easter gifts for kids, updating your Easter decorations, or maybe you're planning a big Easter egg hunt with friends and family? Whatever you're up to this spring, we have lots of Easter games and activities for you. Though, please know that it's also okay to not organise a single thing.
As author and parenting expert Sarah Ockwell-Smith tells us; "It is totally okay not to schedule loads of things this spring break. You are enough, you're every day life is enough. Allowing your child to be bored helps their imagination."
But should you want to do Easter games and activities we have found a few to entertain the family. And, you never know, some of these ideas may even start a tradition.
Easter games and activities for kids
These 26 Easter games and activities are appropriate for all ages. They can also be tailored depending on how many are joining in. The best thing about these Easter games? They're all budget friendly. In fact some of them require absolutely no spending - which is music to our Easter bunny ears.
Credit: Future / Amazon
1. Hungry Bunny
As Easter games go, Hungry Bunny is a winner - kids love to throw things, right? You can either buy the above (Amazon | £12.69) or have a go at this easy DIY version from pinkstripeysocks. For that you just need some leftover cardboard, black pen, imagination and a few small carrots. For advanced you can make and sew felt carrots yourself. The decision is yours.
2. Spoon the eggs
Focus and resilience are two sure fire ways to keep kids quietly occupied - though the competitive edge to this game may make it a little louder. All you need for this is two bowls. One empty and one filled with plastic eggs, a plastic spoon and focused kids. Set a timer for one minute. The aim of the game is to spoon eggs to the empty bowl as fast as they can, the catch? They can't use their hands. Spoon in mouth and GO! The one with the most eggs wins.
3. Easter egg hunt
No Easter holiday is complete without a traditional Easter egg hunt - don't forget a super cute Easter basket. Your hunt of choice will likely depend on participants. If it's older children or adults, go with clues that require a bit more brain power, such as scavenger hunt riddles or invisible ink codes. Toddlers and young children will appreciate colour matching, counting, and finding letters. Make your own Easter egg trail with colourful eggs for little ones to find along the way.
4. Guess how many Easter eggs
Another classic game that kids and adults will love. Fill a large vase or jar with chocolate eggs and get the children to write their name on a piece of paper along with how many eggs they think are in the container. The one with the nearest guess wins the contents of the jar! And it's up to them if they share their winnings. *Warning: Mini eggs are a choking hazard and not suitable for children under five years of age*
5. Jellybean pickup
Kids will love this Jellybean pick up game, from MakingLifeBlissful. Each player has a small bowl full of Jellybeans, an empty bowl and a straw. The aim is to suck and pick up as many Jellybeans as possible within 1 minute. The player with the most in their bowl at the end, wins! Jellybeans are safer than mini eggs, and still look the part.
6. Egg decorating
Egg decorating is a brilliant family tradition and a great one to add to your Easter decor. Before you start decorating eggs, remember to hard boil them so that they don't shatter all over the place. You can buy an egg-decorating kit which will include everything you need, or, for a cheaper option, try mixing vinegar and food colouring.
7. Easter Toss game
What's not to love about inflatable bunny ears. This easy and fun game (Amazon | £7.99) and has a respectable 4.1 out of 5 stars on Amazon, with one reviewer saying; "my kids love it, and not just at Easter!"
8. Bunny Tail Hoopla
Set up three hula hoops on the floor and assign a point value to each (ex: the closest hoop is 10 points and the furthest hoop is 30). Give each player five white pom poms (like the medium sized crafting ones). Have them toss the pom poms into the hoops to see who can rack up the most points.
9. Easter eggs-ercising
Lots of kids? Try these Easter energy busting ideas by Seasoned Mom. All you need is a dozen plastic eggs (Amazon | £12.99), an A4 piece of paper, scissors and inspiration for activities, such as 4 ninja kicks, 7 bunny hops etc.
10. Funny Bunny
A great game (Amazon | £12.99) for toddlers aged 4 and up, with an impressive 4.8 out of 5 stars on Amazon. Quick and easy to play a few games in a row, so much fun for kids avoiding the pitfalls. It really is a fun and easy game for all the family to join in! Just watch out when you have to turn the carrot.
One reviewer gave it five stars and says: "This is a great little game that we've enjoyed playing as a whole family. Bought this for our 7 year old and she's totally owned and quickly got hang of the rules that she's happy to explain to the new players. Our 3 year old is a bit too young at the moment but has happily taken part for a short while. Quick moving game with mostly luck but also some strategy involved in getting your bunny to the carrot first. Very different from the other games we have so definitely a big hit, I can see this coming out regularly in the next couple of years."
11. Easter coin toss game
A fun one for all the family, the Easter coin toss game from Easypeasyandfun really zones in on hand eye coordination. You just need one or two large colourful eggs (hard boiled or plastic), a basket, and coins! Decide a distance from the basket then challenge each player to toss their coins to the egg, the one who manages to land it on the egg so it stays wins all the coins in the basket.
12. Easter egg and spoon race
You can't beat a classic egg and spoon race. If the weather's nice this Easter, a great way to get the kids active is to have an egg and spoon race competition. Be sure to stock up with lots and lots of eggs as there's sure to be more than a few breakages. And don't forget the adults can get involved too - why not have a separate race for the kids and then one for the grown ups?
You can use a standard spoon-from-your-cutlery-drawer and egg or invest in this chic egg and spoon set kit from (Amazon | £10.99) - with an impressive 4.1 out of 5 star rating - that you can bring out year after year to keep the kids entertained.
13. Jellybean sorting
This toddler activity from karacreates has a fun Easter twist to make it a learning game with a tasty outcome. All you need is a bowl, Jellybeans, an old egg box and coloured plastic eggs (Amazon | £12.99). The aim is to sort them by colour, filling the plastic eggs as you go.
14. Bunny Bowling
Feeling crafty this Easter? Then this tres chic DIY Bunny Bowling from Handmadecharlotte set could be for you. Not only will it keep older kids entertained while creating them, but it's - realistically - at least 30 minutes of fun, and you can bring them out year after year.
15. Easter Bingo
A best seller on Amazon with a 4.3 out of 5 rating. This bingo game (Amazon | £3.99) is suitable for all the family from ages 18 months and up. And, up to 20 players can join in, making it perfect for parties this Easter, and it comes with 'winner certificates' which kids will love.
One reviewer says: "For the price I paid this was a great little game for our family Easter in the garden. My 5 year old granddaughter loved playing this .It's not a game that'll last forever but you'll get some fun games out of this we loved it."
16. Easter pom pom pegs
This Easter-inspired five-step craft will keep kids focused for a while, with an adorable and useful outcome; super cute pegs for all occasions. Try making your own pom pom animal pegs.
17. Easter bunny sack race
This is a great activity to do at an Easter party if there are quite a few of you. Get your sacks - either classic burlap potato sacks or homely alternatives like pillow cases - and decorate them however you like or follow blueribbonkitchen for instructions or pick up a pack of 14 (Amazon | £18.99) Make sure there's a bunny tale on there somewhere though, because you'll be using them to jump to the finish line as the Easter bunny in this twist on the classic sports day sack race.
18. Pin the tail on the bunny
As simple Easter games go this is exactly as it sounds. On a large piece of cardboard or A3 paper draw a bunny outline similar to this one above or try this bunny template, decorate or colour in. Then create a bunny tail - maybe with s cotton wool ball add some double sided tape. Then blindfold members of the party in turns, spin them around and they have to try and pin the tail on the bunny.
19. Hot Golden Egg
Think of 'hot potato' with an Easter twist. Get your family/party people in a circle and pass around the 'hot golden egg' to music… when the music stops the person holding the egg has to do 6 bunny jumps / silly dance / sing a song as loud as they can or choose to be out. The last one standing gets to eat the Golden Egg.
20. Creme egg challenge
Players have one minute to balance a wrapped Cadbury's Creme Egg on their head and walk from one marked spot to another. If the egg falls, they must go back to the starting place and begin again. Whoever gets the furthest in the one minute wins all the Creme Eggs.
21. Catch the eggs
This is a simple game of tag with an Easter twist! The Easter bunny, AKA the person who is "it" must wear bunny ears. Everyone else are the runaway eggs – they have to run around the garden, avoiding the bunny. If the bunny catches you, they have to put you in a spot in the garden and you can't move. A new person becomes the bunny when all the eggs have been collected.
22. Decorate Easter biscuits
If you find yourself stuck inside with the kids this Easter, a great way to pass the time is to make and decorate some Easter biscuits. You can even gift wrap some of them to give to friends and family as cute Easter gifts. Decorating these Easter biscuits also makes a great game for the kids to play - why not set them challenges of who can design the best one, or give them a theme to follow, like Easter animals?
23. Musical eggs
This is a variation of the old classic musical chairs. Stick some pretty pictures of eggs on the floor or you could stick them to chairs. Play music and get the kids to dance around the room, when the music stops they must stand or sit on an egg. Each time remove one of the eggs, so there is always one less egg than there are people. You might even want to indulge your inner child and join in with this game.
24. Easter egg boules
This is a really fun Easter game for kids and adults to play together, and all you need is some eggs, and some paint. First off, colour some hard-boiled eggs in any colours you like (you could use food dye for this) and make sure that one egg is white. If you feel like adding patterns, go for it. To play, roll the white egg into the middle of the room and then each person takes two eggs and tries to roll them as near to the marker egg as possible. If you don't have time to colour eggs, you could use different-coloured chocolate eggs.
25. Pass the egg
This is such a fun game to play for kids and adults alike. The idea is that you find a large plastic egg, and then ask everyone to form a circle. The egg needs to make its way around the circle back to the start in a set amount of time (depending on how many people take part), and the person who has the egg when the time runs out is out of the game. The catch? The egg has to be passed around without using your hands, so whether you tuck it under your chin, between your knees or in any other way is up to you. You'll need to stock up on plastic refillable eggs (Amazon | £12.99).
26. Easter egg in a cup game
As Easter games go, this egg in a cup idea is super easy to make, cheap to do and will keep the kids challenged for hours. All you need is string, a plastic egg small enough to fit in the plastic cup you choose and these instructions on what to do next at allfortheboys.
Related content: Easter baskets Best Easter pyjamas for toddlers Easter gifts for kids Personalised Easter eggs Best vegan Easter eggs How to make an Easter bonnet
Video of the Week:
Stephanie Lowe is Family Editor at GoodTo covering all things parenting, pregnancy and more. She has over 13 years' experience as a digital journalist with a wealth of knowledge and experience when it comes to all things family and lifestyle. Stephanie lives in Kent with her husband and son, Ted. With his love of choo-choos, Hey Duggee and finger painting he keeps her on her toes.