How many reindeer does Santa have and what are their names?
Here's the full list of Santa's reindeer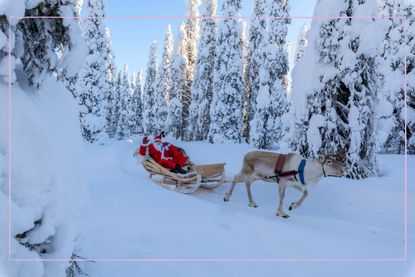 (Image credit: Getty Images)
Santa's getting his sleigh ready for his biggest night of the year, but how many reindeer does Santa have?
Whether you're a child or an adult, knowing how many reindeer Santa has is vital to ensuring you leave out enough reindeer food for the annual Christmas tradition, and it could also help you win a Christmas quiz tie-breaker.
Keep reading to find out exactly how many reindeer Santa has, what their names are and whether reindeer really can fly...
How many reindeer does Santa have?
Santa's sleigh is pulled by nine reindeer. Eight of the reindeer first appeared in an 1821 illustrated children's poem, created by an unknown author. The ninth reindeer is Rudolph.
Rudolph wasn't introduced into the pack until 1939 in the famous story of Rudolph The Red-Nosed Reindeer. In this tale, a small young reindeer with a bright luminous red nose was teased by the others for being different, and they didn't allow him to join in with all of their fun activities.
But one Christmas Eve, the weather was so foggy that the reindeer kept getting lost and couldn't give out all of Santa's presents. Santa had a great idea when he spotted Rudolph's bright nose and asked them to lead the sleigh as a guiding light for all of the others to follow through the blizzard.
With Rudolph on board, Santa managed to give out all of his presents, and Christmas Day was saved, with Rudolph a hero! It's because of this story that today Santa is recognised as having nine reindeer.
What are the names of Santa's reindeer?
Dasher - Dasher is renowned for her speed, which certainly comes in handy as she travels the world's length in one night, delivering gifts to all kids.
Dancer - As her name suggests, Dancer is the groovy one. She is that friend whose absence means the party is never the same. Dancer is the one who encourages other reindeer to enjoy the moment even if they are not as fast as Dasher.
Prancer - Likes to show off as she steps in a lively and showy manner.
Vixen - She is the resident entertainer in the group. She likes entertaining her friends, and even Mr. and Mrs. Claus can't get enough of her shows.
Comet - Well, there is a reason everyone considers Comet the 'mom' in the group. She is a caring reindeer and is always thinking about the group's welfare, never putting herself first.
Cupid - Her name says it all; Cupid is all about spreading love, which is the reindeer crew's primary objective. She loves the holiday spirit, cooking, and putting up decorations.
Donner - She was initially called Dunder, which is a rather unfortunate nickname - though it could also mean thunder in Dutch.
Blitzen - Blitzen is another crew member who used to have a rather unusual nickname Blixem means lightning in Dutch.
Rudolph - She is quite clearly the captain of the ship, and the crew wouldn't be able to deliver the presents every year without her leadership.
Santa's original eight reindeer were first given names in Clement Clarke Moore's 1823 poem "A Visit from Saint Nicholas" which is perhaps more commonly known as "Twas the Night Before Christmas".
The poem reads:
Now, Dasher! now, Dancer! now Prancer and Vixen!
On, Comet! on, Cupid! on, Donder and Blixen!
To the top of the porch! to the top of the wall!
Now dash away! dash away! dash away all!
There was a later addition of Olive, who became the 10th reindeer after some misheard the line "All of the other reindeer used to laugh and call him names" in the famous Rudolph song.
Vivian Walsh J. Otto Seibold wrote about Olive the other reindeer in 1999 and the 45-minute animation was released as a film, produced by 20th Century Fox Television and Flower Films.
There have been other variations over time. L. Frank Baum's 1902 story The Life and Adventure of Santa Claus includes 10 completely different reindeer names - Flossie and Glossie, Racer and Pacer, Fearless and Peerless, Ready and Steady, Feckless and Speckless.
Meanwhile, another reindeer you might not know is Clarice - the love interest and later girlfriend of Rudolph. She is one of the characters in the 1964 Rankin/Bass TV film Rudolph the Red-Nosed Reindeer and in its 2001 sequel Rudolph the Red-Nosed Reindeer and The Island Of Misfit Toys.
Is Rudolph one of Santa's reindeer?
Rudolph wasn't one of Santa's original reindeer. Rudolph was created in 1939 as an advertisement for a department store, while Santa's original eight reindeer were first introduced 200 years ago in Clement Clarke Moore's poem.
But Rudolph is now known by most as one of Santa's reindeer, after saving Christmas Day using the bright red nose to guide all of the other reindeers through the foggy winter sky.
Are Santa's reindeer male or female?
It is widely accepted that Santa's reindeer must all be female, because they are always pictured with antlers.
Both male and female reindeer grow antlers, but male reindeer shed theirs before Christmas - usually in late autumn - meaning all nine of Santa's reindeers must be female.
Edinburgh University professor Gerald Lincoln told the Telegraph: "Male reindeer actually cast their antlers before Christmas, so they don't have any antlers at Christmastime. They have their mating season in autumn when they use their antlers to fight, but once it finishes they cast them … I just wanted to remind people that it is never quite so straightforward, and even females develop weapons when it comes to the real world of seasonal breeding."
However, he did add that if a male reindeer is castrated, it stops the process of casting the antlers. "Rudolph could be a castrated male, or a female. I think it's nicest to think that Rudolph was a female!" said Lincoln.
Can reindeer fly?
Most reindeer can't fly, but Santa's reindeer are special. Because they're magic, they can fly very high and very far without getting tired.
There are lost of theories as to why Santa's reindeer can fly, including magic reindeer food, elf magic, magic dust, time warping and genetics. But nobody really knows the truth!
Video of the Week
Senior Entertainment Writer
Selina is a Senior Entertainment Writer for Goodto.com, Woman&Home, and My Imperfect Life with more than 16 years of experience in newspapers and magazines. She currently writes a mix of Entertainment news - including baby news, weddings, reporting the the latest news about the Royal kids Prince George, Charlotte, Louis, Archie and Lilibet as well as Family news stories. Before joining Future Publishing, Selina graduated from the University of Sheffield in 2006 with a degree in Journalism. She is fully NCTJ and NCE qualified and has 100wpm shorthand. When she's not interviewing celebrities you can find her exploring new countryside walking routes, catching up with friends over good food, or making memories.