"I bought an air fryer and here are the eight things you need to know before YOU do"
Air fryers, they're having a moment, right? Well read this before you buy...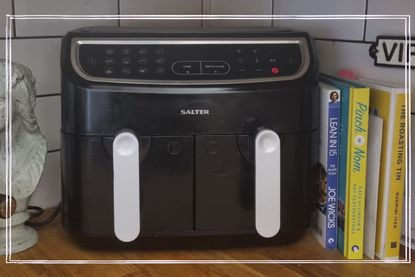 (Image credit: Stephanie Lowe)
"Air fryers, you have one? Talk to me. Do I need to invest in one?" This demand replaced the usual 'hello' from a friend, "the world and its wife are talking about air fryers, am I missing out?" she continued. And she's not wrong... air fryers really are everywhere, including my kitchen side.
I am a natural sceptic when it comes to kitchen gadgets, I mean, what can you cook in an air fryer that you can't with the traditional cooking methods such as frying, baking? Before owning an air fryer, my first impression of air frying was that it was too good to be true. How can you fry food without oil? But, after reading dozens of reviews and watching countless videos, I decided to give it a try and I bought my first air fryer. Reader, it was a game-changer.
For those wondering are they healthy (opens in new tab), air fryers use hot air to cook food, giving you a crispy texture without the need for a lot of oil. According to dietitian and nutritionist Priya Tew (opens in new tab), "Air fryers can be a good option for those who want to reduce their intake of fat and calories, especially if they're used to deep frying food. However, it's important to remember that air fried foods are still high in calories and should be eaten in moderation."
According to food writer and cookbook author Nigella Lawson, "Air fryers can be a useful tool in the kitchen, but they're not a magic solution to healthy eating. Ultimately, it's important to find a cooking method that works for you and your lifestyle, whether that's an air fryer or something else." And she's not wrong, but as a working mum-of-one, I can chuck sausages and chips in, press a few buttons and hey presto! Nothing is burned and its all cooked together in 20 minutes without bankrupting me (cost of living crisis, I'm looking at you.)
The air fryer I have is below, it is bulky and I had to clear a side for it, but the use I get out of it makes that a-ok with me.
(opens in new tab)
Salter EK4548 Dual Air Fryer - Amazon |£149.99 (opens in new tab)
This is the one I have, it has double drawers and non-stick cooking, with a really hand sync or match cooking function. With 2 XL fry trays and sensor touch display.
---
Air fryers - everything I want you to know
1. Air fryers are not magic
Before I bought my air fryer, my husband had visions of perfectly crispy chicken wings and fries that of Maccie Ds quality. Alas, while my choice of air fryer does make tasty wings and fries, they don't magically become as good as the real thing. The texture is slightly different, and the taste is not identical. One of the biggest misconceptions about air fryers is that they are only good for frying. In fact, you can cook almost anything in an air fryer, from roasted vegetables to grilled chicken, an air fryer can do it all - especially if you invest in a few air fryer cookbooks (opens in new tab). The best part is that you need minimal oil - I'm talking a spray - which makes it a healthier alternative to traditional cooking methods.
2. You DO need a teensy bit of oil
While an air fryer doesn't require as much oil as traditional deep-frying methods, some amount of oil is typically recommended for best results. Though, I do think this is personal preference and something you'll figure out over time. Foods like, bacon and sausages create their own oil definitely not needed. But broccoli, definitely and salmon I tend to wrap in open foil to cook as it creates it's own juices - the foil makes it easier to clean.
3. Air fryers come in different sizes
Might seem strange to tell you this - but I was shocked at the variety. I thought it was like a microwave or an oven - a standard size. When I was shopping for an air fryer, I was surprised to learn that they come in different sizes. Some are small and only suitable for one or two people, while others are large enough to cook for a family. Consider your cooking needs and how many people you will be cooking for before you make a purchase. If you plan on cooking for a large family or hosting dinner parties, a bigger air fryer might be a better choice for you. Mine has two baskets, which has proven so useful when my vegetarian sister visits!
4. Air fryers can be loud
One thing I didn't anticipate when I bought my air fryer was how loud it can be. The fan that circulates the hot air can be quite noisy, and it might not be the best choice for people who have sensitive hearing or live in house shares with thin walls. However, the noise is not unbearable, and it's worth it for the delicious food that comes out of the air fryer.
5. Be ready for some trial and error
Like any new kitchen appliance, air fryers require some trial and error to figure out. Even with the manual it took me a few tries to get the cooking time and temperature right for different foods. However, once I got the hang of it, it became much easier. Don't get discouraged if your first few attempts don't turn out perfectly. Keep experimenting, and you'll soon be an air fryer pro.
6. Air fryers aren't just for frying
While air fryers are great for making crispy fried foods, you don't need much oil (opens in new tab) and they are so versatile, you can cook a wide variety of other dishes - I love air fried broccoli. You can bake chicken, or even dessert and cakes - though confession - I am yet to try this so it's still a myth for me.
7. Air fryers make leftovers taste AMAZING
This is not a drill, people. Leftovers that I've reheated in my air fryer, in no particular order are, Five Guys burger and chips, generic Tesco Pepperoni pizza, Tuna panini and Indian samosas. While there's no 'leftovers' specific button to press, I had a play and 150degrees Celsius for like 10-12 mins seems to be the sweet spot (longer for meat) and et voila, the air fryer brought them ALL to tasty life. Much more delicious than a soggy microwave offering that's for sure. Absolute game changer for me and mine.
8. Air fryers are easier to clean than I thought
When I first bought my air fryer I thought you could leave it in between cooking... kind of like the way TV chef Jamie Oliver talks about 'seasoning a skillet'. However, I knew when my fishfingers came out tasting like smoked bacon it was time to clean the trays. There are many tips and tricks for cleaning an air fryer (opens in new tab), I myself like to fill each basket with water, add some washing up liquid and switch on at 200 degrees Celsius for 5 mins. Leave to sit for 5 mins then rinse and clean. This was what I did for the first month before realising the baskets and tray are dishwasher safe. So check yours, first.
Should you buy an air fryer?
It's really down to your budget, and how you like to cook. I'm a lazy chef so anything that allows me to get on with other things while dealing with the monotony of answering 'what's for dinner' is a winner for me. And, life before owning an air fryer was a bit dull - I spent so long watching fish fingers and sausages so they didn't burn #mumlife. And, I used to think that frying was the only way to get that crispy texture that I love, but after buying an air fryer, my cooking game has reached a whole new level. I can now cook almost anything. If you're thinking about buying an air fryer, keep in mind that it's not just for frying, it's easy to use, a space-saver, easy to clean.
It doesn't feel like a fad, and I'm glad I have my air fryer. It's become a staple in my kitchen, and I use it all the time. Now you just need to decide which size is best.
Related Features:
Video of the Week:
Stephanie Lowe is Family Editor at GoodTo covering all things parenting, pregnancy and more. She has over 13 years' experience as a digital journalist with a wealth of knowledge and experience when it comes to all things family and lifestyle. Stephanie lives in Kent with her husband and son, Ted. With his love of choo-choos, Hey Duggee and finger painting he keeps her on her toes.