Is Queen Charlotte in Bridgerton based on a real Queen?
Is it an historically accurate depiction?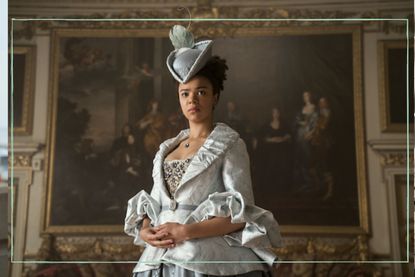 (Image credit: Liam Daniel/Netflix)
The latest instalment in the Bridgerton franchise is here! It is also leaving viewers with questions about iconic Queen Charlotte, and whether she really existed in history.
With the enduringly popular Bridgerton pulling in millions of viewers, there were sure to be spin-offs, and further ways to expand the world of Shonda Rhimes' characters. The first spin-off, Queen Charlotte: A Bridgerton Story is a limited series following Charlotte of Mecklenburg-Strelitz, landing on Netflix on May 4. As she leaves her aristocratic home in Germany and finds herself in the arms of King George III through no choice of her own, the pair's newlywed story is told. Prepare for romantic highs, and terrible lows as the newly formed union unleashes a pivotal moment for English aristocratic history, sparking the world where Bridgerton follows. With many asking if Queen Charlotte was a real historical figure, read on for the truth.
Not the only question viewers have about the show - such as what illness does King George have and what happened to Reynolds, his secretary - they've also asked what is the Queen snorting in Bridgerton? The mysterious substance inhaled by Queen Charlotte in the first seasons had viewers very confused. If you've ever wondered where Bridgerton filmed, we also have the full lowdown on this.
Is Queen Charlotte in Bridgerton based on a real Queen?
Yes, Bridgerton's Queen Charlotte is based on Charlotte Sophia of Mecklenburg-Strelitz, who became Queen in 1761 after marrying King George III. She is believed to be the first Queen of Black ancestry.
According to the Washington Post, historians believe Queen Charlotte was of African descent. Historian Mario De Valdes y Cocom suggests she was directly descended from Alfonso III after he took a concubine named Ouruana, who was a black Moor, in the 13th century.
He said "In the 13th century, Alfonso III of Portugal conquered a little town named Faro from the Moors. He demanded [the governor's] daughter as a paramour. He had three children with her" He also believes their son Martin Alfonso, married into the noble de Sousa family, also with black ancestry. Therefore, Queen Charlotte would have had African blood from both sides of her family.
Queen Charlotte was previously honoured by Black communities, who were convinced from her portraits and features depicted in them, she had African ancestry. However, some have disputed the findings of Valdes, asserting the word 'blackamoor' doesn't always refer to Black people, with white North African Moors also existing.
When the Palace were asked for a statement on the matter, they reportedly told the Boston Globe "This has been rumoured for years and years. It is a matter of history, and frankly, we've got far more important things to talk about."
Does Queen Charlotte exist in the Bridgerton books?
No, Queen Charlotte doesn't exist in the Bridgerton books, she was a character created purely for the series.
Speaking to Oprah Daily, Queen Charlotte: A Bridgerton Story showrunner Chris Van Dusen said "Queen Charlotte opened up an entirely new world for us. What really struck me with the books from the beginning is that this was an opportunity to marry history and fantasy in a really exciting, interesting way. So in Queen Charlotte, that was the history. And then it was thinking of these fantastical scenes and situations to put her in that were really fun to write, too."
Julia Quinn, author of the original Bridgerton novels, has also spoken about the inclusion of a character she didn't write. She added "I go back and forth between wishing I had actually written her in the books and then being glad I didn't, because I don't know if I could have done as good a job."
Also weighing in on the possibility the real Queen Charlotte was Black, Quinn had this to say: "I don't think it's ever going to be proven or disproven to be honest with you. But let's say she was Black. And what if that was accepted at the time and people acknowledge that, and then she used that position to lift other people of colour to higher positions in society. What would society look like?"
Did Queen Charlotte in Bridgerton have a child?
Yes, Queen Charlotte and King George in Bridgerton have many children, the eldest being Prince Regent George.
They go on to have a further 11 living children, Prince Frederick, Prince William, Princess Charlotte, Prince Edward, Princess Augusta, Princess Elizabeth, Prince Ernest, Prince Augustus, Prince Adolphus, Princess Mary, Princess Sophia.
The real Queen Charlotte and King George welcomed their first child less than a year after marrying, in August 1762. Known as Prince of Wales, he later became King George IV. Queen Charlotte was also the grandmother of Queen Victoria, and great-great-great-great-grandmother of Queen Elizabeth II.
Did the real Queen Charlotte have 15 children?
Yes, the real Queen Charlotte had 15 children, 13 of whom survived to adulthood.
When Queen Charlotte died at the age of 74 on November 17, 1818, her eldest son was by her side. A year later, King George III died on January 29, 1820, at the age of 81. Their eldest son George was succeeded by his sons, George IV and William IV. With neither producing legitimate children of their own, the only legitimate child of Prince Edward became Queen - this was Queen Victoria.
Queen Charlotte and King George married in London in September 1761 - they wed hours after meeting after having never previously met, aged 17 and 23 respectively. Queen Charlotte remains the longest-serving female consort in British Royal history. Following the Duke of Edinburgh, she is the second-longest-serving consort in British history.
Related Netflix Features:
Video of the Week
Lucy is a multi-award nominated writer and blogger with six years' experience writing about entertainment, parenting and family life. Lucy has contributed content to PopSugar and moms.com. In the last three years, she has transformed her passion for streaming countless hours of television into specialising in entertainment writing. There is now nothing she loves more than watching the best shows on television and telling you why you should watch them.