Prince Harry and Meghan Markle will start a family 'as quickly as possible' claims former royal staff member
Former royal butler Paul Burrell predicts the couple will start a family as soon as they are married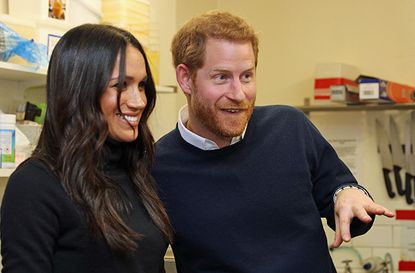 Prince Harry and Meghan Markle will be wasting no time after their wedding in waiting to start a family according to a former member of the royal staff.
Paul Burrell, former royal butler and confidant to Princess Diana, has said in a recent interview that Prince Harry is keen to have a large family and doesn't want to wait around.
With Prince Harry and Meghan Markle's wedding (opens in new tab) just a few months away, the former royal insider believes that the happy couple are already planning their next big milestone too - having a baby.
Harry is set to become an uncle for the third time in April (opens in new tab) as the Duke and Duchess of Cambridge prepare to give Prince George (opens in new tab) and Princess Charlotte (opens in new tab) another sibling (opens in new tab).
But according to Paul Burrell, Kate and William's new baby, and Harry and William's cousin Zara Tindall's second child (opens in new tab) which is due later this year, won't be the only two royal babies making headlines this year. Speaking to Now To Love Paul said: 'I believe that Prince Harry and Meghan Markle will start a family as soon as possible! Harry also wants a large family and wants children as quickly as possible.'
Paul with Princess Diana in Bosnia, 1997
Prince Harry and Meghan Markle have already alluded to their desire to have children and spoken themselves about starting a family 'in the near future'.
During their televised engagement interview (opens in new tab) Prince Harry said: 'One step at a time. We'll start a family in the near future' when responding to a question about the couple's plans to have children in the future.
Harry, Meghan, Kate and William completed their first official engagement as a four last week
Paul also had predictions when it comes to William and Kate's future family plans. Not only does he think the couple will welcome a son come April, he also thinks it won't be the couple's final child.
He said: 'There will be one more! There'll be four, they want four and there'll be four babies for William and Kate.
'Just like The Queen, there was a gap between her two kids but William and Kate are running out of time, so they better get on with it!'