Best Christmas puddings 2023: Where to buy your festive pud this year
Here's our tried and tested list of the best Christmas puddings to buy online this Christmas...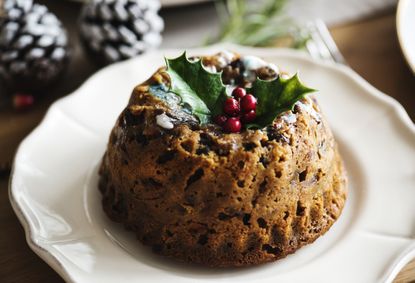 (Image credit: Getty Images)
From the best supermarket Christmas puddings including Iceland and Aldi to independent sellers like Cartwright & Butler, here are the best Christmas puddings for 2023 all tried and tasted by our expert Food Team.
As the festive season approaches, a wide range of store-bought Christmas puddings from supermarkets to micro-bakeries and independent shops will be available, and choosing just one can be a hard decision, especially when they all give Mary Berry's Christmas pudding a run for its money.
Our expert panel who tried and tested a range of Christmas foods, including Christmas puddings for 2023 are Group Food Director Jen Bedloe, Food Editor Jess Meyer, Deputy Food Editor Rose Fooks, Food Writer Amanda James, and Junior Food Writer Georgia Sparks. With years of experience and a vast amount of culinary expertise, this team is well-versed in identifying what really makes the best Christmas pudding.
So, if you're after the best shop-bought Christmas pudding on the market then look no further. Whether you fancy a traditional Christmas pudding, a Christmas pudding with a twist, or one for a small gathering then we've got you covered. With Cartwright & Butler taking the top stop for the overall best Christmas pudding, Iceland taking the best supermarket Christmas pudding and Aldi being best value for money at under £10, there is certainly something for everyone.
It's not just Christmas pudding that we've taste-tested this year - have a browse through our expert picks for the best Christmas cake, best Christmas desserts, and best mince pies. We've even rounded up the best turkey on offer this year.
Recent updates
This article was updated on the 5th of December. We checked the prices of all the products featured in the article and updated some of the deals for accuracy.
Where to buy Christmas pudding for 2023
Best tried and tasted Christmas puddings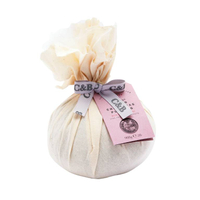 1. Cartwright & Butler Traditional Christmas Pudding, 908g - View at Cartwright & Butler
Best Christmas pudding overall
RRP: £30 | Delivery: Same day delivery online between 6th-13th December | Available: Now online and in independent shops and luxury departments | Servings: 6-8
A traditional-tasting pudding rich in amaretto-soaked fruit, nuts, and spices. Sweet and salty with a pleasant aftertaste, a real warmth from the booze, but well balanced. This classic festive recipe would make a perfect centerpiece everyone will enjoy.
Food Writer, Amanda James says: "Lovely hints of citrus fruits and zesty notes from start to finish. Subtle crunch from the nuts, a good amount of dried fruits, and not too oozy. Homemade rustic look, sweet and salty reminiscent of salted caramel but still classic Christmas pudding flavours."
---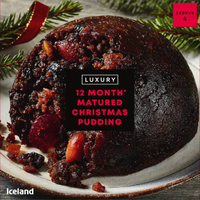 2. Iceland Luxury Matured Christmas Pudding, 400g - View at Iceland
Best supermarket Christmas pudding
RRP: £4.50 | Delivery: Order online - The Food Warehouse and in-store | Available: Now | Servings: 4
A rich and juicy fruit pudding with a classic dome shape. Packed with cider, brandy, almonds, cognac, sherry, rum, almonds, walnuts, and pecans. A boozy classic Christmas pudding with a glossy finish, great for a traditional flame. If you're a fan of nuts in your pud, this one is for you.
Group Food Editor, Jess Meyer says: "A great classic pud. Good size with a lovely dome shape. The dark colour and shiny finish turned out neatly. A strong caramel flavour with a good spice level. Not overly boozy but a good one for lighting. Nice mix of fruit and almonds."
---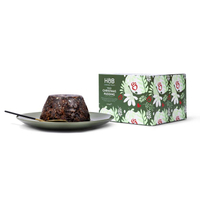 3. Holland & Barret Christmas Pudding, 454g - View at Holland & Barrett
Best vegan Christmas pudding
RRP: £10 | Delivery: Available in select stores and online | Available: 23rd October | Servings: 2-4
A well-balanced, warming, and gently spiced free-from Christmas pudding. Bursting with fruit, a note of citrus, and soaked in brandy and gluten-free ale including berries, currants, and figs. If you're after a great vegan Christmas pudding or a pudding that isn't too boozy then give this one a go.
Food Writer, Amanda James says: "Crunchy and not too sweet. Loved the citrusy flavour in this vegan pudding. It wasn't too boozy and had a lovely shape"
---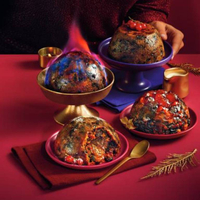 4. Aldi Specially Selected 18-Month Matured Christmas Pudding, 400g - View at Aldi
Best Christmas pudding under £10
RRP: £4.49 | Delivery: Instore | Available: Now | Servings: 4
A perfect dome-shaped Christmas pudding that held well together when cooked. Made with cider, French brandy, glacé cherries, and sherry, this pudding isn't too boozy or sweet. Just the right amount of fruit, a great deep colour, and a lovely texture. Packed with nuts, on the crunchier side.
Deputy Food Editor, Rose Fooks says: "Very moist, lovely dome shape. Rich flavour with a warming boozy kick. Plump and juicy fruit with almonds."
---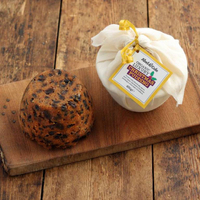 5. Abel & Cole Luxury Organic Christmas Pudding, 900g - View at Abel & Cole
Best traditional Christmas pudding
RRP: £17.95 | Delivery: Nationwide order online | Available: Now | Servings: 8
If you're fond of tradition then this could be the one for you. Boil on the stove for a classic method that gives a moist texture and plump fruity finish. Packed with organic dried fruits and a glug of brandy, then wrapped in muslin for an extra traditional look.
Deputy Food Editor, Rose Fooks says: "A tall dome pleasing shape filled with dried fruit and candied peel. It can't be microwaved, but we'll forgive this as it was a sensational flavour. Slightly more cakey than others we tasted but light and fluffy. Light on the spice and not too boozy, this would benefit from a flaming."
---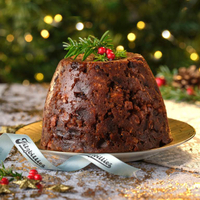 6. Fitzbillies Christmas Pudding, 560g - View at Fitzbillies
Best artisanal Christmas pudding
RRP: £17 | Delivery: Nationwide delivery | Available: From 9th November | Servings: 6
Traditional Christmas pudding made by hand and steamed overnight gives this pudding an inviting golden hue. Not as many fruits as the others but with apples and figs this gives a lighter colour. Lightly spiced and a welcoming slosh of brandy, this was similar to a figgy pudding.
Junior Food writer Georgia Sparks says: "Great sized pudding, lightly spic with less fruit, more sponge pudding but a lovely buttery texture. A great all-rounder and for those that aren't huge fans of Christmas pudding."
---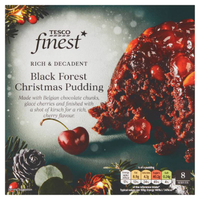 7. Tesco Finest Black Forest Christmas Pudding, 800g - View at Tesco
Best alternative Christmas pudding
RRP: £12 | Delivery: Order online and instore | Available: Now | Servings: 8
A rich and decadent Christmas pudding drawing inspiration from the timeless black forest recipe. Moist and packed with Belgian chocolate chunks, candied cherries, and a dash of kirsch. Adorned with candied cherries and almonds coated in golden syrup glaze. On the sweeter side and reminiscent of a chocolate cake, this is a great option for those not keen on Christmas pud but still want tradition.
Group Food Editor, Jen Bedloe says: "An alternative to the usual pud with an almost brownie cake texture. Delicious and chocolatey, nice for something different especially with the jewel topping making it look very festive."
---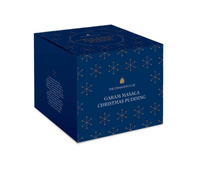 8. Vivek Singh's Garam Masala Christmas Pudding, The Cinnamon Club, 900g - View at The Cinnamon Club
Best blow the budget Christmas pudding
RRP: £55 | Delivery: Online at The Cinnamon Collection online shop | Available: From 1st December | Servings: 8-12
Add some spice to this season's festivities with this seriously different Christmas pudding. Generously spiced from garam Masala and a special in-house recipe. This pudding has a lovely warm spice and welcoming fragrance offering an extra layer of flavour, This is more like a steamed pudding meets a figgy pudding with the traditional brandy and zesty fruits.
Group Food Director Jen Bedloe says: "A really unusual Christmas pudding with cardamom being the prominent spice. A great pud if you want something a little different. Very Moreish."
---