Best Christmas desserts 2023 tried and tested: M&S, Tesco and more
Choosing a Christmas dessert to buy can be tough. Here are the best tried and tested desserts for Christmas 2023...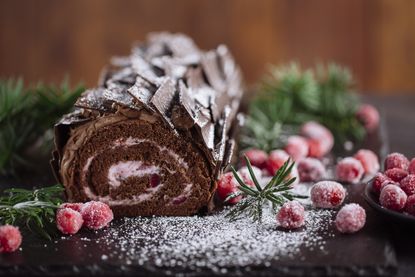 (Image credit: Getty Images)
From Yule log to sticky toffee pudding, from M&S to Tesco - here are the best Christmas desserts for 2023 and where to buy them this year.
Each pudding has been blind-taste tested as part of this year's Christmas foods taste test that attracted more than 500 entries. So if you're looking for an easier option than making your own Christmas dessert take a look at these shop-bought choices that certainly give the Hairy Bikers' Yule Log and our popular Maltesers Christmas pudding a run for their money.
Our expert testers for this year include Group Food Director Jen Bedloe, Food Editor Jess Meyer, Deputy Food Editor Rose Fooks, Food Writer Amanda James, and Junior Food Writer Georgia Sparks. With years of experience working in the food industry, they are certainly well-equipped when it comes to finding the best Christmas desserts on the market for 2023.
This year the category of the best Christmas dessert included many hot contenders with predominantly supermarket entries reigning supreme. The M&S White Chocolate & Passion Fruit Yule Log scooped first place, with entries from Tesco and Waitrose nabbing the other spots on the podium.
For those of you who are true traditionalists, we have also rounded up the best Christmas puddings as well as shortlisted the best turkey if you want some savoury inspiration or stick with the sweet and explore the best Christmas cake and best mince pies.
Recent updates
This article was updated on the 7th of December. We checked the prices of all the products featured in the article and updated some of the deals for accuracy.
Where to buy Christmas desserts for 2023
Tried and tested Christmas desserts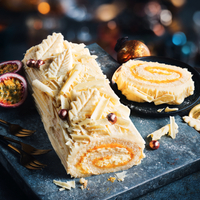 1. M&S White Chocolate & Passion Fruit Yule Log - View at Ocado
Best Christmas dessert overall
RRP: £15 | Delivery: available via Ocado or in-store | Available: 18th December | Servings: 8-10
The complimentary flavours of sweet white chocolate and sharp passion fruit paired with an airy sponge give this Christmas dessert a refreshing light feel. Meaning it's the perfect finale to a rich meal, such as Christmas dinner. It serves 8-10, and the generous size makes it an easy crowd-pleaser.
Food Editor Jessica Meyer was enamoured with the M&S White Chocolate & Passion Fruit Yule Log, and says: "It's refreshing and moist, looks nice, and is something different and not overly sweet."
---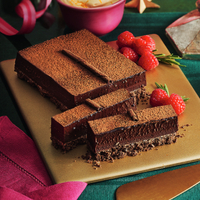 2. Tesco Finest Dark Chocolate and Honeycomb Ganache Bar - View at Tesco
Best chocolate Christmas dessert
RRP: £13 | Delivery: Online and in-store | Available: 11th November | Servings: 6
Chocolate lovers rejoice! This ultra-chic dessert combines a rich mousse with a crisp biscuit and honeycomb base. Each bite treats you to a crunch followed by melt-in-the-mouth satisfaction. Topped with a single chocolate curl (or cigarillo if you will), this dessert is certainly patisserie-worthy. Food Director Jen Bedloe suggests serving it with a dollop of cream and some luscious mulled berries to make it extra fancy!
Deputy Food Editor Rose Fooks says: "This chocolate dessert is deliciously rich, a slither served with a coffee would make for a classy end to the meal."
---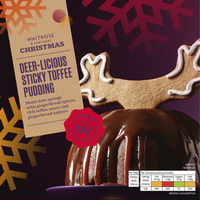 3. Waitrose Christmas Deer-Licious Sticky Toffee Pudding - View at Waitrose & Partners
Best alternative to Christmas pudding
RRP: £7.50 | Delivery: Waitrose delivery available and in-store | Available: Order now | Servings: 6
The love child of sticky toffee and Christmas is this deliciously festive pudding: a moist sponge pudding laced with warming spice, stem ginger, and dates, it comes with a luscious toffee sauce and for good festive measure, gingerbread antlers to adorn the top.
If you're on the fence about a classic Christmas pudding then this a great way to go that will appeal to all ages.
It serves six and is made up of three elements: a sponge that can be heated in the microwave or steamed, a sauce sachet that is warmed in boiling water, and the antler biscuits that are pressed into the sponge before serving.
Junior food writer Georgia Sparks says: "We're onto a winner here - the moist and rich toffee sponge with glossy toffee sauce would be a great alternative to Christmas pudding that would appeal to the whole family. The gingerbread antlers are a fun novelty, something the kids are sure to adore."
---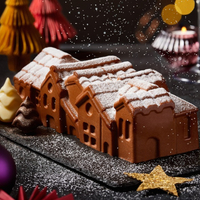 4. Sainsbury's Taste The Difference Home For Christmas - View at Sainsbury's
Best for a buffet
RRP: £12 | Delivery: Next day delivery available | Available: 20th December | Servings: 10
This edible scene is made from a rich chocolate mousse with a salted caramel surprise running through the center and crisp biscuit chunks in the base. Adding to the cuteness are two hollow chocolate trees and a glittery icing snow dusting. But don't be deceived by the look - this is a dessert for the grownups, the mouse is indulgently rich with a perfect light and bubbly texture. Food Editor, Jess Meyer points out that this option is easy to portion so would make a spectacular centerpiece for the Christmas buffet table.
Group Food Director, Jen Bedloe says: "This is a fab looking showstopper dessert, a great alternative to the trad pud."
---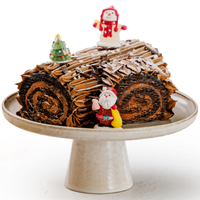 5. Patisserie Valerie Traditional Yule Log - View at Patisserie Valerie
Best family-friendly Christmas dessert
RRP: £54.95 | Delivery: Next day delivery available | Available: 1st November | Servings: 12-14
This log was a hot fave with all the judges. Price-wise this is at the high end of the desserts that we tasted, however, it's also massive, so great for a big celebration as it could serve up to 14. It looks the part too, and the addition of jelly figurines is totally charming. The chocolate sponge is filled and coated with a silky smooth Swiss meringue buttercream, but it's not overly sweet and because of the fudgy sponge texture, it felt like more of a dessert option than a classic Yule log would.
To transport this cake without any damage it's delivered frozen and required defrosted. This takes about 8hrs so you might want to consider this if you're ordering it for a party.
Deputy Food Editor, Rose Fooks says: "This cake tasted great, but it was the adorable jelly decorations that transported me to the festive celebrations of my childhood - they come packaged separately in the box so you can arrange them as you like."
---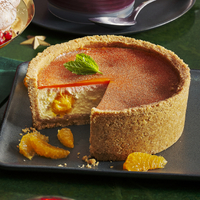 6. Tesco Finest Winter Orange Cheesecake - View at Tesco
Best for a classy option
RRP: £10 | Delivery: Online and in-store | Available: 11th November | Servings: 6
Every element of this high wall cheesecake from Tesco has the wow factor, coming together to create a pretty perfect pud. The case is made from a ginger-spiced digestive crumb, the balance of spice complements the rich creamy orange cheesecake filling. The filling is laced with orange sauce for an extra citrus zing that cuts through the creaminess. While the glittery orange jelly top adds a polished look.
Food Writer, Amanda James says: "I particularly liked the fiery ginger base. It almost gave the dessert a boozy feel that reminded me of an old fashioned cocktail."
---
Best Christmas desserts from last year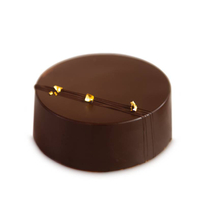 1. Gianduja Cake, 700g - View at Melt Chocolates
Best Christmas dessert
RRP: £65 | Delivery: Next day delivery available | Available: Order now
Incredibly rich and luxurious tasting, this is one for the chocolate-obsessed. It has a modern, minimalist design that looks chic and understated and would make the perfect pairing to an after-dinner espresso. Judges loved the crunchy whole roasted hazelnuts scattered throughout the cake.
Senior Food Writer Jessica Ransom says: "If you wanted to make this feel more like a dessert you could scatter with some more nuts and serve in slices with a scoop of ice cream. The different textures would work brilliantly together but it's also delicious on its own."
---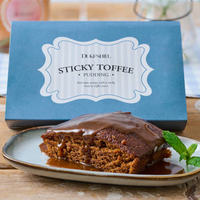 2. DukesHill Sticky toffee pudding, 400g - View at DukesHill
Best comforting Christmas dessert
RRP: £7.50 | Delivery: Free delivery for November | Available: Order now
While not traditional to the festive season, there's no denying that a sticky toffee pudding is comforting and decadent. Especially if you serve it alongside thick clotted cream or a ball or two of vanilla ice cream.
Senior Food Writer Jessica Ransom says: "While this doesn't look like a showstopping pud, it absolutely delivers bucketloads of decadent flavour. It is moist, rich, and swimming in a sweet luxurious sauce."
---