The most popular Christmas foods consumed on Christmas Day
We've rounded up the most popular Christmas foods consumed on Christmas Day. From roast potatoes to gravy, from stuffing to pigs in blankets...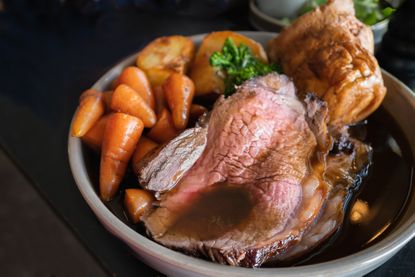 (Image credit: Getty Images)
Have you ever wondered what are the most popular Christmas foods to have at the dinner table? Here's our list of the best Christmas foods to have on Christmas Day - and a few of them may surprise you.
From classic roast turkey to roast potatoes, indeed, some festive foods are much more preferred than others. As well as festive staples – such as pigs in blankets, parsnips, and Christmas pud – it turns out some of us even enjoy chips at our big feast, as well as Yorkshire pudding. Controversial, we know.
"The most important food to have on the Christmas dinner table is food you love. If you hate sprouts, don't have them! If the kids want ketchup rather than gravy – what's the harm in letting them? Don't have anything on the table you don't enjoy and look forward to in a meal," says Caroline Hartley from The Happy Food Kitchen.
"The only rule is that Christmas dinner should be delicious to you – I have personally never eaten turkey on Christmas Day! In fact, I have rarely had a roast, preferring something like a really delicious fillet of fish and baby vegetables, or even making an Asian feast one year. Remember too you can make some of the sides and freeze them rather than cooking them on the day to save time." You could even take inspiration from different Christmas food traditions around the world for your Christmas meal this year.
Most popular Christmas foods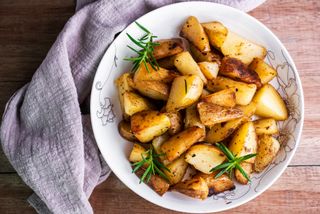 1. Roast potatoes
Why so popular? Of all the trimmings, a roast just simply would not be a roast without the icon of side dishes, and you put a perfect roast potato firmly in the top spot – ahead of even the turkey. And we concur. Soft and fluffy on the inside, crispy and crunchy on the outside, whether you go festive trad/slightly posh by cooking them in goose fat, or go for the (somewhat more heart-healthy option) of roasting them in olive oil, the humble spud is the undisputed King of Christmas dinner.
How to serve: Jazz things up with some crushed cloves of garlic, sprinkle over some fresh rosemary or thyme, and go a little Italian with a dash of oregano and some lemons. You could also mix other root veg in with them (saves on oven space and washing up) - try adding swede and a festive parsnip (though make sure they're pretty chunky or add them in later in the cooking process as they will take less time). Or, just put them in sizzling oil and add salt. Because sometimes the simple things are the best.
Get the recipe: Roast potatoes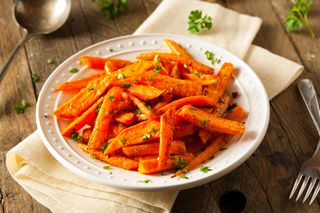 2. Carrots
Why so popular? We all love a carrot, the most crowd-pleasing of veggies – though we're a little surprised they've ranked quite this highly on the Christmas food list. They're certainly one of the most important veggies on the festive dinner plate, though, bringing colour as well as flavour. And, for the big meal, it's worth making them a star (so, no, over-boiled, soggy versions have no place on a festive table, folks).
How to serve: Eschewing your basic carrot for a posher version like Chantenay and cooking them whole is a nice touch at Christmas (saves on prep, too). You could roast them, maybe alongside your parsnips and they work well with sticky sweet marinades like maple syrup, or honey. This recipe from the Hairy Bikers makes great use of an under-used spice, caraway seeds as well as butter and honey to give them a lovely glaze - because what in life isn't made better with the addition of butter and honey?
Get the recipe: Gordon Ramsay honey-glazed carrots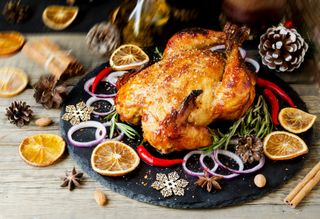 3. Turkey
Why so popular? Well, it is the most festive meat of all the meats, the crowning glory of Christmas dinner tables up and down the land. While most of us don't regularly tuck into a turkey dinner, come December 25th, 76% of households get stuck into one of the 10 million birds sold. One of the appeals is they feed a lot of folks, for those of us who have a lot of people to cater to, and it's something different from the everyday. And so long as you know how to cook a turkey properly and serve with a very good gravy, it tastes very fine too. If budget allows, it's worth investing in an organic, free-range bird from a small, local producer, because there will be a huge difference in taste and flavour.
How to serve: Because of the size of a turkey and the cooking time involved, it can easily dry out, so it needs a lot of care in the cooking process. Cover it in butter or streaky bacon, put a delicious stuffing, like the one in the below recipe, into the cavity, and make good use of flavours like lemon and garlic. If space allows, take your bird out to the table as the crowning glory, dressed with fresh herbs and surrounded by your roast veggies.
Get the recipe: Gordon Ramsay turkey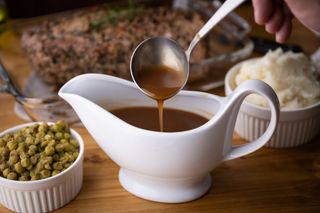 4. Gravy
Why so popular? Much like the potatoes, a roast wouldn't be a roast without lashings of thick, juicy gravy. Whether it's a veggie version to add moisture to a nut roast, or one made with meat juices, it's one of the trickiest parts of the meal to do well, getting the right thickness and taste, just at the time when all the other parts of the meal start coming together.
How to serve: All you really need is the meat juices, stock and some cornflour to thicken, like in this recipe below, though there are other flavours that work well – try splashing in some of that old bottle of red plonk you have lying around (don't waste your best stuff on cooking!), add a few dashes of Worcestershire sauce, or some people even swear by adding a spoonful of Marmite for that umami flavour. You can also throw in crushed garlic cloves from your roast veg pan, some fresh herbs and a bay leaf, just strain the mix afterwards and serve in your finest gravy boat or jug. Just make plenty as you're almost certain to be asked for seconds.
Get the recipe: How to make gravy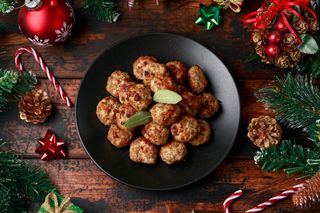 5. Stuffing
Why so popular? An essential part of a festive dinner table if turkey or chicken are your meats of choice, it's essential for stuffing the bird, but also great oven roasted and crispy as a side dish. It tends to feel special and significant because most of us don't bother with it for a regular Sunday roast. There's a heck of a lot you can do with stuffing, and it can even be promoted to a central role in your Christmas meal, especially for vegan and veggie folks (so long as you don't stick any sausage meat in there, of course).
How to serve: Oh, the choices. From the classic sage and onion below, you could try a meaty sausage and apple stuffing (that would pair beautifully with pork as well as turkey) or how about apricot and hazelnut? Olives work well in stuffing too, especially for roast lamb, and throwing in some pancetta works a treat. Breadcrumbs are an essential part of a stuffing, so you could swap regular bread for sourdough or ciabatta as a special twist. Bake and serve straight from the dish, or roll into balls and serve on a platter with pigs in blankets, and your dishes of cranberry and bread sauce.
Get the recipe: Sage and onion stuffing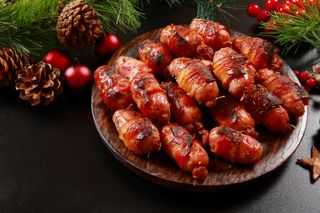 6. Pigs in blankets
Why so popular? If these hadn't been in the top ten, we'd have eaten our Christmas hats. One of the most fought-over foods on the dinner table, they pair wonderfully with the turkey and stuffing, and would work equally well with roast chicken or pork. Get as good quality sausage as your budget allows (it's one of the top things we'd suggest spending a little extra on), and streaky bacon is best, though you could use pancetta instead, or back bacon, which has a much lower saturated fat content (not that most of us worry about that sort of thing on Christmas day).
How to serve: Display them on a serving platter with stuffing balls and other accoutrements like your sauces, for the Christmas dinner. Pigs in blankets are also a wonderful festive canape, served on cocktail sticks and decorated with sprigs of fresh herbs like rosemary, and with dips like Dijon mustard or even a sweet chilli sauce on the side.
Get the recipe: Pigs in blankets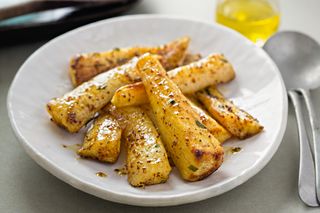 7. Parsnips
Why so popular? After the all-conquering roast spud, the parsnip is our favourite festive root and a crucial part of the Christmas meal, thanks to their distinctive, slightly sweet taste. You could cook and serve them with the potatoes, just be sure to cut them chunkily and don't cook the thinner bottom part for as long as they do have a tendency to burn – and we don't need that drama in the Christmas kitchen.
How to serve: Like carrots, parsnips pair beautifully with sweet flavours like honey and maple syrup and benefit from a generous amount of seasoning (especially pepper, so don't be shy). They also work well baked with grated Parmesan, which would be particularly wonderful paired with roast beef. To do something a bit different, they also work beautifully in a creamy gratin.
Get the recipe: Honey roast parsnips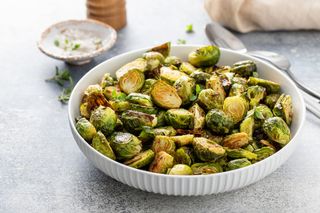 8. Brussels sprouts
Why so popular? The Marmite of veggies, however you feel about them (and clearly they've made the top ten, so a lot of you are fans) they are an undisputed star of Christmas dinner. Looking to jazz them up a bit for that extra punch of flavour? Check out Gordon Ramsay's recipe for brussel sprouts with pancetta.
How to serve: You could just serve them simply, steamed or boiled (do not over boil though, please!) with a drizzle of butter and maybe a pinch of nutmeg, or make them super festive with the addition of pancetta or, for veggies, some crumbled roast chestnuts. Oh and it's of course essential to keep any leftovers for a Boxing Day bubble and squeak
Get the recipe: Gordon Ramsay's Brussel Sprouts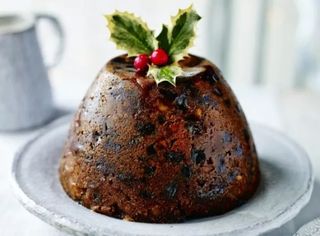 9. Christmas pudding
Why so popular? An icon of the dinner table, a classic Christmas pud quite rightly made the top ten. Sure, some folk prefer trifle, or a yule log, or just to go straight ahead to the cheese board, but it's a once-annual affair and it's worth being revered and celebrated. Dried fruit, mixed spices, nuts, booze, it really is Christmas in a bowl. Make it as far ahead as time allows (that's why 'stir up Sunday' is always in November) for the flavours to develop.
How to serve: It needs centre stage, it needs a sprig of holly, and it needs drenching in booze and setting a-light. And then it needs a good dollop of brandy cream, or clotted cream, or ice cream, depending on your particular persuasion. And then you will need a lie down and a nap while someone else does the dishes.
Get the recipe: Mary Berry's Christmas Pudding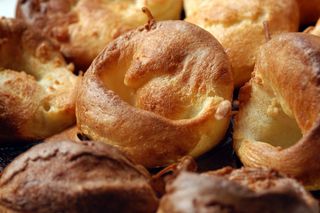 10. Yorkshire pudding
Why so popular? A controversial one here, as some would say there's no place for a Yorkshire on the Christmas roast whereas others, clearly, disagree. And as we all love one on a regular Sunday, why not throw them into the festive version? It's good news for vegetarians, too. "I love that Yorkshire pud is on the list – I make veggie roasts and the best thing is you can have Yorkshires and any of the sauces for meats like mint or cranberry too," says Caroline Hartley. Ideally, if it's not one too many tasks, make your own rather than relying on Aunt Bessie.
How to serve: The tricky thing when there's so much else going on in the oven, is to avoid sinking or soggy Yorkshires - remember the golden rules of getting the oil very hot and not opening the oven til they're done. Luckily though, they won't need to go in until the turkey is resting. Serve them in a wide, shallow dish, topped with sprigs of fresh herbs like rosemary or sage.
Get the recipe: Yorkshire puddings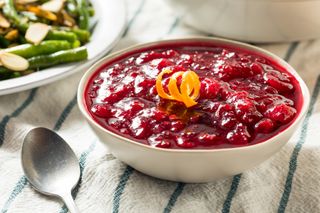 11. Cranberry sauce
Why so popular? Deliciously tart and sweet, it's a staple condiment for a turkey or chicken roast and is particularly festive because we don't tend to think to serve it at any other time of year (hands up who still has half a jar from last year at the back of the cupboard). Making your own is worth the effort though, for both taste and satisfaction, though we recommend doing this ahead of time as you won't be needing an extra task like this on Christmas morning. It'll fill the whole house with festive smells too. Delightful.
How to serve: Depending on how many people you're serving, add it around the table in glass ramekin dishes with a small serving spoon, for some pops of festive colour. Increasing the recipe quantities, it could be a lovely gift to others ahead of the big day, stored in decorated jam jars wrapped with festive ribbon.
Get the recipe: Cranberry sauce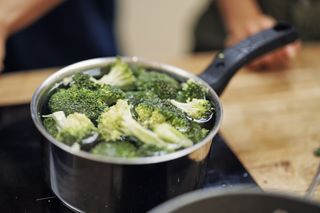 12. Broccoli
Why so popular? It's not quite as festive as the likes of carrots, parsnips, and sprouts, but broccoli is a crowd-pleaser, kids love it, and it will give the family a nutrient boost over what is not, generally, the most vitamin-filled time of the year. And this is the time to do something a little extra special with your broccoli, rather than the usual boiled-on-the-side offering.
How to serve: If you can't go the extra mile with your veg recipes at Christmas, then when can you? Stir fry it with pine nuts, garlic, and lemon, add to a gratin, mix it in with your cauli cheese, or try this delicious roasted broccoli with parmesan and pistachios recipe – we'd eat that as a meal in itself, personally.
Get the recipe: Roasted broccoli
13. Cauliflower cheese
Why so popular? Do you even need to ask? What isn't to love about veggies cooked in a bubbling, toasted cheese sauce? Cauli cheese adds a different dimension of flavour and texture to any roast, from turkey to beef to a classic nut roast. It can even be the main event for non-meat eaters. "Cauliflower cheese is a fab make-ahead dish as who wants to be faffing about with cheese sauce on Christmas morning? It can just slot into the oven while the rest of your food is roasting and is a real treat," says Caroline Hartley.
How to serve: No need to mess with a classic, though you could add some broccoli in with the cauli, a spoonful of mustard, and/or a pinch of nutmeg or even cayenne pepper for a stronger flavour. Try topping it with some bread crumbs mixed with Parmesan and herbs for more of a gratin and serve it looking all rustic, straight from the oven.
Get the recipe: Cauliflower cheese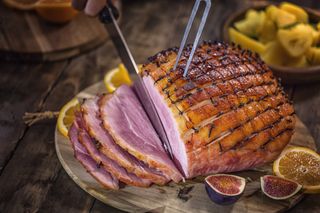 14. Roast ham
Why so popular? A roast ham is a staple of Yuletide, beautifully complementing turkey as well as being a brilliant cold cut for evening sarnies or the Boxing Day buffet. Cooking your own is a satisfying labour of love, that involves boiling the ham before roasting it in the cooking liquor.
How to serve: It is complemented wonderfully by sweet flavours like maple syrup in the cooking process, to give it that delightful sweet glaze. Excellent with pickles (we like to pair it with mango chutney - try it, promise it works) or with a strong English mustard and a good dollop of mayo. Oh and a crusty white loaf. And chips. Because everything is made better by crust bread and chips. Serve the whole ham on a platter, with some of it thickly sliced, and surrounded by the condiments.
Get the recipe: Gordon Ramsay honey roast ham or learn how to cook a ham with our step-by-step guide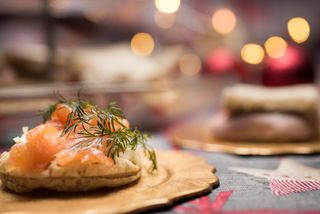 15. Smoked salmon
Why so popular? It's such a treat, it's so versatile, and it's the perfect posh starter for your Christmas lunch – getting the taste buds excitable and light enough so as not to get you too full for the food onslaught. Perfect just as it is with a squeeze of lemon, there are lots of other things you can do with your salmon, for the buffet, for canapes, for breakfast, we could go on…
There's an abundance of smoked salmon recipes you could try to add variety to your Christmas dinner spread. From salads to bite-sized salmon parcels, there's a good reason why smoked salmon ranked at number 15 on the most popular Christmas foods list!
How to serve: Where do we begin? Wrap it up into wheels with cream cheese and sprinkle with dill, as easy canapes, cook it up lightly with scrambled eggs and serve on some toasted sourdough for festive brekkie, or as an appetizer as part of a fish platter for the big meal. Serve with king prawns and perhaps some squid or cockles and mussels, or how about scallops or some smoked fish, and a bowl of mackerel pate? Check out the recipe collection below.
Get the recipe: Smoked salmon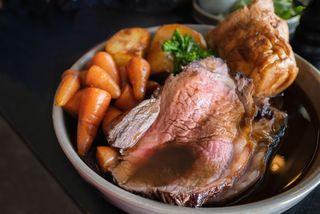 16. Roast beef
Why so popular? For all those turkey refusers out there, roast beef is the favourite option for the festive lunch centerpiece and we get why – it's the king of Sunday roasts, the best pairing for a Yorkshire pud, and a delight with a dollop of horseradish sauce on a Boxing day butty.
How to serve: Choose your cut of meat well - topside is the most popular choice, but, for a special occasion, you could order beef ribs from your butcher, and serve with a rich port and Stilton gravy. It's also wonderful roasted with flavours like thyme and mustard powder, or just simply done with salt and pepper. Or you could even turn your joint into a beef Wellington. Whatever you do, don't overcook the meat. It's all down to personal preference, but, really, it's the most tasty if still a little pink in the middle. Serve at the table, surrounded by your roasted veg.
Get the recipe: Roast beef