The best mince pies for Christmas 2021 tried and tasted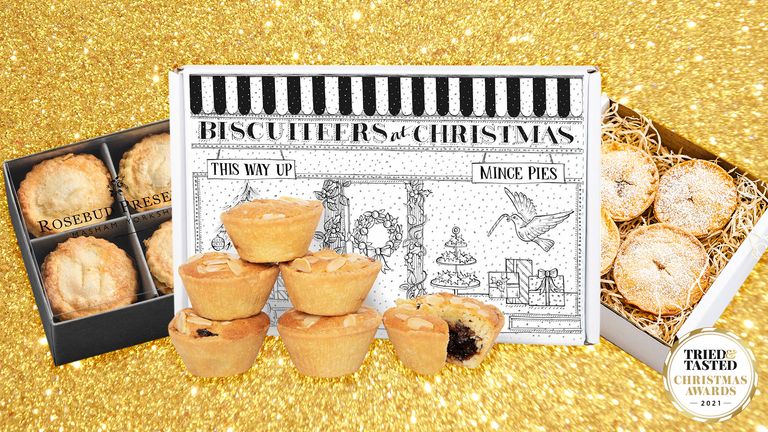 With an abundance of mince pies hitting supermarket shelves in the run-up to Christmas, it's hard to know which truly are the best mince pies.
This year's winning collection of mince pies were tried and tested as part of Goodto's Tried and Tasted Awards. They include a mix of the best supermarkets including Waitrose, M&S, and Morrisons, and artisanal producers like Biscuiteers and Jack&Beyond.
Our tried and tested collection of mince pies varies in price ranging from £1.50 to £15 per pack. Most mince pies are sold in packs of four or six and the majority can be bought online. Our expert food panel tested different types of mince pies too including classic shortcrust pastry mince pies (opens in new tab), as well as dietary-based treats like gluten-free mince pies (opens in new tab).
How did we test the best mince pies?
During the testing process, individual pies were blind-tasted and judged purely on flavour, texture, and look. The mince pies were tested by our expert food panel of judges which included Food Editor Samuel Goldsmith, and Deputy Food Editor Rose Fooks. Rose told us, "Mince pies are always an interesting category to judge as there are subtle but important differences between each pie. Traditionally spiced varieties performed the best though we did enjoy the brown butter pastry pies from Waitrose a lot."
In terms of flavour and texture, our judges were looking for two key elements – a delicious pasty and a jam-packed filling. To score highly, entries needed a crumbly yet firm pastry, with a buttery flavour. Their favourite fillings needed to be fruity, but not too sweet, and extra points were awarded to those with chunky pieces of fruit and nuts.
What are the best mince pies you can buy 2021?
Biscuiteers Handmade Mince Pies
Winner: Best mince pies 2021
Size: 6-pack
The standout winner in the mince pie best Christmas food (opens in new tab) category this year was the Biscuiteers variety which was topped with a generous layer of frangipane. "Biscuiteers are best known for their intricately iced biscuits but we're delighted they're branched out to other bakes for the festive period," adds Rose.
These deep-filled pies have a gorgeous buttery pastry and a generous layer of indulgent marzipan. Judges loved this twist on the classic and noted that they'd be ideal for sharing or to serve as a substantial dessert with a scoop of ice cream. The festive pies are carefully packaged in a cardboard box that has the signature Biscuiteers design on top.
VIEW AT BISCUITEERS | £15 (opens in new tab)
Best mince pies for Christmas 2021 - runners up
Gluten-free Mince Pies
Winner: Best gluten-free mince pies
Size: 2-pack
These delicious little pies are packed with cranberry mincemeat giving them a sharp, fruity bite. These best mince pies are made without milk and are suitable for vegetarians and vegans too.
Deputy Food Editor, Rose Fooks says; "I love the simple but festive design of these pies and enjoy the well-balanced mincemeat." Judges felt these were an outstanding inclusive option, ensuring everyone can enjoy these pies at Christmas.
VIEW AT WAITROSE | £3 (opens in new tab)
Organic Vegan Mince Pies
Winner: Best vegan mince pies
Size: 6-pack
As well as being vegan, these festive little pies are made using the best organic ingredients too including coconut oil, which adds a rich nutty undertone to the pastry. Made by The Authentic Bread Company, an award-winning family-run bakery, these pies are baked in a wood-fired oven to give them a rustic feel. Once open, these festive treats will last around seven days.
Food Editor, Samuel Goldsmith adds, "A crisp, well-seasoned and tasty pastry. The filling is generous with heavy notes of cinnamon which I thoroughly enjoyed."
VIEW AT RIVERFORD | £5 (opens in new tab)
Jack&Beyond Mince Pies
Tried & Tasted
Size: 6-pack
A lovely option to send to family or friends, judges commented on the gorgeous golden pastry of these mince pies. The filling is rich, with generous chunks of fruit and a warming festive mix of spices.
These mince pies are 100% handmade from pastry to filling. Raisins, currants, sultanas, candied mixed peel, ground nutmeg, ground mixed spice are just a handful of ingredients used to make these treats. The mincemeat used is vegetarian-friendly and slow-cooked for the richest flavour and soft, melt-in-the-mouth texture. These mince pies were also awarded two stars at the Guild of Fine Food Great Taste Award.
VIEW AT JACK AND BEYOND | £12 (opens in new tab)
Rosebud Preserves Mince Pies
Tried & Tasted | Size: 8-pack
Rosebud Preserves is a family-run business based in the Yorkshire dales, which pride itself in using fresh, flavoursome ingredients throughout all of their produce.
These would no doubt make a lovely afternoon treat with a freshly brewed pot of tea. The pastry is rich with butter and the filling includes currants which judges applauded. The mincemeat used in these pies is flavoured with almond and orange giving them a nutty and citrus flavour overall. These mince pies can be frozen to preserve for longer for up to three months in a sealed bag. Ideal for any leftover after Christmas.
VIEW AT ROSEBUD PRESERVES | £9.95 (opens in new tab)
No.1 Brown Butter Pastry Courvoisier Mince Pies
Tried & Tasted | Size: 6-pack
A definite favourite from Waitrose this year. The rich mincemeat in this pies is made with apricots, glacé Amarena cherries, and almonds. They have a boozy undertone thanks to the COURVOISIER® VS Cognac, which makes them even more of a festive treat.
Rose Fooks adds; "Brown butter gives a delicious nutty undertone which makes them taste incredibly luxurious." It's a simple but effective twist we're certain you'll adore this Christmas."
VIEW AT WAITROSE | £3 (opens in new tab)
The following products are not included in the Tried and Tasted Awards
Morrisons bake-at-home pies
Enjoy a warm mince pie straight from the oven without any of the prep, washing up, or fuss. The recipe is the same as the one used in the in-store bakery pies with a rich buttery shortcrust pastry and fruity filling.
VIEW AT MORRISONS | £2.50 (opens in new tab)
Finest 4 All Butter Pastry Speculoos Tarts
Size: 4-pack
A delicious alternative. These little tarts have an indulgent speculoos-spiced filling, a spiced sponge, and a speculoos-spiced buttercream. These pies are lightly spiced and made with all-butter pastry, suitable for vegetarians, and are best served cold straight from the pack.
VIEW AT TESCO | £3 (opens in new tab)
Finest 4 Crumble Topped Pies with Salted Caramel & Festive Spice
Size: 4-pack
These sweet little pies have fruity mincemeat and salted caramel sauce filling and a luxurious golden pastry case. The buttery crumble topping is sure to provide a nice crunch to the overall texture. The saltiness from the caramel and warming spice pair perfectly together. We love that these pies can be frozen. They can also be served hot taking just 7 minutes to warm in the oven.
VIEW AT TESCO | £3 (opens in new tab)
Asda Irish Cream pies
Size: 6-pack
Asda has transformed the popular Christmas cream liqueur into a decadent buttercream icing for the ultimate boozy topping to the classic mince pie. At just £2 a pack, these boozy pies are great value for money. The all-butter pastry and Irish whiskey-infused mincemeat are delicious together. If you're leaving some out for Santa, we recommend leaving more than one.
VIEW AT ASDA | £2 (opens in new tab)
M&S plant-based mince pies
Size: 4-pack
A great vegan option from M&S, new for 2021. These plant-based pies are made with sultanas, raisins, a hint of lemon, all coated in a thick golden vegan-friendly shortcrust pastry. We'd recommend warming these pies in the oven on low for 8-10 minutes for the best experience.
VIEW AT OCADO | £2.50 (opens in new tab)
Mr. Kipling Chocolate Orange Tarts
Size: 6-pack
If you're looking for a bit of diversity when it comes to mince pies, Mr. Kipling has got you covered this year with a range of delicious mince pie-inspired tarts. These chocolate and orange ones combine a layer of chocolate and orange flavoured mousse with Mr. Kipling's famous light pastry.
VIEW AT TESCO | £1.50 (opens in new tab)
Mr. Kipling Signature Collection Winter Berry and Custard Crumble Tarts
Size: 6-pack
These pies are bursting to full with spiced winter berry filling, a layer of creamy custard, and finished with a crunchy buttery crumble topping. One of the best mince pies on the list for 2021 as they take elements from a variety of classic Christmas desserts together to make one mouthwatering festive treat.
VIEW AT TESCO | £2 (opens in new tab)
Aldi's Almond Mince Tarts
Size:6-pack
Voted 'Best Alternative Mince Pie' at this year's Quality Food Awards (QFAs) these flavoursome mince pies have an almond twist. These all butter mince pies are packed with nut-filled mincemeat, a generous amount of brandy, all topped with crisp golden, flaked almonds. A great option if you're looking for something a little different this Christmas.
IN-STORE ONLY | £2.49
Aldi's Sloe Gin Mince Tarts
Size: 6-pack
Another mince pie with a festive twist from Aldi this year. These mouthwatering best mince pies are infused with sloe gin, which complements the nutty mincemeat perfectly. We just love the combination of rich, indulgent filling and luxurious buttery pastry. The sloe gin flavour makes these pies extra warming and festive.
IN-STORE ONLY | £2.49
See all the winners of the Tried & Tasted Christmas awards (opens in new tab)
Jessica currently works as a Senior Food Writer at Future. She writes food and drink-related news stories and features, curates product pages, tests, and reviews equipment, and also develops recipes that she styles on food shoots. An enthusiastic, self-taught cook Jess adores eating out and sharing great food and drink with friends and family. She has completed the Level 1 Associate course at the Academy of Cheese and is continually building on her knowledge of beers, wines, and spirits.