Do Christmas puddings go off? Your Christmas pudding questions answered
Everything you need to know about Christmas puddings including how to store, how long they last and more...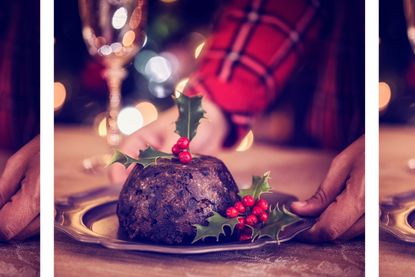 (Image credit: Getty)
Wondering how to store Christmas pudding? Or how long does Christmas pudding last? If you're bursting with questions when it comes to that classic Christmas Day dessert, we're here to help.
For many, it wouldn't be Christmas without a rich and fruity Christmas pudding - especially if it's anything like Mary Berry's Christmas pudding. But if you find yourself confused and a bit daunted by this British Christmas classic - especially when it comes to storing, reheating, and best before date - you're not alone.
Christmas pudding is one of the most iconic desserts served on Christmas Day, whether you serve it warm with brandy butter or cold the next day with lashings of cream. Christmas puddings are made so far in advance so it's no wonder we're all confused when it comes to things like how long can you keep an unopened Christmas pudding or how to store Christmas pudding once cooked.
"I've eaten out-of-date puds before, including my Christmas cake, which is a hybrid of a pud and cake – we've even eaten this after almost three years and I'm still standing," says baking expert Juliet Sear (opens in new tab) who shared her tips in partnership with the FAB Flour (opens in new tab) Easy Peasy Baking Campaign from the National Association of British and Irish Millers.
Do Christmas puddings go off?
Christmas puddings are often made well in advance of Christmas (opens in new tab), as they keep well and the flavours mature the longer you leave them – but how long can you safely keep these puds for? There is no concrete answer for this one, as it depends on the exact contents of the pudding, so check the recipe you use or the package you buy.
Any pudding using fresh fruit for moisture will go off quicker, whereas a Christmas pudding soaked in booze with high sugar and dried fruit content will last much longer.
Some Christmas puddings, made with dried fruit in the traditional way, are fine to be eaten even two years after they were made.
"They don't tend to go off if they are stored correctly in a cool place, eventually they may dry out or lose flavour, of course, the more alcohol the better – if it's soaked in booze, it will stay preserved for a long time. I always do the sniff test, if something smells okay and there are no signs of any mould then it should be okay," says professional baker and expert, Juliet Sear.
How can you tell if Christmas pudding is safe to eat?
If you made the Christmas pudding a while ago, or you've just discovered a shopbought one you scurried away and forgot about, there's still a good chance it's edible.
"If there are any unpleasant smells or signs of deterioration like mould, it's best to avoid. Put simply, if in doubt, don't eat anything you're suspicious of," says Juliet.
Do you feed a Christmas pudding?
If you are making your Christmas pudding ahead of time, or on a traditional day Stir Up Sunday (opens in new tab), it's good to feed your pudding to keep it moist. Depending on what you use to feed the pudding, it can also act as a preservative and prevent the pudding from developing mould or allowing the growth of any bacteria.
Juliet says: "The way I feed my Christmas pudding is to pierce a few holes over the surface and spoon over 1-2 tablespoons of booze, every 2-3 weeks or so...
Make sure you wrap it well, I double-wrap it in baking parchment, then seal it over with a tight layer of foil and store it back in a cool dry place. I keep mine in a box in the pantry. It's not essential to do this if you've already fed it with plenty of booze after the first cook, but it does help to add flavour and moisture to the pudding."
What do you pour on Christmas pudding?
The most common thing to pour over a Christmas pudding to feed it is a form of alcohol. Juliet explains: "I favour brandy but some people like whisky or rum, just make sure it's a spirit with a high alcohol content." It's all down to personal preference but Juliet Sear recommends not going too heavy-handed on the pouring!
She suggests; "Just make sure not to really soak it too much over and over as you don't want it super soggy, just add a little every so often."
You can experiment with the booze that you use in your Christmas pudding and you might develop a new favourite family recipe. Juliet says; "Sometimes I do an orange version and add some Grand Marnier or Cointreau, it really is down to personal choice." You could try a flavoured gin or even a nod to your favourite high-alcohol cocktails like the classic Negroni.
If you would like an alcohol-free option, you could try soaking your fruit in tea and feeding it with this for added flavour. Juliet suggests a spiced spring tea but you could try something floral like Earl Grey too.
However, Juliet stresses; "Bear in mind if the pudding is alcohol-free, of course, it will last a good while with the sugar content, but it will not last as long without alcohol to preserve it."
If you want to light the pudding on Christmas Day you will also need to use a high-alcohol-content spirit such as brandy, whisky, or rum. Warm it gently before pouring it into a ladle to light and pour over the pudding.
Is Christmas pudding vegan?
Many traditional Christmas puddings are made using suet, which means they are not suitable for vegans. Always check the label though, as some can be made with vegetable suet instead, with no eggs. However, some can be made in the same factory as the regular puds though, so run this past your vegan guest to check how strict they are.
If shop bought isn't for you, you can make your own vegan Christmas pudding (opens in new tab) using our easy recipe.
Is Christmas pudding vegetarian?
The answer here is similar to the vegan question, apart from the egg is suitable for vegetarians, so you don't need to worry about finding an egg-free version. We have a great recipe for a vegetarian Christmas pudding (opens in new tab) that tastes just as good as a classic pud.
Can Christmas pudding be frozen?
You can freeze a Christmas pudding, but if you've made your own in advance of Christmas, it is better to store it in a cool dry place and let the flavours develop.
If you've bought a Christmas pudding that you haven't used, and want to freeze it, it should be safe to freeze for up to a year. Be sure to leave it at room temperature overnight to defrost.
Can Christmas pudding be reheated?
You can reheat a Christmas pudding, and there are several ways to do so. The easiest, and most convenient, way to do so is in the microwave. The time taken depends on the size of your pud, but we'd recommend placing the leftover Christmas pudding in a microwave-safe bowl, covering with clingfilm, and microwaving it on high for 3-4 minutes.
Allow it to rest for a minute, and then repeat, it until piping hot. Alternatively, you can wrap your Christmas pudding in foil and reheat it in the oven for 1hr at 150C.
Can Christmas pudding be eaten cold?
Once cooked, you can eat any leftover Christmas pudding cold if you like. This isn't the tastiest way to eat the fruity festive favourite (in our humble opinion), we'd recommend using the leftovers to make our Christmas pudding crumble (opens in new tab) instead.
Can Christmas pudding be made in a slow cooker?
If the old-fashioned steaming method seems too daunting, you can actually make your Christmas pudding in a slow cooker (opens in new tab). This is an easy, safe, and effective way to make your pud.
Follow your Christmas pudding recipe as you normally would, filling a greased pudding basin with your homemade mixture and covering it with a pleated piece of baking paper and foil to seal the top nice and tightly. Pour a couple of inches of boiling water into the bottom of your slow cooker. Turn onto high, lower your pudding basin full of Christmas pudding mixture into the slow cooker and cook for around 8-9 hours.
Juliet Sear also recommends this method of reheating your Christmas pudding, as she says: 'I always find on the big day itself I really struggle to offer up a hob ring for my pudding to steam for hours. Since I got my slow cooker, it's been a lifesaver as I have it turned on out of the way in the utility room heating up the pudding.'
Is Christmas pudding the same as fruit cake?
Christmas pudding and Christmas cake (opens in new tab) are very similar due to the spices used and they form an integral part of Christmas for many. However, the key differences are in the way the two sweet dishes are cooked. Christmas cake is baked in an oven and is often topped with marzipan and/or royal icing. We've got lots of Christmas cake ideas (opens in new tab) with fun decoration inspiration to make the cake a truly special centerpiece for your festive table. Pictured above is our gorgeous Christmas present cake. (opens in new tab)
However, Christmas pudding is steamed and is generally only decorated with a piece of holly traditionally. Some people also like to use fresh red currants and berries.
Christmas cake generally only includes dried fruit, whereas Christmas pudding can include a mix of grated fresh fruit and dried fruit that has been soaked in alcohol or tea. You can make Christmas cake ahead of time and feed it with alcohol in a similar way to Christmas pudding. However, this means you have to delay finishing the cake with the icing and marzipan.
Can I have a Christmas pudding without fruit?
If you still aren't sold on the idea of a traditional Christmas pudding, we have a great alternative Maltesers Christmas pudding (opens in new tab) that kids and adults will love! It looks like a Christmas pudding but it's actually made of chocolate cake with a clever white chocolate drip.
Specialises in cakes, bakes and showstoppers
Specialises in cakes, bakes and showstoppers
Juliet Sear
Baking expert and best-selling cookbook author, Juliet Sear, certainly knows a thing or two when it comes to making, baking and decorating cakes. She has over 15 years experience working in the baking industry. Alongside her passion for baking, Juliet is a mum-of-three.
Related Features:
Video of the Week
Jessica currently works as a Senior Food Writer at Future. She writes food and drink-related news stories and features, curates product pages, tests, and reviews equipment, and also develops recipes that she styles on food shoots. An enthusiastic, self-taught cook Jess adores eating out and sharing great food and drink with friends and family. She has completed the Level 1 Associate course at the Academy of Cheese and is continually building on her knowledge of beers, wines, and spirits.