What's REALLY in a Wonky Veg box? Mum Sarah reviews the latest food obsession from ASDA
Everyone has been going crazy for ASDA's new Wonky Veg boxes and we thought it was time to see what all the fuss was about...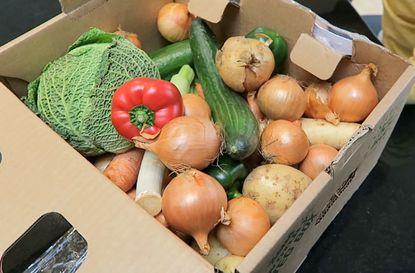 Want to find out what's really in ASDA's new Wonky Veg box? Looking for ideas of what to make with all the veggies inside? Look no further!
We asked our Kids Kitchen blogger Sarah to review the box and show you exactly what you get for £3.50.
Launched earlier this year, ASDA delighted us with the new Wonky Veg box selling leftover, unwanted veg that's farmed but never makes it onto supermarket shelves in a bid to decrease food waste. The box alone will result in at least 500 tonnes of waste fruit and vegetables being sold in the supermarket by the end of 2016.
Each Wonky Veg box will include a whole variety of seasonal veggies with a great use by date too, including peppers, potatoes, onion, cabbage, leek, courgette and more. It's said that these veggies are the 'leftovers' which could mean by buying them we're reducing supermarket waste while helping supermarkets keep the price of food down – sounds good, ey?
From peppers to potatoes, carrots to parsnips, this box is heaving with all different shapes and sizes of vegetables – you won't know where to begin!
Sarah's Wonky Veg box contained:
1x savoy cabbage


4x carrots


1x large parsnips


2x cucumbers


4x peppers (2x red, 2x green)


20x onions


6x potatoes (+ 1x small potato)


4x leeks
Recipe ideas for your Wonky veg
If you're wondering what to make with all these veggies, Sarah has suggested the following family meals. Each box provides enough vegetables for a family of four for one week – but we think you can get even more out of your box!
Swipe to scroll horizontally
Sarah has worked out that in your £3.50 Wonky Veg box you have around 25 portions of food – which is a great amount of meals for such little cost!
What Sarah loved about the box
They're really good value – around 30% cheaper than buying vegetables straight off the shelves in ASDA.


They're really working towards reducing food waste which is one of the major points of the boxes, as such a huge amount of supermarket produce gets binned so it's good to be using up those leftovers.


You can try vegetables you wouldn't usually buy or eat – the surprise element is a great idea for mums and kids too!
What Sarah didn't like about the box
You don't know what is in them so if you plan meals ahead it's really hard to meal plan without knowing what vegetables you're going to buy – it would be great to know what is going to be in boxes each season and how long they're available for so you know what you're getting.
Have you bought a Wonky Veg box yet? What do you think of the idea? Comment below!
Jessica Dady is Food Editor at Goodto.com and has over 10 years of experience as a digital editor, specialising in all things food, recipes, and SEO. From the best food hampers to cookbooks, from the best cake stands to kitchen appliances, Jessica has a wealth of knowledge when it comes to must-have food products. A passionate baker, she spends some of her time creating celebration cakes for friends and family including her two lucky children.