TikTok's viral Espresso Martini recipe with PARMESAN sparks debate
Today show host Hoda Kotb wasn't a fan!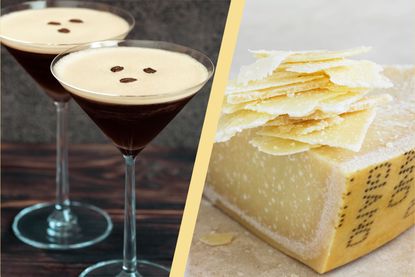 (Image credit: Future/Getty)
Espresso Martini fans look away now...
Coffee, sugar and a few shots of vodka - it's a simple concoction that's proven to be a cocktail favourite with drinkers. Any good bartender will know how to knock up a classic Espresso Martini, but there's a new TikTok video that's offered up a twist on the traditional Espresso Martini recipe - and it's safe to say it's left some users baffled.
Jordan Hughes aka TikTok influencer High Proof Preacher, regularly treats his 69.7k followers to cocktail-making videos from the classic to the obscure. The latest on his list? An Espresso martini thats topped with a sprinkling of Parmesan cheese.
"A bartender friend of mine told me that I had to make an espresso martini with parmesan cheese in it," Jordan starts. "Now he could just be trolling me, but we're going to try it anyway."
Jordan places his ingredients on the counter alongside a cocktail glass with pebble ice to chill the glass. He mixes together some ground coffee beans and an ounce of coffee liqueur - before pausing to say that you could add sugar syrup here, but the liquer and coffee should work well enough on their own.
Next up, Jordan adds "two ounces of vodka", followed by a "pinch of sea salt". He shakes the mixture together in a cocktail shaker with plenty of ice, before straining into the chilled glass.
"We should just garnish it with coffee beans and drink it like this," Jordan says. "But instead we're going to grate some Parmesan cheese over the top of it.
"This feels crazy, my goodness. OK, let's try this monstrosity," he adds.
Low and behold, Jordan seems taken with the quirky combination, signing off the video with: "I regret to inform you that was kind of awesome".
It wasn't long before Jordan's followers let their opinions be known in the comment section. "This is easily the worst flavour combination I've ever seen on a drink," wrote one TikTok user. Whilst another impassioned follower added: "What's wrong with people nowadays. Why can't you just drank alcohol? Why do you have to make it something else ridiculous? This is stupid".
Though many followers weren't taken by the recipe, one TikToker shared how they'd tried the drink themselves and were pleasantly surprised by it.
"I tried it and I can report back that it's just crazy enough to work! It's wonderful!" commented Keaton McCrory.
Lisa Pell seemed to also try the crazy cocktail but had a different view: "I regret to inform YOU, that you are a liar and a tool," she wrote.
Explaining why he thinks the combination works, Josue14 shared: "I knew you were onto something when I remembered Colombians put cheese in their hot chocolate."
Jordan's viral recipe made it's way to the TODAY studio and saw chef Katie Silo present hosts Hodda and Jenna with a sample to try. "No, no. No thank you," said a disgusted Hodda as she went in for her first taste.
Racking up over 280,000 views for the video, it's safe to say that Jordan's alternative recipe has caused quite the stir online. But will you be making it?
It's not the only TikTok video to receive attention lately with chocolate lovers enjoying an air fryer hack for mini eggs and learning how to cook creme eggs in an air fryer during the Easter period. Fans were also amazed by an air fryer hack for poached eggs that's been hailed a "gamechanger". Then there's foodie nan NannaBea's tip on making Yorkshire Puddings in an air fryer.
You also don't want to miss this electric toothbrush cleaning hack that will transform your teethcleaning game. And if you're a parent, check out this simple wet wipe hack from former TOWIE star Lauren Pope.
Video of the Week
Emily Stedman is the former Features Editor for GoodTo covering all things TV, entertainment, royal, lifestyle, health and wellbeing. Boasting an encyclopaedic knowledge on all things TV, celebrity and royals, career highlights include working at HELLO! Magazine and as a royal researcher to Diana biographer Andrew Morton on his book Meghan: A Hollywood Princess. In her spare time, Emily can be found eating her way around London, swimming at her local Lido or curled up on the sofa binging the next best Netflix show.