McDonald's customers panic over news the fast-food chain is running out of popular menu items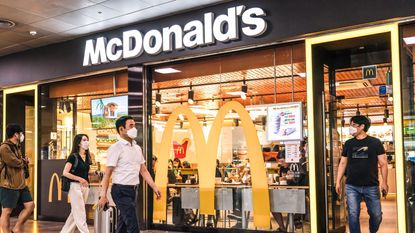 (Image credit: Getty)
GoodTo newsletter
Sign up to the GoodTo Newsletter. You can unsubscribe at any time. For more information about how to do this, and how we hold your data, please see our privacy policy
Thank you for signing up to . You will receive a verification email shortly.
There was a problem. Please refresh the page and try again.
McDonald's customers are panicking over the news the fast-food chain is running out of popular menu items.
McDonald's customers are panicking that they're unable to purchase popular items from the menu amid a fresh product supply shortage.
Just days after Nandos was forced to close 50 stores after running out of chicken (opens in new tab), and KFC recently suffered a second chicken shortage (opens in new tab), McDonald's has confirmed it is suffering from a shortage of drinks affecting some of its 1,250 outlets.
McDonald's had previously faced a nationwide shortage (opens in new tab) of some of its popular chicken menu items, and now the shortage is affecting its popular drinks menu items including milkshakes and bottled drinks.
A spokesperson for McDonald's issued a statement that reads, 'Like most retailers, we are currently experiencing some supply chain issues, impacting the availability of a small number of products.
'Bottled drinks and milkshakes are temporarily unavailable in restaurants across England, Scotland and Wales.'
McDonald's did not specify the reason, but there have been widespread reports of food and drink shortages due to a lack of HGV lorry drivers. And this has led to a limited menu being served during McDonald's breakfast hours (opens in new tab) in particular.
Earlier this month, a survey by the Road Haulage Association (RHA) estimated there was a shortage of more than 100,000 drivers in the UK, out of a pre-pandemic total of about 600,000.
But despite viral McDonald's hacks (opens in new tab) and McDonald's Monopoly 2021 due to start, customers of the fast-food chain are unimpressed with the latest hold-up.
One regular milkshake buyer wrote, 'Bad news on the milkshake shortage at McDonald's. I mean what am I meant to do the next time I'm badly hungover? #McDonalds #Milkshake'.
Another put, 'There's a McDonald's milkshake shortage in Wales are u kidding me.'
And a third customer added, 'McDonald's milkshake shortage is nothing new. They should have a flag at half-mast to announce they are out of shakes to save you sitting in the drive-through for disappointment.'
McDonald's recently launched five new items to its summer menu (opens in new tab), including a sticky bbq burger but its popular summer milkshake staple is what many customers like to order alongside.
Until the shortage resolves, they will have to stick to one of the carbonated drinks options instead - and that includes any children hoping to have Robinson's Fruit Shoot or bottled water with their Happy Meal.
It is not yet known when the full menu will resume.
The reason why there is a shortage at McDonald's is similar to why gas prices are rising (opens in new tab) in the UK on the whole. Demand is high as economies are reopening after the Covid-19 pandemic but supply is low, following issues with importation and unusual weather patterns.
It's also likely to affect electricity supply in the coming weeks, too.