Hemsley + Hemsley: The best Hemsley + Hemsley recipes you should try
The sister duo have some delicious recipes up their sleeves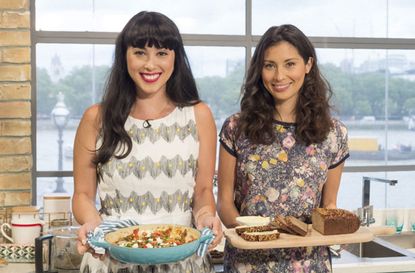 Hemsley + Hemsley recipes are life-saviours if you're looking for healthy and tasty recipes that will help you look good and feel good.
You've probably heard of the Hemsley sisters. Since founding Hemsley + Hemsley in 2010, the duo have published two international bestselling cookbooks The Art of Eating Well and Good + Simple, and also had their TV debut last year on Channel 4, with their five episode series Eating Well With Hemsley + Hemsley.
The two sisters are also among the biggest fans of bone broth and responsible for making the age-old ingredient mainstream. They use it to make soups, stews and sauces but, despite the different name, it's just homemade meat 'stock'. But what do they actually stand for in the foodie world?
The Hemsley sisters have cooked live on This Morning
What are Hemsley + Hemsley recipes all about?
The Hemsley sisters pride themselves on cooking nutritious food, using fresh ingredients and avoiding processed foods.
They describe themselves as 'home cooks' and 'food lovers with a passion for living well and enjoying delicious, nutrient-dense food'.
Their recipes are all about creating natural meals that are filling and easy to digest, so that what you eat can make you feel better, as well as look better - but never compromising on flavour.
Hemsley + Hemsley recipes mostly follow a 'meat and two veg' approach, which results in meals that are gluten, grain and refined sugar free.
Here are some of our favourite Hemsley + Hemsley recipes
Hemsley + Hemsley breakfast recipes
There's nothing like starting your day off with a hearty breakfast, and we can't think of a better option than the Hemsleys' huevos rancheros.
This Hemsley + Hemsley breakfast recipe takes only 30 mins to make, so although it's ideal to make for brunch on a lazy Sunday, it's quick enough to cook if you have a bit more time for a big breakfast on a weekday. The Hemsley sisters also included a side of guacamole in this recipe, so you can start your day with even more healthy fats to keep you fuller for longer!
Get the recipe: Hemsley + Hemsley's huevos rancheros with guacamole
Hemsley + Hemsley lunch recipes
We wouldn't mind eating salads for lunch everyday if they looked like this one! With protein-rich halloumi and sweet papaya, this is a delicious sweet and savoury mix of ingredients. This Hemsley + Hemsley salad recipe is also packed with plenty of fresh vegetables, so you can rest assured you're on your way to hitting your 5-a-day.
Get the recipe: Hemsley + Hemsley's papaya, halloumi and watercress salad
Hemsley + Hemsley dinner recipes
If you love a good veggie burger, you need to add this Hemsley + Hemsley recipe to your repertoire. As well as being super tasty, these feta and bean burgers are really quick to prep too - you only 20 mins to make them, and then all you have to do is pop them on the grill.
Get the recipe: Hemsley + Hemsley's feta and black bean burgers
Hemsley + Hemsley dessert recipes
For when you need a little treat, the Hemsley sisters have created a healthy answer to satisfy your sweet-tooth. This tahini and date fudge contains no refined sugar - only naturally occurring sugar in the dates - and is packed with fibre. So if you're partial to a bit of fudge every now and then, why not give this healthy option a go?
Get the recipe: Hemsley + Hemsley's tahini and date fridge fudge
Have you tried any of our Hemsley + Hemsley recipes? Let us know in the comments!
Jessica Dady is Food Editor at Goodto.com and has over 10 years of experience as a digital editor, specialising in all things food, recipes, and SEO. From the best food hampers to cookbooks, from the best cake stands to kitchen appliances, Jessica has a wealth of knowledge when it comes to must-have food products. A passionate baker, she spends some of her time creating celebration cakes for friends and family including her two lucky children.