Pimm's recipes: 13 delicious things to make with Pimm's this summer
These Pimm's recipes all feature the popular summer drink, including an impressive layer cake and refreshing lollies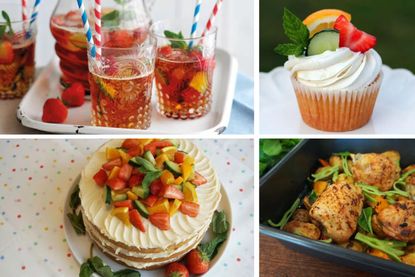 (Image credit: Future / various)
Love a Pimm's on a summer's day? Don't we all! We've created lots of tasty Pimm's recipes that really do make the most out of that classic British tipple.
From Pimm's cookies, to layer cake, to ice lollies, and even marshmallows flavoured with Pimm's (which is a fabulous idea for a homemade gift!), these excellent summer dessert recipes are perfect if you're looking for picnic food ideas or sweet BBQ food ideas- plus they're exclusive to the adults too, so no sticky kid's fingers allowed.
"Pimm-s is summer in a cup!," says ex-Bake Off contestant Karen Wright. "It's a perfect tipple but I like to use it in desserts and cakes too. if you're making summer cupcakes, add a little Pimm's to the buttercream and top off with a strawberry. Or an old-fashioned dessert, a 'syllabub, is delicious with a splash of Pimm's. Just soak some sliced strawberries in Pimm's, whip up some double cream sweetened with a little icing sugar, and fold the Pimm's and strawberries through, before serving in wine glasses."
As you know, Pimm's contains alcohol so these recipes are strictly for adults only. After all, us parents do deserve a treat every once in a while. Here are our best Pimm's recipes...
Sweet Pimm's recipes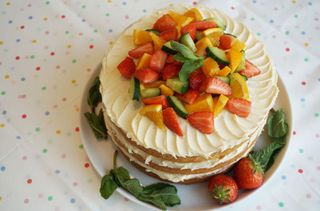 1. Pimm's layer cake
Serves: 6-8 | Skill level: Medium | Total time: 50 mins
A brilliant spin on a classic Victoria sponge, there's a dash of Pimm's in the sponge mix and the buttercream. It's all topped with a rustic pile of the same summer fruits – strawberries, orange segments, cucumber – that you'd put into a classic glass of Pimm's, as well as the all-important mint leaves. This is a beautiful choice for a summer garden party or as a highly grown-up birthday cake. We don't need to tell you what the best thing to drink with it is either, do we?
Get the recipe: Pimm's layer cake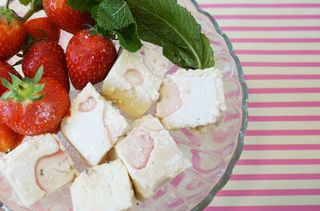 2. Pimm's marshmallows
Serves: 42 | Skill level: Medium | Total time: 30 mins, plus setting time
Making your own marshmallows is a labour of love – you need to whisk the ingredients for 15 minutes apart from anything else – but it's one that is highly satisfying, and means that the adults can get stuck into eating the result without the kids nicking them all. And these aren't just any marshmallows, they're Pimm's infused marshmallows, with fresh mint and strawberry syrup in the mix, too. A brilliant edible gift for the summer months – if you don't eat them all first, that is.
Get the recipe: Pimm's marshmallows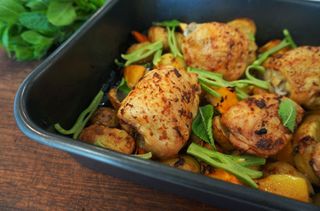 3. Pimm's chicken tray bake
Serves: 4 | Skill level: Easy | Total time: 1 hr 20 mins
Yes, your eyes aren't deceiving you, this really is Pimm's flavoured chicken, and, honestly, it works a treat. A classic glaze of soy sauce, garlic, and oil is mixed with orange zest and Pimm's (in place of where you may perhaps traditionally use honey for the sweet element of a marinade). This recipe is done as a tray bake with roasted potatoes, but it could also be used as a barbecue glaze and served with rice or potato salad and some griddled asparagus or a mix of greens.
Get the recipe: Pimm's chicken tray bake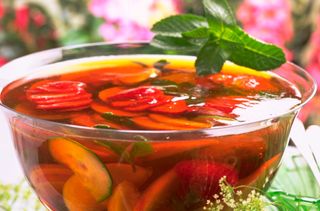 4. Pimm's jelly
Serves: 6 | Skill level: Easy | Total time: 30 mins
Whoever said jelly was just for kids had clearly never heard of Pimm's jelly. Packed with fresh fruits like strawberries and oranges, this homemade jelly can be served with a large scoop of ice cream – in fact, it would be rude not to. Relive childhood birthday parties in an altogether more adult way - an enjoyable dessert for after a BBQ.
Get the recipe: Pimm's jelly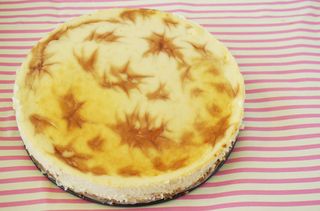 5. Pimm's ripple cheesecake
Serves: 6-8 | Skill level: Easy | Total time: 1 hr
A classic New York-style baked cheesecake, with a traditional English twist. The mascarpone and cream cheese topping is drizzled with Pimm's, before using a cocktail stick to create a pleasing ripple effect. Bake, and then top with strawberries for another homegrown addition that pairs beautifully with the subtle Pimm's flavour.
Get the recipe: Pimm's ripple cheesecake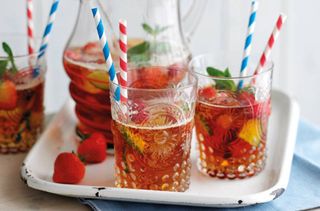 6. Very berry Pimm's punch
Serves: 4 | Skill level: Easy | Total time: 10 mins
A classic Pimm's punch with lemonade, tonic water, and a whole heap of fresh berries including strawberries and raspberries. Finished with a fresh sprig of mint and some cooling cucumber pieces, because sometimes you don't mess with a classic. You mustn't forget plenty of ice, your best glassware, and some paper straws, ideally giving some red, white, and blue British vibes.
Get the recipe: Very berry Pimm's punch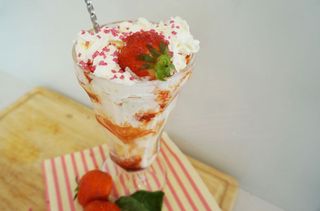 7. Pimm's ice cream sundaes
Serves: 4 | Skill level: Easy | Total time: 20 mins
Retro vibes with this classic ice cream sundae. But none of your shop-bought strawberry sauce, this one comes with a homemade strawberry and Pimm's syrup, to drizzle over vanilla ice cream before topping with whipped cream and finishing with fresh strawberries – and, for a brilliantly trashy seaside twist, a ton of multi coloured sprinkles. Because sprinkles are not merely the domain of the under-10s, right?
Get the recipe: Pimm's ice cream sundaes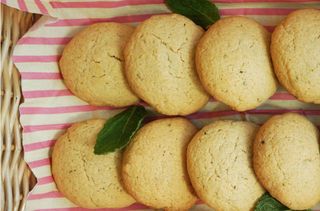 8. Pimm's mint cookies
Serves: 12 | Skill level: Easy | Total time: 25 mins
Fresh mint leaves pack these buttery bites full of flavour, along with a generous dash of Pimm's – perfect for using up that leftover drizzle in the bottom of your bottle. These cookies, like all cookies, are best served slightly warm out of the oven, and can even be turned into dessert crumbled over a scoop of vanilla or strawberry ice cream, or on the side of a bowl of strawberries and cream.
Get the recipe: Pimm's mint cookies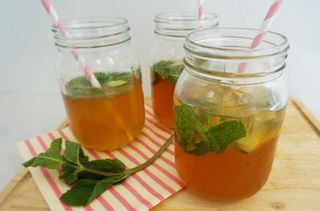 9. Pimm's mojito
Serves: 1 | Skill level: Easy | Total time: 5 mins
A proper cocktail fusion here, swapping the rum for Pimm's in a traditional mojito, and the lemonade for soda, sugar, and lime juice in a classic Pimm's cocktail. Ideal for a summer party and, despite the sugar content, a lot sharper and less sweet than the usual Pimm's drink. And we can only say cheers to that.
Get the recipe: Pimm's mojito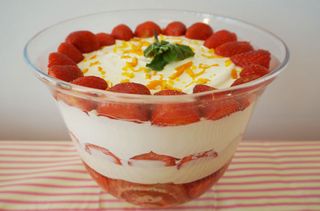 10. Pimm's trifle
Serves: 8-10 | Skill level: Easy | Total time: 30 mins, plus chilling
Switching the classic sherry for Pimm's to soak the sponge (as well as adding some to the custard mix), this retro trifle is given a slightly unusual spin. Get your best trifle bowl out and serve it after Sunday lunch or for any special occasion over the summer. Because trifle really isn't just for Christmas…
Get the recipe: Pimm's trifle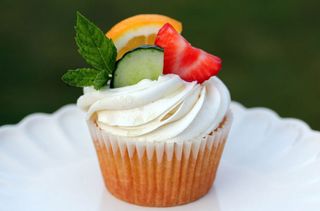 11. Pimm's cupcakes
Serves: 12 | Skill level: Medium | Total time: 1 hr 45 mins
Well, this is ever such a sophisticated and grown-up cupcake, filled with a sticky sweet Pimm's filling made from strawberries, Pimm's, sugar, and cornflour. Complete your batch with a swirl of buttercream and mint and cucumber sugar syrup and topped with the requisite Pimm's fruit – strawberries, oranges, and, yep, cucumber again – we don't think cucumbers have ever seen quite so much baking action…
Get the recipe: Pimm's cupcakes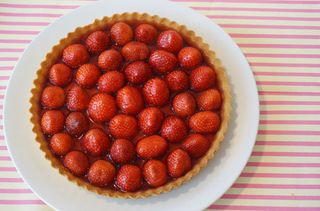 12. Pimm's strawberry tart
Serves: 6 | Skill level: Easy | Total time: 15 mins, plus chilling time
Looks fancy and complicated, but very much isn't. This simple Pimm's strawberry tart doesn't take much time to make, thanks to a ready-made pastry base, jelly made with Pimm's in the mix, and fresh strawberries. We think a chilled custard would go marvelously on top, though pouring or whipped cream also works brilliantly. A very simple triumph.
Get the recipe: Pimm's strawberry tart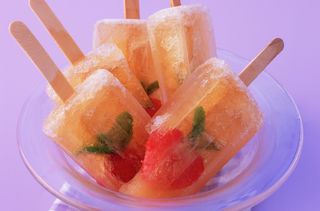 13. Pimm's lollies
Serves: 8 | Skill level: Easy | Total time: 5 mins, plus 4 hours freezing
It only takes four ingredients to make these sweet, refreshing Pimm's lollies – Pimm's, lemonade, strawberries, and mint leaves. Serve in a bowl of ice at your summer party – and luckily they almost certainly won't stick around long enough to worry about them melting. A refreshing change for a summer aperitif. Pass them around before the buffet or BBQ is served, and you'll have some very satisfied, and very cool, guests.
Get the recipe: Pimm's lollies
Related features
Wondering how to make a classic Pimms? Our step-by-step guide will help.
Try baking some other summer cupcakes and take inspiration from our roundup of great ideas for summer Sunday dinners
Parenting advice, hot topics, best buys and family finance tips delivered straight to your inbox.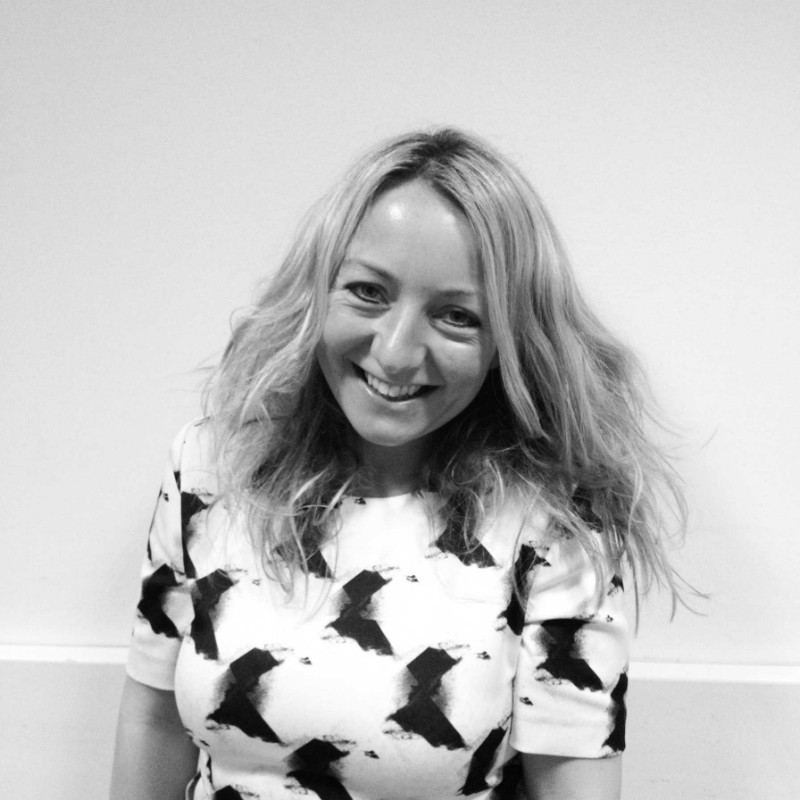 Lara Kilner is a writer and editor with two decades of experience in national newspapers, magazines, and websites. She writes about food, lifestyle, travel, health and wellness, and entertainment, and regularly interviews celebrities and people with interesting life stories and experiences. Her foodie content has included interviews with Jamie Oliver, Rick Stein, Queer Eye's food expert Antoni Porowski, the Hairy Bikers, Hugh Fearnley Whittingstall, Raymond Blanc, Andi Oliver, Paul Hollywood, Prue Leith, and Nadiya Hussain.