Summer desserts
Summer desserts featuring seasonal berries as well as meringue, ice cream and more. These easy recipes have real sunshine flavours!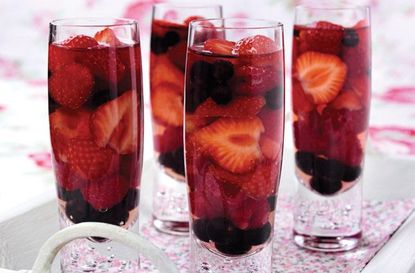 (Image credit: Frankthephotographer.com/Woman's)
GoodTo newsletter
Sign up to the GoodTo Newsletter. You can unsubscribe at any time. For more information about how to do this, and how we hold your data, please see our privacy policy
Thank you for signing up to . You will receive a verification email shortly.
There was a problem. Please refresh the page and try again.
In the winter, we love warming desserts like pie and chocolate cake but in the summer, when the weather turns warmer, we want something light and refreshing.
Especially as most of us will be looking to spend some more time outdoors this year - at a garden party or going for a picnic - and dessert is a HUGE part of that, as everyone from the smallest toddler to the oldest adult loves a sweet treat after a BBQ (opens in new tab) or light lunch.
It's just one of those al fresco essentials you have to have, a bit like potato salad or pasta bake (opens in new tab).
So now the summer fruits are back in season, it's a great time to brush up on your pastry chef skills and explore the possibilities of summer desserts. Berries like strawberries, blackberries and raspberries are all available in abundance at the moment, and you can use them to complement light and fluffy meringues or delicate pastry creations.
We've got options for exciting cakes and cupcakes (opens in new tab), ice cream, tarts and ice lollies - so there's sure to be a treat to take everyone's fancy.
Fruity desserts are a favourite during the summer as they tend to be quick and easy to make, so you don't have to spend ages in the kitchen - and they appeal to all tastes. This summer dessert recipe collection pulls together some of our most summery ideas that are also seriously impressive.
Enjoy these light, summery desserts outside at a picnic or barbecue (opens in new tab) and if the weather doesn't allow that, they'll taste just as good indoors!
Summer is also about those fab tropical flavours that transport us to really exotic locations! Pineapple, coconut and mango are such refreshing flavours that can be enjoyed in a super tasty sorbet, for example, or on top of a pavlova (opens in new tab).
Click through for more of our favourite summer desserts...
Rosé and red berry jellies
These elegant little rosé and red berry jellies (opens in new tab) are the perfect grown-up dessert! Made with wine and juicy berries, they're the perfect way to finish off a picnic (opens in new tab) or barbecue in the sun. They do look really fancy, but are actually a doddle to make.
Lemon meringue pie
With a fresh, zingy flavoured base and a sweet, sticky meringue (opens in new tab) topping, what's not to love about this lemon meringue pie (opens in new tab)?! This is one of those summer classics that's the perfect combination of tangy and sweet, plus it looks really sophisticated so friends and family will be suitably impressed when they see it.
Cookie ice cream sandwich
Super easy to make, these cookie ice cream sandwiches (opens in new tab) will put a smile on any child's face (and adults too!). To make these delicious treats, you'll need to bake the cookies but this recipe uses shop-bought ice cream, which means you can have them ready to be devoured in less than 30 mins!
Candice Brown's rhubarb syllabub doughnuts
Former GBBO winner Candice has turned the traditional creamy summer pudding into these impressive and indulgent rhubarb syllabub doughnuts (opens in new tab), which no one will be able to resist. Even though they take a little effort, these are definitely worth it and Candice herself says you can't eat a whole one of these without licking your lips!
Strawberry macaron cake
If you're a fan of the quintessentially French treat, you are going to love this macaron cake (opens in new tab). With layers of fresh strawberries and Greek yoghurt, this light and summery dessert requires a little time and effort but is the perfect way to impress your friends and family.
Gin and tonic sorbet
Gin and tonic sorbet (opens in new tab) is a really grown-up summer dessert that's fat-free and a really clever light way to finish off a meal if you're entertaining friends in the garden!
White chocolate and raspberry gateau
This white chocolate and raspberry gateau (opens in new tab) really has the wow-factor. Coated on the outside with toasted crushed hazelnuts and topped with fresh raspberries, it's the perfect pud served on a summer's afternoon or evening! This lovely gateau goes great with a cocktail (opens in new tab) in hand and is best enjoyed with friends.
Mango and coconut sorbet
What's better on a hot day than a cooling sorbet? This mango and coconut sorbet (opens in new tab) is deliciously tropical and looks really pretty too, as the layers sit separately. This is the perfect dessert to make ahead if you're hosting a barbecue (opens in new tab) or summer dinner party (opens in new tab).
Elderflower drizzle cake
You don't get more summery than an elderflower drizzle cake (opens in new tab) topped with edible flowers. Elderflower season is very short but it's such a summery flavour that we think it's best to make the most of it while it lasts, and by the most we mean put it in a cake. This light, pretty and elegant bake is so much easier to make than it might look!
Pineapple and pomegranate upside down cake
This spongey and sweet pineapple and pomegranate upside down cake (opens in new tab) has the best caramel glaze on it that makes the edges go really crunchy. This is the perfect cake to bring to a picnic (opens in new tab)and it'll keep well for a couple of days.
The perfect pavlova
This perfect pavlova (opens in new tab) recipe is the ideal way to use up all the berries that are in season in a really lovely homemade dessert. If you get the meringue right, it should be perfectly crunchy on the inside and still a bit squidgy on the inside.
Strawberry ice lollies
Kids and grown-ups alike will love these strawberry ice lollies (opens in new tab). Yogurt, white chocolate and strawberries come together to make these lollies that taste a lot like a cross between a frozen milkshake and a smoothie. We love them!
Classic summer pudding
This classic summer pudding (opens in new tab) is full of delicious fruit like raspberries, strawberries, redcurrants and blackcurrants encased in a juicy sponge. Serve with cream and you've got yourself a really delightful pud!
Eton mess
Eton mess (opens in new tab) is a classic summer dessert that everyone can make. If you're making your own meringue, you don't have to worry about it being perfect as it'll be crushed up and mixed in with the cream and fruit. If you're short on time, then this is a great cheat's pud, as you can use shop-bought meringues to create a dessert in minutes - it's a real doddle!
Mini Angel Delight cheesecakes
These mini Angel Delight cheesecake slices (opens in new tab) are perfect to enjoy at a picnic (opens in new tab) or BBQ (opens in new tab). If you put them in little cupcake cases they become individual serving desserts and they're just so easy to make as you only need 5 ingredients to make and decorate them.
Pimm's lollies
Everyone's favourite summer drink in an ice lolly! We love these Pimm's lollies (opens in new tab) - they've got fruit frozen in them too, which makes them look really pretty and you can eat the frozen strawberries once you get to them.
Tropical pavlova
This tropical pavlova (opens in new tab) can be topped with any of your favourite tropical fruits, from mangoes and kiwis to pineapple and pomegranate. Eating it will transport you somewhere hot, with plenty of palm trees, probably...
Summer fruit ice cream trifle cake
If you can't decide what to make for pudding, try whipping up this beautiful summer fruit ice cream trifle cake (opens in new tab) - it's part cake, part trifle, and part ice cream, so you'll have three desserts in one! And the best part? This impressive pud is actually easier to make than it looks, and you can even get the kids to help you out.
Yoghurt bomb
This impressive recipe from the TV show Eat Well for Less (opens in new tab) is one to keep up your sleeve for when you need a super quick and easy pudding. This layered yogurt bombe (opens in new tab) takes only four ingredients to make and just 15 mins to prep after which you can leave it to chill in the freezer for 2 hours.
Elderflower trifle
Rustle up an elderflower trifle (opens in new tab) in under 30 minutes for a real crowd-pleaser. This recipe uses elderflower cordial which you can find in most supermarkets, and mixed seasonal fruits for a really effortless dessert.
Trusted, informative, and empathetic – GoodTo is the ultimate online destination for mums. Established in 2007, our 15-year-strong archive of content includes more than 18,000 articles, 1,500 how-to videos, and 7,000 recipes.