12 things you didn't know you could make with beetroot
The options are endless...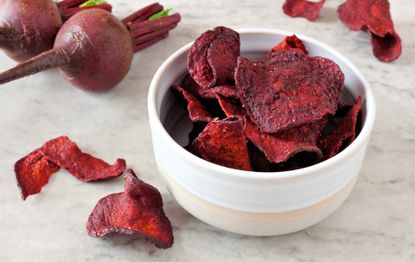 If you love beetroot as much as we do you're definitely going to want to try out these new and exciting beetroot recipes. Our minds are blown by these ingenious creations including beetroot ice cream, beetroot risotto and more.
You're never going to look at beetroot in the same way again after seeing these 12 things you didn't know you could make with beetroot…
Health benefits of beetroot:
Each 100g serving of raw beets contains 1.g protein, 0.1g of fat, 7.6g of carbs, 2.5g and 36 calories. As well as being a natural source of vitamins A and C, beetroot is also a great source of folic acid, manganese and potassium. Betanin - the pigment that gives beetroot it's colour - is also packed with antioxidants, which have anti-inflammatory and detoxification properties.
1. Beetroot risotto
Give your classic risotto a makeover by adding beetroot to the mix. Not only will it flavour your dish with a rich earthiness, it'll also colour your risotto rice an entertaining shade of pink which we're sure will make it more appealing to the kids!
Get the recipe: Beetroot risotto (opens in new tab)
2. Beetroot burger
Vegetarian, low-fat and ready in under and hour - what's not to love about these succulent beetroot burgers? Just swap out the mayo for vegan-friendly dish and add in your favourite vegetable shavings.
Get the recipe: Beetroot burger (opens in new tab)
3. Beetroot raita
Cool down your favourite curry with this lipsmacking twist on the classic raita. Dip in a crisp poppadom (opens in new tab) and prepare for a taste sensation.
Get the recipe: Beetroot raita (opens in new tab)
4. Pink speckled beetroot cake
This gorgeous cake is the perfect blend of naughty and nice. As well as a filling including raw beetroot, hazelnuts and more there's a tasty frosting made with full-fat cream cheese and unsalted butter.
Get the recipe: Pink speckled beetroot cake (opens in new tab)
5. Beetroot croquettes
Beetroot croquettes? What an ingenious idea! Not only do they look the part with their shockingly bright and vibrant beetroot insides, we bet they taste the part too. Forks at the ready...
6. Beetroot bread
We just love baking bread at the weekends and this beetroot dyed bread is top of the list now - how amazing does it look? We're thinking cream cheese, rocket leaves and maybe a cheeky bit of smoked salmon on top. Who's with us?
7. Easy Borscht with goat's cheese tartlets
Sample the flavours of Eastern Europe with this warming soup recipe. The easy-to-make goat's cheese tartlets help bulk up this meal and are perfect for dipping.
Get the recipe: East Borscht with goat's cheese tartlets (opens in new tab)
8. Chocolate and beetroot brownies
If you're getting bored of the same old brownies why not give them a new lease of life by adding some juicy beetroots to the mix? They'll make your brownies extra moist and enhance the flavour of the chocolate in them too.
9. Beetroot relish
Move over Piccalilli, beetroot relish has just claimed your spot on the cheeseboard. This tangy relish has hints of chili and ginger - your hunk of cheddar won't know what's hit it!
10. Beetroot ice cream
If you want to tick the boxes for trendy and tasty vegetable ice cream is the way to go. We think it looks sooo pretty on the plate too!
11. Sea bass with beetroot rosti
Potatoes and beetroot are match made in foodie heaven and the carby goodness of the rosti is the perfect complement to this light fish dish.
Get the recipe: Sea bass with beetroot rosti (opens in new tab)
12. Beetroot pesto
Another day, another mind-blowing pesto variation! We can just envision stirring this through our favourite pasta or used as a sandwich filler alongside some crunchy vegetables.
Jessica Dady is Senior Content Editor at Goodto.com and has over 10 years of experience as a digital journalist, specialising in all things food, recipes, and SEO. From the best food hampers to cookbooks, from the best cake stands to baking sets, Jessica has a wealth of knowledge when it comes to must-have food products. A passionate baker, she spends much of her time creating celebration cakes for friends and family - particularly for her two lucky children.