Is Emily Blunt married and does she have kids?
Is Emily Blunt married and does she have kids? Everything we know about the British actress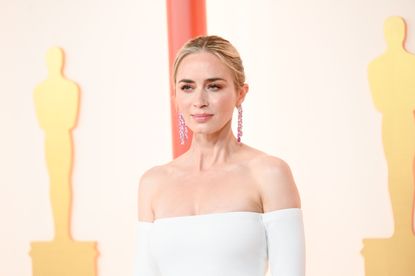 (Image credit: Gilbert Flores/Variety via Getty Images)
As her provocative Netflix film lands on our screens, fans are curious to know more about the female lead, so is Emily Blunt married and does she have kids?
Reviewers are raving about Emily's new film Pain Hustlers, and people are already drawing comparisons to the Painkillers cast.
She takes centre stage with actor Chris Evans and for those who loved Dopesick, Emily's latest project should be on your must-watch list.
Here's what we know about Emily Blunt and her life behind the scenes.
Is Emily Blunt married?
Emily Blunt is married to actor John Kransinski, and they met back in 2008. The iconic Hollywood duo got married in 2010 and even starred in a movie, A Quiet Place together.
In an interview with Parade in December 2022, The Office actor spoke adoringly about his wife, Emily: "I wouldn't be anywhere in my life without her.
"On a daily basis – but certainly career-wise – as a dad, she pushes me to be better every single day at everything I do.
"I look forward to the next day 'cause I know it'll be better than the one before."
In 2013, the Girl on the Train star Emily was featured on May's cover of InStyle, where she opened up about the importance of being able to rely on your other half.
She said: "Meeting John really changed my life. When I feel the support that I have from him, I feel invincible. There's someone behind you on your good days and someone in front of you on your bad days."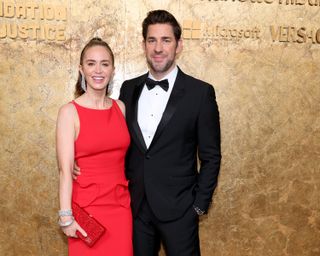 Does Emily Blunt have kids?
Emily Blunt has two children with her actor husband John Kransinski.
In 2014, Emily gave birth to her daughter, Hazel, and later in 2016, the pair welcomed a second child, Violet.
John took to X, formerly Twitter, to announce the news and said: "What better way to celebrate the 4th... than to announce our 4th family member!!! 2 weeks ago we met our beautiful daughter Violet #Happy4th".
The couple had their 10th anniversary in the first worldwide lockdown in 2020. Emily spoke to People and said having their children around them made a huge difference.
She went on to say: "Being around little ones during the pandemic was such a saving grace because they would just be bouncing around the house, and your job is to protect them from what is happening and make sure their life remains joyful."
Was Emily Blunt married to James Blunt?
Emily Blunt was not married to James Blunt. There is no connection between the actress and singer other than sharing a surname.
Is Emily Blunt English?
Emily Blunt is British and well-known for her roles in The Devil Wears Prada, Mary Poppins Returns and The Adjustment Bureau.
She was born in London and moved to Waltham Forest with her family in August 2020. Some of her famous neighbours include Louis Theroux and Gordon Ramsay.
Emily and John reportedly still own a $15.3 million home in Brooklyn, New York, even though they were predicted to head to the Hollywood Hills.
Emily revealed: "We chose not to live in LA because it can be suffocating to always talk about work and the business.
"My greatest concern is to ensure I leave enough time between projects to enjoy being with my husband and children."
Already seen Emily's new film? You might be wondering is Pain Hustlers a true story. Plus, if you loved Painkillers, we answer all of your questions on where Richard Sackler is now.
Parenting advice, hot topics, best buys and family finance tips delivered straight to your inbox.
Daniella is a qualified journalist specialising in fitness, nutrition and women's health. She has written for a number of consumer titles including Health & Wellbeing, Stylist, Women's Health UK, and Fit & Well.
With four years' experience in the wellness space, Daniella has tried and tested the best fitness kit on the market worth buying and has a keen eye for up and coming brands to look out for. She's also interviewed celebrities and co-produced a wellbeing podcast.