Where do the Friends stars live?
Where do the Friends stars live? Inside the cast's multimillion-dollar properties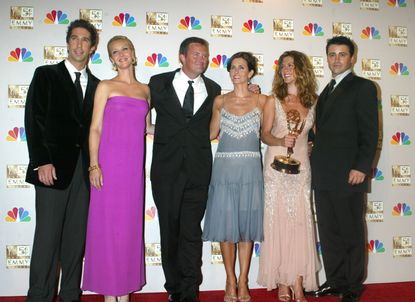 (Image credit: Photo by Jeffrey Mayer/WireImage)
They've been seen in New York-style apartments for 10 years on our screens, but fans are curious to know where do the Friends stars live?
This may be as a result of the tragic news which has been described as "losing a friend" over the weekend, with fans wanting to know did Matthew Perry have siblings?
Many have sought comfort from his sudden death by watching the Friends Reunion and paying tribute to the late actor on Instagram.
Here's what we know about the cast's homes.
Where does Matt LeBlanc live?
It's not known where Matt LeBlanc lives at the moment, but reports confirm the Joey Tribbani actor sold his former Pacific Palisades home for $8.75 million.
Photos from Love Property show Matt's two-story home surrounded by 4,000 square feet of living space. It has four bedrooms, four bathrooms, and is inspired by Spanish designs.
The Los Angeles home also has a library, living room complete with fireplace and a chef's kitchen.
Where did Matthew Perry live?
Matthew Perry lived in a $6 million LA mansion. He also had properties in Century City and Malibu.
The beloved Friends cast member was found dead in his hot tub on 28 October at 54. Initial reports say the Chandler Bing actor had drowned, but coroners are yet to confirm the cause of death.
Where does Jennifer Aniston live?
Jennifer Aniston lives in Montecito, California – a beach town that's hugely popular with A-list celebrities, including Prince Harry and Meghan Markle, Gywenth Paltrow and Katy Perry.
The 54-year-old actress reportedly bought her latest property from legendary talk show host Oprah Winfrey, who also owns a home in the area.
Jennifer told Architectural Digest: "If I wasn't an actress, I'd want to be a designer. I love the process. There's something about picking out fabrics and finishes that feeds my soul."
According to the international design authority, the Friends star paid $14.8 million for the home.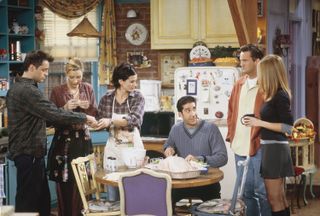 Where does Courteney Cox live?
Courteney Cox lives in Malibu beachfront mansion which reportedly features a number of bedrooms and bathrooms, a chef-style kitchen, living room, dining area and spaces for hosting and entertaining guests.
Courteney often gives her followers a glimpse of her beautiful oceanview home on Instagram, whether she's snuggled up with her two dogs on the sofa or playing the piano with her daughter, Coco, on the vocals.
In an interview with Financial Times HTSI, the Monica Geller actress revealed her favourite spots around her home: "Day-to-day we're pretty much in the kitchen – it's got a living area with couches and is sociable.
"But on Sunday nights, when we have a music night, we go to the living room where there's a piano, a pool table and a bar. I would fill the house with people all the time but Johnny also likes to retreat to his room upstairs."
Where does Lisa Kudrow live?
Lisa Kudrow lives in Beverly Hills with her husband Michael Stern and son Julian.
The Friends star used to escape Hollywood for the mountainous state of Utah, where she owned a penthouse condo that had four bedrooms and five-and-a-half bathrooms, according to Variety.
Lisa also has a second home in Palm Springs, where she reportedly spent a lot of time during the COVID-19 pandemic. She's now sold her Utah chalet for $3.6 million.
Where does David Schwimmer live?
David Schwimmer resides in a Manhattan townhouse, but the actor keeps his private life out of the press, so we're not sure what it's like inside.
We had a small window into one of the rooms (which fans speculated could be the living room) when he was interviewed on The Tonight Show Starring Jimmy Fallon via video link.
Viewers could see a chic black bookcase, a vase of flowers and a family portrait in a white photo frame.
Have Friends co-stars commented on Matthew Perry's death?
Matthew Perry's co-stars have released a joint statement following his death: "We are all so utterly devastated by the loss of Matthew.
"We were more than just cast mates. We are a family. There is so much to say, but right now we're going to take a moment to grieve and process this unfathomable loss," Jennifer Aniston, Courtney Cox, Lisa Kudrow, David Schwimmer and Matt LeBlanc said in a statement to People.
"In time we will say more, as and when we are able. For now, our thoughts and our love are with Matty's family, his friends, and everyone who loved him around the world."
Since their move to the States, many want to know where do Prince Harry and Meghan live in California. As for his brother, this is why the Wales family won't move again – and it's to do with Kate's childhood. A Netflix documentary is leaving viewers asking where does Robbie Williams live, and we reveal all.
Parenting advice, hot topics, best buys and family finance tips delivered straight to your inbox.
Daniella is a qualified journalist specialising in fitness, nutrition and women's health. She has written for a number of consumer titles including Health & Wellbeing, Stylist, Women's Health UK, and Fit & Well.
With four years' experience in the wellness space, Daniella has tried and tested the best fitness kit on the market worth buying and has a keen eye for up and coming brands to look out for. She's also interviewed celebrities and co-produced a wellbeing podcast.