Where does Robbie Williams live?
His home is just as lavish as you might expect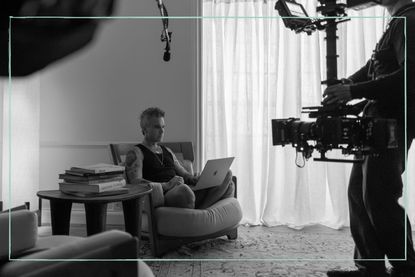 (Image credit: Netflix/Future)
Where does Robbie Williams live? Viewers tuning into Netflix's documentary about the singer are asking questions about where he resides.
If there was one thing on everyone's what to watch list this month, it's the Robbie Williams documentary on Netflix. Fans of Take That and those who have followed the entertainer's career in the years following his exit from the band, will be delighted with the streamer's intimate look at his career as he approaches 50. From finding fame at a young age and the ensuing sell out gigs, adoration, and problems with drink and drugs, the documentary is certainly a no holds barred peep into Robbie's turbulent life. Some viewers have been left asking where Guy Chambers is now - the pop star's former producer - while others are wondering if Robbie has split up with his wife after watching the show. With interest piquing over his home life, here's what we know about where the star lives.
Another recent documentary covering the epic career of a footballing legend also left fans asking where does David Beckham live, and intrigued about his life at home his family - including the real meaning behind the unusual names of his children.
Where does Robbie Williams live?
Robbie Williams lives in the Holland Park area of Kensington, West London, in a mansion thought to be worth £17.5 million.
The home he shares with wife Ayda and their four children is called Woodland House, and originally formed part of the Holland House estate - this was known as Cope Castle and built by Sir Walter Cope between 1605 and 1607. His neighbour is Led Zeppelin guitarist Jimmy Page, whom Robbie became embroiled in a battle with over planning permission to build a swimming pool in the basement of his home - Page expressed concern over the effect this could have on the foundations of his own Grade-l listed mansion.
According to the BBC, Robbie fought for five years to gain approval for his plans, tormenting his objecting neighbour in the process. Robbie allegedly played Black Sabbath and Pink Floyd music at high volume, to deliberately upset Page. However, a spokesperson for Robbie said these claims had been completely fabricated, denying he had gone to such lengths to upset his neighbour.
Permission was eventually granted for the work to be undertaken in 2019, providing vibration levels and any ground movement issues were monitored. More recently in 2022, Robbie applied for planning permission to increase the size of the walls around his home to prevent by passers being able to see into his garden.
With plans to add wooden trellises to three walls of his garden, his builders wrote in a statement "As part of a proposed landscaping scheme, the designer has proposed the use of trellis panels as a low-impact way of increasing the privacy within the garden."
The Take That star has previously owned homes in Los Angeles, Switzerland and Wiltshire, before making London his predominant residence.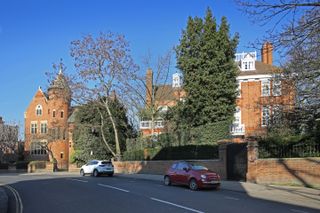 How much did Robbie Williams sell his house for?
Before moving into his Holland Park home, Robbie struggled to sell his Wiltshire home and eventually sold it at a loss for £6.75 million.
He purchased the home in the village of Compton Bassett in 2008 for £8.1 million, and reportedly tried to sell it three times until eventually dropping the price and selling at a loss in 2022. Sitting near the market towns of Calne and Chippenham, the mansion features four reception rooms, a leisure complex on the lower ground floor, seven bedrooms, a helicopter pad, and two self-contained flats within the grounds.
There was a rumour that Robbie was unable to sell the property due to a nearby landfill site that could be seen from the home. The singer has never addressed this however, stating on the property listing "It is where Ayda and I truly fell in love and set roots as a couple. Since then, we have welcomed four beautiful children into the gracious rooms at Compton Bassett House, where we have shared much laughter and joy."
He did however, state in a podcast he felt the mansion was haunted. According to MailOnline, Robbie said "There is one room that I am suspicious of. It gives me the creeps. Teddy, our daughter, was sleeping in there. She doesn't any more." He added "Teddy told me, ''That room scares me. I don't like that house.' I said, 'It scares me, too. You don't have to sleep there any more.'''
He concluded "If there is great grief or great pain or tragedy, I think it can soak into the walls and leave an essence there that remains for a very, very long time."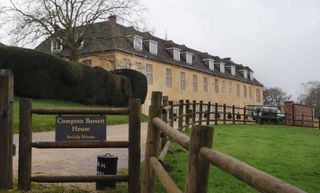 Has Robbie Williams sold all his properties?
At one point Robbie Williams did sell all of his properties, claiming in 2022 that he hadn't decided where to live permanently.
Before settling in his London home, Robbie told Australian DJs Kyle and Jackie O "We've pretty much sold everywhere," alluding to his LA, Switzerland and Wiltshire properties.
With the family having spent much of their time switching between LA and Wiltshire, according to the Independent he added "The four kids are constantly a Rubik's Cube puzzle that we're trying to sort out because if they are schooled then they don't see me because I'm all over the place and if they are home-schooled then they have another set of things that are a problem."
You can occasionally catch glimpses of Robbie's current home on his Instagram page, where he recently shared a snap of himself in his large, upholstered bed. In the dusky pink themed room, he hit back at trolls who'd left nasty comments on his previous posts, body shaming both him and his wife. However, he clarified he'd move on from the comments, and had spent time in bed getting some headspace and watching TV to recover.
For more on the popular Netflix Beckham documentary, we looked into the whereabouts of Rebecca Loos now, the woman rumoured to have had an affair with the footballer. We also delved into whether Gary Neville and David Beckham are still friends, and who directed the Beckham documentary.