Where is Angellica Bell on The Martin Lewis Show?
Where is Angellica Bell on The Martin Lewis show? The 'consumer champion' has a new sidekick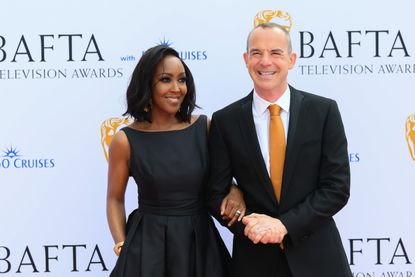 (Image credit: Getty Images)
Fans were a little confused when they tuned into The Martin Lewis Money Show last night as his co-star appeared to be missing.
Money expert Martin Lewis has taught us many things, including how families can get £205 free cash to put towards Christmas and his council tax tip that could save you hundreds.
Understandably though, you might have been wondering where Angellica Bell is on The Martin Lewis Show.
Here's what you might have missed about the TV presenter.
Where is Angellica Bell on The Martin Lewis Show?
Angellica Bell did not appear on The Martin Lewis Money Show on Tuesday 31 October and has been replaced by Olympian and broadcaster Jeanette Kwakye.
Angellica has decided to leave the NTA-nominated show to pursue other projects.
At the end of the last series of the nation's favourite money show, Martin thanked the former CBBC presenter for being by his side.
Moving into its 13th series, new co-presenter Jeanette said she was "thrilled" to be joining Martin to give viewers the latest money news and the crucial strategies to help them save cash.
In a statement posted on ITV's X [formerly Twitter] profile, Martin said: "Jeanette is set to be a brilliant addition to the show. This is such an important series, as we're far from out of the cost of living crisis – energy bills are set to be bigger this winter than the last horrific one, car insurance renewals are up over 60%, interest rates have rocketed. I need a great presenter with me in the studio to keep me in order and on track, so I can get as much information out in the hour, so who better to join the show than a former Olympic sprinter with her fast feet on the ground."
What does Angellica Bell do?
Angellica Bell has been a regular face on our TV screens for years, ever since she started at CBBC, and has gone on to host other programmes such as The One Show and win Celebrity Masterchef.
Now you can expect to hear more from Angellica on the airwaves, as she now has her own show on Magic FM.
Posting on her Instagram profile, the mother-of-two said: "Yes, it's true! You can hear me every Saturday morning from 7 until 10 am to get your weekends off to a cracking start!
"For me, this is massive. I've listened to Magic Radio for years and just love the music: nostalgia, good times, and fun! You may have heard me covering on the station a few weeks back and although it was slightly stressful running a desk and pressing all those buttons for the first time, it felt good to push myself and step outside of my comfort zone and try something new."
Is Angellica Bell still married?
Angellica Bell is still married to fellow TV presenter Michael Underwood. They tied the knot in 2010 and share two children together.
The pair tend to keep a low profile on social media, but Angellica shared a rare insight into what lockdown life would be like for her family.
Speaking to MailOnline, the 47-year-old said the pandemic has given her a chance to "reflect on what really matters" and double down on what makes her happy.
Keen to find out more about the money saving expert? Fans are asking is Martin Lewis married and does he have kids? In other TV news, you may be wondering where is Kay Burley and why isn't she on Sky News this morning?
Parenting advice, hot topics, best buys and family finance tips delivered straight to your inbox.
Daniella is a qualified journalist specialising in fitness, nutrition and women's health. She has written for a number of consumer titles including Health & Wellbeing, Stylist, Women's Health UK, and Fit & Well.
With four years' experience in the wellness space, Daniella has tried and tested the best fitness kit on the market worth buying and has a keen eye for up and coming brands to look out for. She's also interviewed celebrities and co-produced a wellbeing podcast.