Are Luke and Jay still together? MAFS season 8 update on their journey
Are Luke and Jay still together? Tissues at the ready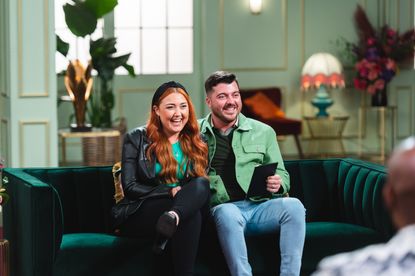 (Image credit: Simon Johns / Channel 4)
MAFS UK is over (sob) but if you haven't caught up yet, you're probably dying to know are Luke and Jay still together?
The last episode of Married at First Sight UK finally gives fans the answers they've been looking for, like are Paul and Tasha still together and cheating allegations meant 'are Ella and JJ still together?' was the question on everybody's lips – oh, the drama.
Now, the wait is over to find out whether Jay and Luke, the first couple in the experiment to say 'I do', live happily ever after. Spoilers incoming!
Are Luke and Jay still together?
After the season finale on 16 November, Jay revealed that she and Luke are no longer together.
Taking to Instagram, she posted a gallery of photos of the pair at their wedding day with the caption: "Last night's episode was really hard to watch back… We've been through so much together and our journey has truly been an amazing experience! ✨

"I'd never thought that I'd have the courage to walk down the aisle, but seeing your smile put me at ease so thank you for accepting me for who I am. It's been hard, very emotional and we've both learnt a lot of lessons from our time together and on the show, but I can honestly say I wouldn't have wanted to take on this journey with anyone else ❤️

"My confidence has grown x100 throughout this process and you have been a huge part of that and I'll be forever grateful 😌

"Thank you for the journey we've been on together, for many ups and downs we've had along the way but most of all, thank you for the memories!
"@lukeworley1 you are one of the best people I've ever had the pleasure of meeting never mind marrying! You've truly changed my life and I'll never forget our time together."
Showing support for his former bride, Luke's caption on their collaboration Instagram post read: "Thank you for everything Jay, you will always be special to me and I will always be there for you whenever you need me. I'm glad we can be friends because I couldn't imagine you not being in my life.

"It's been an amazing journey that I will never forget."
Did Luke leave MAFS?
During the experiment, it was widely reported that Luke, the Sales Executive from Clacton, was forced to leave MAFS following a physical altercation with fellow groom Jordan Gayle.
According to the Lancashire Telegraph, a Channel 4 spokesperson said: "The wellbeing of cast and crew is our utmost priority at all times throughout production and beyond.
"During filming, an altercation occurred between two cast members which was defused immediately by crew. All contributors involved were offered appropriate support."
Taking to Instagram, Luke posted on his stories – where he appeared to not be wearing his wedding ring – warned fans to "watch out for Jordan" in the next couple of episodes.
If the fight ensued during a filming stint, viewers are predicting the footage to be shown later on in the series, but it's not clear whether Channel 4 will choose to or not.
Who is Jordan Gayle?
Jordan Gayle is part of the MAFS series eight cast. He's a personal trainer from Sheffield and has described the whole experiment as "the craziest chapter yet" on an Instagram post.
The MAFS team has allowed the 26-year-old to remain part of the show, as the fight was apparently "instigated" by Luke, and has reiterated that they have zero tolerance for violence.
Responding to a story by Heat magazine about Luke's rumoured departure, Jordan recently posted on his Instagram stories to say that "all will be revealed". We'll keep you updated when we know more about the fight between the two contestants.
Now that MAFS UK is over, you're probably wondering who is still together from Married at First Sight Australia. Dating reality show Love is Blind also caught the UK's attention, and if you watched season five, find out are Lydia and Milton still together.
Parenting advice, hot topics, best buys and family finance tips delivered straight to your inbox.
Daniella is a qualified journalist specialising in fitness, nutrition and women's health. She has written for a number of consumer titles including Health & Wellbeing, Stylist, Women's Health UK, and Fit & Well.
With four years' experience in the wellness space, Daniella has tried and tested the best fitness kit on the market worth buying and has a keen eye for up and coming brands to look out for. She's also interviewed celebrities and co-produced a wellbeing podcast.