Are Ella and JJ still together? MAFS UK season 8 update
Ella and JJ's couple-swapping antics have left viewers wanting to know if their relationship has gone the distance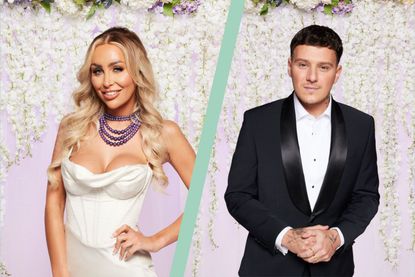 (Image credit: Channel 4)
After the pair had an affair behind the backs of their Married At First Sight partners, viewers want to know if Ella and JJ are still together.
Married At First Sight UK has brought all the usual drama this year, as the newlyweds try to navigate life with a partner who they met for the first time on their wedding day. And now, as the end of MAFS UK arrives, fans of the show want to know which couples have gone the distance.
While we know that Peggy and Georges are still together and Ros and Thomas have also made a big reveal about their relationship status, the couple everyone wants to know the fate of is Ella and JJ. The pair had their fair share of drama throughout the series, with couple swapping and a dramatic exit, followed by the pair rejoining the experiment as a new couple later on. While wondering who is still together from MAFS UK 2023, Ella and JJ are at the forefront of some people's minds.
Are Ella and JJ still together?
Ella and JJ are no longer together. At final vows, the pair made the mutual decision to end their relationship, agreeing that the best thing for them was to leave the experiment as friends instead.
Ella said in the latest episode that JJ is "so special" to her, but added, "I wanted it to be real but it isn't right now. I'll never forget you and what you've done for me, which will change my life forever."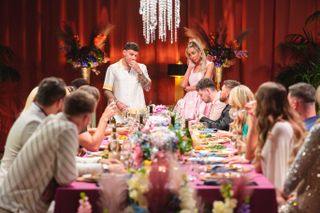 Meanwhile, JJ said, "These past few days I've been forced to ask myself if you are the right woman for me and if I'm the right man for you. I think you're amazing, I've learned so much from you but as things stand I think becoming friends is the healthiest thing for both of us. You are truly an inspirational person and you'll always hold a very special place in my heart. I hope we can remain in each other's lives today and in many years to come."
But it appears the pair are still on good terms, having both posted heartfelt tributes to each other on Instagram. Sharing a series of photographs from final vows, Ella wrote to JJ, "You have grown so much and taught me loads about us, you and most surprisingly, myself. I couldn't have wished to end the series with anybody else."
Meanwhile, JJ said on his Instagram story as the final vows episode aired, "I just want to say thank you to @ellamorganc you are truly an inspiration and I'm blessed to have you in my life."
What happened between Ella and JJ on MAFS UK?
Ella and JJ left the partners that the experts paired them with in order to pursue their own romantic connection. Ella, 29, was initially partnered with Nathanial, 36, while JJ, 30, married 29-year-old Bianca.
Ella and Nathanial appeared to have great chemistry on their wedding day, but things went downhill on their honeymoon, with Ella believing that Nathanial wasn't attracted to her. Meanwhile, JJ and Bianca joined part-way through the experiment as a new couple.
Sparks began to fly between Ella and JJ on a day trip to a spa, when the couples were separated from their partners. After some not-so-subtle flirting, the pair decided to go on a date together without informing their partners, and admitted they were attracted to each other.
Then - in what was possibly the most dramatic dinner party episode of all time - Ella and JJ were forced to reveal their affair to the rest of the Married At First Sight cast. It led to an explosive argument between Ella and Nathanial, while Bianca became tearful.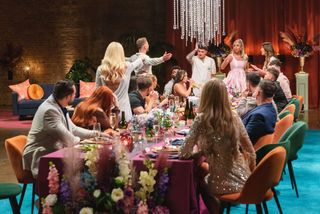 The situation resulted in Nathanial, Bianca, Ella and JJ being forced to leave the experiment. However, in a shock twist, Ella and JJ were allowed to return to MAFS as a new couple shortly after, to mixed reactions from their fellow cast members.
Where is Ella Morgan now?
Since leaving Married At First Sight, Ella has been open about her experience on the show, appearing on the Saving Grace podcast and Gossip Gays podcast, as well as in an interview with Gay Times.
Ella was Married At First Sight's first-ever transgender contestant, and speaking to the publication she said, "I never thought I would be given the opportunity to be a voice for trans people, and the fact that now I have, it's a privilege that I don't want to f*** up."
And there's no question that Ella has been standing up for trans rights while in the public eye, turning up to the Pride of Britain Awards wearing a dress in the colours of the transgender pride flag.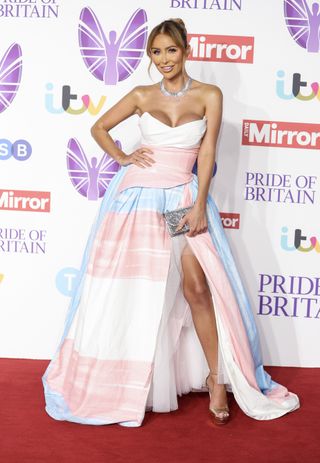 Where is JJ Slater now?
JJ has kept a lower profile since MAFS ended, though he shared that he celebrated his birthday in June in Florida.
As JJ and Bianca joined the experiment late, his time on Married At First Sight was short, but he did post a picture of the cast from the spa day, captioned "Spa gang", as well as photo from the dinner party episode.
And despite his affair with Ella, many of JJ's fellow MAFS cast members showed support for him in the comments, with Thomas writing, "You're gonna smash it bro," while Arthur said, "You've got this bro".
Elsewhere, we've revealed the fates of many other MAFS UK couples. Find out if Matt and Adrienne are still together, whether Laura and Arthur are still together and if Luke and Jay are still together too.