Are Matt and Adrienne still together? Married At First Sight UK update
Fans of MAFS UK want to know if Matt and Adrienne have gone the distance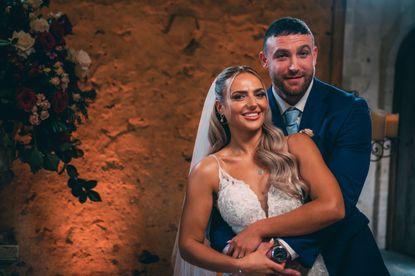 (Image credit: Simon Johns / Channel 4)
Are Matt and Adrienne still together? Here's what we know about the Married At First Sight UK couple.
TV's most famous dating experiment will be over when MAFS UK ends, and while some couples from the show live happily ever after, viewers can't help but wonder who is still together from Married At First Sight UK 2023.
Now that the finale of season eight has aired, fans are questioning the second to last couple to tie the knot - let's take a look at whether Matt and Adrienne are still together.
Are Matt and Adrienne still together?
Matt and Adrienne are no longer together. Though they decided to stay together at final vows, they revealed at the reunion episode that their relationship has not lasted since filming aired.
In fact, Matt has confrimed that he went on to date Shona, another member of the MAFS UK 2023 cast who had previously been paired with Brad. Speaking to OK!, Shona said, "We have a really healthy, happy, safe, fun, relationship - I really appreciate Matt so much, it's what I deserve, we deserve each other."
The pair went on to say that they struck up a romance at the reunion episode, which was filmed in June, but have kept it a secret for months. Matt said, "It's going to be nice going places and being able to hold hands without having to worry anymore."
The news might come as a shock for MAFS viewers, as Matt and Adrienne appeared to be a great match on the show. Bonding over their love for fitness, Matt and Adrienne seemed to hit it off after their castle-setting wedding ceremony. The couple had their ups and downs from then – they jetted off to Tenerife for their honeymoon where Matt branded Adrienne a "show off", but they seemed to patch things up at the next dinner party.
During homestays week, they went from strength to strength, and later wished they had more time in the experiment to work on the romantic side of their relationship.
Are Matt and Shona together?
Yes, Matt and Shona are now together. Shona was previously married to Brad, but the pair left the experiment early after the MAFS experts encouraged them to end their relationship.
Since then, rumours had surfaced that Shona had struck up a relationship with Matt, and these have now been confirmed. The pair were spotted together at Starbucks last month, as reported by The Sun, with a source telling the publication, "They were chilling together in Starbucks and looked very relaxed in each other's company.
"They even brought their pet dog along. They must have been together for a while because they were hardly dressed to impress."
The source went on to say they were "shocked" as Matt and Shona did not appear on the show at the same time, due to 29-year-old window cleaner Matt joining the experiment halfway, making him and Adrienne the second to last couple to marry.
After their exit from the show, Shona took to Instagram to say how she felt, and admitted "the experiment wasn't to blame".
She went on to write: "I realised deep down I needed to love myself more. I did just that, I filled myself up with self love and when I was ready fate kicked in and I met the kindest soul who loves me just the way I am and it's what I deserve."
MAFS fans may also be wondering who is still together from Married at First Sight season 7.
Parenting advice, hot topics, best buys and family finance tips delivered straight to your inbox.
Daniella is a qualified journalist specialising in fitness, nutrition and women's health. She has written for a number of consumer titles including Health & Wellbeing, Stylist, Women's Health UK, and Fit & Well.
With four years' experience in the wellness space, Daniella has tried and tested the best fitness kit on the market worth buying and has a keen eye for up and coming brands to look out for. She's also interviewed celebrities and co-produced a wellbeing podcast.