Bank of Dave true story: Remarkable inspiration behind the Netflix film
Prepare for your heart to be warmed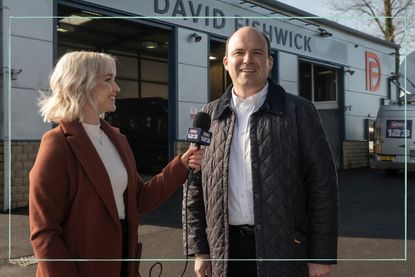 (Image credit: Paul Stephenson/Netflix/Future)
Netflix viewers watching Bank of Dave want to know if the film is based on real events - we reveal the heart warming inspiration behind the story bringing some light into January.
Bank of Dave is released on Netflix on January 16, 2023. The film tells the story of Burnley man David Fishwick, a self-made working class millionaire. Dave has a mission to set up his own community bank that will help the local businesses and people of his home town to help them thrive. With the help of London lawyer, Hugh, Dave goes up against the financial might of the London banking elite, in an attempt to establish the first new British bank in over 100 years. Read on to find out the real story of Dave Fishwick, and whether he achieved what he set out to do for his beloved local community.
Not the only film bringing tears to the eyes of Netflix viewers, with Dog Gone igniting strong emotions. The film is based on a true story (opens in new tab), focusing on the rescue of poorly dog Gonker, and the race against time to find him. The Firefly Lane season 2 ending (opens in new tab) has also brought viewers to social media to express how they feel about the tale of female friendship. Similarly, Lady Chatterley's Lover (opens in new tab) ending on a slightly different note to the book, had audiences holding their breath until the last second.
Bank of Dave true story
Bank of Dave tells the true story of Dave Fishwick, based on his 2012 memoir Bank of Dave: How I took on The Banks.
Speaking to The Guardian (opens in new tab), Dave discussed having a successful business selling minibuses, when the credit crunch hit in 2008. He'd never wanted to become a banker, but saw the effects of the financial situation when his customers were unable to get loans to buy his minibuses - banks they had been with for many years. Seeing this threat to his livelihood, Dave knew he'd have to take drastic measures to keep going through the recession, and began lending his own money to customers. He argued they "were good and honest people who could be trusted," adding "I was proven right, and it made me see just how far wrong the banks had gone."
What a guy Dave Fishwick(Bank of Dave) is. 👏"The big banks hate me with a passion, but I quite like that"#BBCBreakfast pic.twitter.com/Q9JZW8zwJAJanuary 16, 2023
See more
Dave spoke about watching the credit crunch hitting his hometown of Burnley hard, witnessing local businesses closing on a daily basis. With no money to get things moving, he looked into expanding and not just lending money to his own customers, but also to those in the wider community. He said "lending money to my customers had made me realise that banking was actually quite a simple process: you just take people's money and then lend it out to other people, making sure you charge them more interest than you pay out. So I thought maybe I could open a tiny bank to serve the local community. Not a big bank but maybe a better bank. How hard could it be?"
However, it did prove to be very difficult. The Financial Services Authority (FSA) wouldn't even agree to a meeting unless Dave put millions of pounds in a protected account with them. He argued that the small bank he was trying to set up would never need that much security, but they stuck to their demands. Not one to give up, Dave hired a lawyer, and a team of builders and painters helped him transform an old florist's shop into something like a bank.
The FSA still continued to refuse a meeting, and legally Dave was unable to call the premises a bank - it was titled Burnley Savings and Loans instead. However, he was able to offer financial support to Burnley locals, enabling businesses to thrive. He didn't pay himself bonuses, giving every penny of profit to charity. Dave remains concerned about what he's learnt about the banking industry and financial regulators.
He concluded his story by saying "This whole process has felt like jumping off a cliff and building a plane on the way down," he says. "Hopefully, thanks to what I have learned, other people will at least have some of the tools to change how we bank in Britain. My dream is for small 'banks' like mine to spring up all over the country, and to go back to a system of banking that's focused on people, not bonuses."
Bank of Dave book
In 2012, Dave Fishwick published a memoir entitled Bank of Dave: How I Took on the Banks, discussing his time setting up a "bank", and what he had learned in the process.
The synopsis reads "The global financial system is in crisis, bankers are in disrepute and Britain is on the brink of a double-dip recession. Now one man, fed up with never-ending tales of greed and corruption, sets out to prove that there is a different way of doing things - by opening his own bank to help inject much-needed life into local businesses. Dave Fishwick is a self-made, straight-talking man from Burnley who hates the banks. Published to tie in with a Channel 4 series of the same name, this is the story of his attempt to set up a simple, no-nonsense bank that actually cares about its customers.
Dave plans to put hundreds of thousands of pounds of his own money into the enterprise; he will offer his customers a far better rate of interest than they get on the high street; he will lend to struggling local businesses that the banks don't want to know about; and he aims to bring the Bank of Dave into profit within 180 days. If he succeeds, he'll give whatever he makes to charity. If he fails, he'll make a terrible loss and ruin his hard-earned reputation as a successful businessman. Can one man really take on the banking giants and make a real difference to local businesses and his community? Dave Fishwick certainly hopes so."
With plenty of positive reviews, one Amazon reviewer wrote "I bought Dave's book after being so impressed by what he'd achieved with his banking venture. Regarding the book, it give a really nice insight into the mindset of a self made business man, with lots of interesting tips and concepts along the way. It was also great to get a true understanding of what happened in the banking crisis, and how these filthy corporations operate. In my opinion Dave is a true hero, and the country needs more people like him to stand up and fight against the oppressors."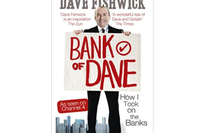 (opens in new tab)
Bank of Dave: How I Took On the Banks by Dave Fishwick £12.65 | Amazon (opens in new tab)
Read the book that has inspired a major Netflix film based on the life of Dave Fishwick, starring Rory Kinnear.
Does Bank of Dave still exist?
Bank of Dave does still exist, although legally it has to remain named Burnley Savings and Loans, as it still doesn't have the right to be called a bank.
Burnley Savings and Loans (opens in new tab) (BSAL) can be found at 30 Keirby Walk, Burnley, Lancashire. When opening in 2011, BSAL had only 3 members of staff. Now, the team has expanded, with staff working from a suite of offices in the Burnley high street. The company website states they offer vehicle finance, business loans, and credit cards.
They also "make decisions based on experience and good, old fashioned common sense, making a difference to small businesses and real people, and has also helped a large number of different charities and good causes along the way." The huge array of charities assisted by profits from the business are also listed on the website, ranging from hospices, mental health charities, and food banks, among many more.
Bank of Dave: Cast
Rory Kinnear (Penny Dreadful, Ridley Road) as Dave
Phoebe Dynevor (Bridgerton, Waterloo Road) as Alexandra
Joel Fry (Game of Thrones, Trollied) as Hugh
Hugh Bonneville (Downton Abbey, Paddington) as Sir Charles
Paul Kaye (Game of Thrones, Mongrels) as Rick Purdey
Jo Hartley (After Life, In My Skin) as Nicola Fishwick
Cathy Tyson (Band of Gold, Help) as Maureen
Florence Hall (The Princess Switch, Dystopia) as Meghan
Speaking to The Guardian about his role of Dave, Rory Kinnear said "There was something about his tenacity of spirit and purpose, as well as him being equally filled by rage and goodwill. He continued "That was Dave's baseline. You work really hard. But when you don't see the benefits of that work flowing back through your community, when the success of the rest of the country doesn't seem to trickle down, to use the phrase du jour, when you're not treated fairly, or when you have the perception of not being treated fairly, that nobody gives a shit about you – that binds you as a community."
On Dave's loan company being more important than ever during the cost of living crisis, Kinnear said "But there's a limited amount of cash. So, do other people have the energy to create a similar thing? To show there's a fairer way, rather than people just being cut off… Shows you the limitations of the capitalist system – that if you can't pay, you're out." He added "I don't know what the alternative is. I don't have the answers, nor the energy. But we need to flag this up. It will be the death of us as a race if the apogee of human existence remains to own a private jet. That's what we're selling. That's what we consider success to be. And everyone who involves themselves in the selling of that formula, well, I'd ask them to reconsider. Or to at least consider…"
Related Netflix Features:
Video of the Week
Lucy is a multi-award nominated writer and blogger with six years' experience writing about entertainment, parenting and family life. Lucy has contributed content to PopSugar and moms.com. In the last three years, she has transformed her passion for streaming countless hours of television into specialising in entertainment writing. There is now nothing she loves more than watching the best shows on television and telling you why you should watch them.