Is Dog Gone based on a true story? The incredible inspiration behind the Netflix family film
Can a missing dog reunite a fractured family?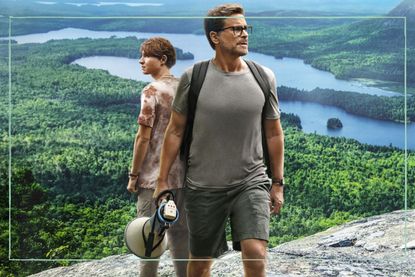 (Image credit: Netflix/Future)
A family go to great lengths to find their missing dog, with the clock ticking to give the beloved Gonker life-saving medication. Take a look at the incredible story behind one family's grief and how a missing dog brought them together.
Fielding Marshall (Johnny Berchtold) and his father, John (Rob Lowe), set off for an epic quest to find their beloved dog Gonker in Netflix's latest family film, Dog Gone. When Gonker disappears somewhere along the Appalachian Trail, his entire human family become involved in the mission to find him - time is also ticking as the canine will perish if he doesn't get the medication he needs to keep him alive. The fractured family learn more about themselves than they thought possible, and explore difficult feelings on the journey to save Gonker. With viewers already asking if Dog Gone is based on a true story, read on to find out the real inspiration behind the heart warming film.
Netflix has a plethora of films currently available, that are based on real events. The Swimmers true story (opens in new tab) is leaving viewers speechless, and the whereabouts of one of the heroic protagonists now, is quite tragic. Religion and mental health collide in The Wonder true story (opens in new tab) - the plight of "the fasting girls" depicted in the film is a largely unexplored area of history. Jessica Chastain and Eddie Redmayne bring excellent performances in the chilling true story of a killer nurse in The Good Nurse (opens in new tab), with the story likely to stay with viewers long after the credits roll.
Is Dog Gone based on a true story?
Dog Gone is based on the 2016 book Dog Gone: A Lost Pet's Extraordinary Journey and the Family Who Brought Him Home, which is a true account of Gonker the dog's disappearance, and his family's quest to bring him home.
According to Netflix Life (opens in new tab), Gonker went missing while hiking with his owner Fielding Marshall, along the Appalachian Trail. The beloved Golden Retriever mix ran off without warning on October 10, 1998, and would've been unable to survive without his monthly injection for the Addison's disease he suffered from. Along with his father John Marshall, Fielding raised the alarm and the pair set off to find Gonker - they had 23 days to get him back before he'd perish without his vital medication.
Fielding's mother Ginny stayed at home and set up a base to track the pair on a map, and receive any tips that arose about Gonker's possible whereabouts. She also contacted local shelters, businesses and news outlets, with news of Gonker's disappearance well known in the area because of her diligence. Thankfully, there was a good outcome for the dog, who was found on October 25.
A local spotted him eating from bins behind a ski resort and reported this news to the police. Officers immediately contacted Ginny, who received the call to say he'd been found, at approximately 2 a.m. He'd travelled 111 miles, and apart from some minor cuts to his paws, was found to be in excellent health. The real Fielding was slightly older than the one depicted in the film, and had brought Gonker into his life to help him deal with grief he was suffering due to the loss of his baby daughter.
Fielding Marshall's baby girl sadly passed away in 1991, during heart surgery. The baby's mother left Fielding soon afterwards, disappearing without saying goodbye. Grieving alone, Fielding told the New York Post (opens in new tab) that he was drowning under an "oceanic wave of sadness," and hoped the companionship of a dog could help him heal. His mother also had a special affiliation with dogs, having been the victim of parental abuse as a child. She'd found comfort in the family dog, Oji, during these difficult times - this experience contributed to her determination to find Gonker.
According to History vs Hollywood (opens in new tab), Gonker lived another five years after his rescue, passing away at the age of 11. Fielding Marshall later moved to Chile, where he met and married his current wife. The pair have a son and a daughter, and continue to live in Chile - with their dog.
Dog Gone book
The book Dog Gone: A Lost Pet's Extraordinary Journey and the Family Who Brought Him Home, is fact-based but not autobiographical. Author Pauls Toutonghi is married to Fielding Marshall's sister Peyton, and had the idea to write the book when his wife relayed the story.
Toutonghi told Lewis & Clark (opens in new tab) "This was the Marshalls' famous family story. When they told it to me, I was really captivated. Ginny [Fielding's mother] is a great storyteller in person, and so is John, actually. The two of them together are just kind of a force of nature." Toutonghi's original idea was to write the story and give it to the family as a Christmas gift. However, after the discussing the details more with the family, he decided their was enough material for a published book, and a tale the world might want to hear.
One Good Reads (opens in new tab) reviewer wrote about the book, saying "Pauls Toutonghi has taken a sweet, compelling story and crafted it into a study of the human psyche. This is a book about finding a lost dog, yes, but more than that, it's a book about why this family did what it did. Where many would have given up and mourned, this family put their entire lives on hold, turned their home into command central, and focused all of their relentless energy onto finding their lost dog. These characters are true and completely unique. The actions of the people they touch, however, are a complete surprise. How big the search for this dog gets is a lesson in humanity within itself, one that makes you wonder how YOU might react in a similar situation. Read this book!"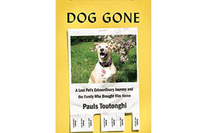 (opens in new tab)
Dog Gone: A Lost Pet's Extraordinary Journey and the Family Who Brought Him Home by Pauls Toutonghi £31.99 | Amazon (opens in new tab)
Read the book that inspired the major Netflix film starring Rob Lowe
Dog Gone release date
Dog Gone will be released on Netflix on Friday, January 13, 2023.
Author of the original book, Pauls Toutonghi, must be very glad he opted for worldwide publication of the story, and not just a one-off copy for the family as a Christmas gift. When writer and producer Nick Santora came across the book, he immediately asked Pauls' permission to pitch it to Netflix.
Pauls spoke to Distractify (opens in new tab) about Rob Lowe's involvement in the film. He said "I'm not sure how it came about, but Rob Lowe also really loved the material and was excited to do it. I was shocked. Lowe played Sam Seaborn on The West Wing, one of my favourite shows ever, so that was just surreal." Pauls and Fielding Marshall appear in the film as extras, with Fielding sharing pictures of himself with Johnny Berchtold who plays him in the film to Instagram (opens in new tab), at a screening. He captioned the pictures "Thank you Johnny for the great job that you do. Love and respect".
Dog Gone: Cast
Rob Lowe (The West Wing, Brothers and Sisters) as John Marshall
Johnny Berchtold (Gaslit, The Wilds) as Fielding Marshall
Kimberly Williams-Paisley (Father of The Bride, Nashville) as Ginny Marshall
Susan Gallagher (Cobra Kai, Bloodline) as Mrs. Goodwin
Annabella Didion (True Lies, Outer Banks) as Julie
The search kicks off with Fielding uttering the words "Everyone needs one soul who loves you because you are you. That's who Gonker was for me. And now he's lost." Speaking to Netflix Tudum (opens in new tab) about the search for Gonker across the Appalachian Trail, Rob Lowe said "I'm super proud of the film. It's just a total emotional journey that will definitely give you all the feels."
Related Netflix Features:
Video of the Week
Lucy is a multi-award nominated writer and blogger with six years' experience writing about entertainment, parenting and family life. Lucy has contributed content to PopSugar and moms.com. In the last three years, she has transformed her passion for streaming countless hours of television into specialising in entertainment writing. There is now nothing she loves more than watching the best shows on television and telling you why you should watch them.