Ginny & Georgia season 2 ending explained: Everything that happened in the finale of the Netflix family drama
Everything that went down - and it's a lot...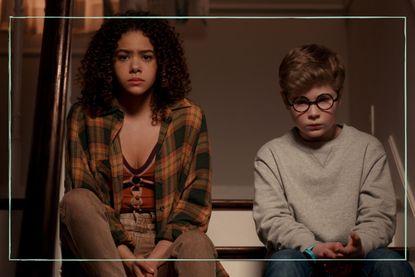 (Image credit: Netflix/Future)
What on earth just happened? Hold on, we'll break it all down for you as we delve into that Ginny & Georgia season 2 finale.
In the golden age of being able to consume large quantities of your favourite TV show in one go, Ginny & Georgia (opens in new tab) fans seized the season 2 release date and consumed the family drama in large helpings. The latest season landed on Netflix on January 5, and within days, social media was alight with questions and theories about the season finale. Following the complicated lives of young mother Georgia and her children Ginny and Austin, series 1 hinted that Georgia may have quite the murderous past. Season 2 helped audiences understand more about Georgia and her motives, as well as bringing more shocks and revelations. Buckle up, while we weigh in on everything important that happened during the ending of the smash hit drama's season 2, and answer other burning questions about the tangled lives of the infamous mother/daughter pairing.
For anyone wanting a Ginny & Georgia season 1 recap (opens in new tab) - it was a very long time ago now - we have this covered. For those who've finished Ginny & Georgia seasons 1 & 2, and need news of season 3 (opens in new tab), we have this covered also.
Ginny & Georgia season 2 ending explained
The Ginny & Georgia season finale begins the morning after Georgia and Austin witnessed Gil abusing Georgia, which results in Austin shooting his father in the arm.
Panicking that she'll once again have to move, Georgia calls her wedding venue to cancel, without even telling future husband Paul. A flashback shows audiences that Georgia once pulled a gun on the abusive Gil herself, but instead of killing him, embezzled money from his company and managed to frame him for the crime - ironically, it had been Gil who'd taught Georgia about successful embezzlement, as he'd been doing it himself for years. Now released from prison, Gil wants Georgia to pay for landing him there, by passing him money from her marriage to Paul as recompense.
Georgia plans how she and the children will escape Gil and leave Wellsbury, while Ginny spends her time being preoccupied with Marcus. With a visibly low mood, her father, and best friend Maxine, both try to lighten her frame of mind. However, Ginny can't get past the hurt she feels at Marcus' behaviour, or understand just how depressed he's feeling. When Max reveals that Marcus is going to restart his medication, Ginny has the revelation that Marcus doesn't need a girlfriend, but is much more in need of a friend.
Ginny's friends from MANG (Maxine, Abby, Norah and Ginny) try and lift Ginny's spirits over Marcus by holding a gathering in Brodie's basement, while Georgia plots how she can easily get Ginny to leave Wellsbury - a place she's finally been able to feel settled. Georgia regales Ginny with stories of Lake Powell - the next home she has her eyes on for herself and the children - and its beautiful sunsets. When Ginny realises her mother is planting the seed for another move, the suspicious teen calls The Mount, where Georgia and Paul are set to marry, and finds the wedding has been cancelled.
Ginny confronts Georgia over the cancelled wedding, where her upset mother declares "I'm a damaged, unlovable, trailer-park teen mom murderer. I don't belong here." After admitting these insecurities about her life and not fitting in, Ginny urges her mother to tell Paul the truth about herself. Georgia does indeed head her daughter's advice, and tells Paul a slightly edited version of her life and secretive past. A very shocked Paul hurriedly leaves for a night of processing the information he's been given about his future wife.
When he summons Georgia to the his office the next day, where a lawyer and a police officer are waiting, it appears the game might be up. But when Gil arrives to the tableau, Paul announces the lawyer is present for a custody battle over Ausitn, and will send Gil straight back to jail if he continues to harass Georgia. Though angry and still with a lot to consider, Paul still wants to get married, and the wedding is still on. When Georgia becomes upset that her dream wedding has been cancelled, Ginny steps in to organise a quickly arranged but still beautiful fully-decorated ceremony at city hall. Georgia looks a vision in a caped gown, arriving in a horse-drawn carriage.
The wedding appears to be continuing without incident, with Until I Found You by Em Beihold and Stephen Sanchez playing over the happy couple exchanging vows. However, while Paul's colleague Nick was preparing leave to attend the wedding, his boyfriend Jesse reveals that he's really a private investigator. Telling Nick that Georgia really isn't who she says she is, he announces he has hard evidence that will send her to prison. Just as the newlyweds take to the floor for their first dance, the police crash Georgia and Paul's wedding, to arrest her for murder.
Who does Ginny kill in Ginny & Georgia?
Georgia killed two of her ex-husbands, Kenny Drexel, and Anthony Greene. She also killed Wellsbury resident Tom Fuller.
Kenny, under the pretence of correcting Ginny's posture during a family yoga session, had taken this opportunity to sexually assault Ginny. Witnessing this, Georgia slipped poison into his smoothie, that later caused him to crash his car and die. Anthony Greene had owned the hotel Georgia worked when Ginny was a baby, and she'd helped him run illegal gambling events from it. She got caught being involved with the illicit tournaments, and married Anthony to prevent Ginny being taken into foster care. When he became abusive towards her, Georgia also spiked his drink with a concoction that killed him, enlisting the Blood Eyes biker gang to help her cover it up.
Georgia killed Tom Fuller as a favour to his wife, Cynthia. The two women had a rocky friendship, but bonded over Cynthia witnessing Gil assault Georgia outside Austin's school. After stepping in to help, realtor Cynthia too the step of ensuring Gil was blacklisted from renting property in Wellsbury. Wanting to repay this kindness, Georgia helps her new friend by suffocating her husband Tom, who is in a hospice on end-of-life care. Cordova couldn't find enough evidence to pin Kenny and Anthony's deaths on Georgia, but did find out she was present in the room when Tom died. Desperate to find Georgia guilty of something, the private investigator feels the suspicious circumstances surrounding Tom's death are enough to get her to the station and hopefully find more evidence for further convictions.
How did Austin Know Ginny had killed someone?
Austin had been in Tom Fuller's room hiding in a cupboard when Georgia killed him, she was unaware he was there and had witnessed everything.
As Georgia is bundled into a police car after been arrested at her wedding, she is watched by a horrified Ginny and Austin. The little boy then blurts "I didn't tell anyone" before running away. This revelation brings Georgia to realise Austin must've somehow witnessed what she'd done. Already reeling from covering up Austin shooting Paul, Georgia is presented with another shocking piece of information to digest and react to.
Related Netflix Features:
Video of the Week
Lucy is a multi-award nominated writer and blogger with six years' experience writing about entertainment, parenting and family life. Lucy has contributed content to PopSugar and moms.com. In the last three years, she has transformed her passion for streaming countless hours of television into specialising in entertainment writing. There is now nothing she loves more than watching the best shows on television and telling you why you should watch them.