Better series 1 ending explained: Everything that happened in the finale of the BBC crime drama
The building tension bubbled over in the finale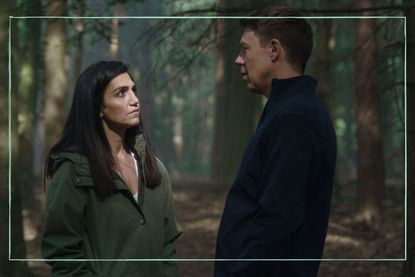 (Image credit: BBC/Sister Pictures/Ross Fergusan/Future)
Did Lou succeed in leaving a life of corruption behind her? Let's break down that Better series 1 finale.
After five action packed episodes, BBC police drama Better came to a close on March 13. Written and created by by Sam Vincent and Jonathan Brackley, Better told the extraordinary story of a corrupt police officer, determined to turn her life around. Leila Farzad shines as DI Lou Slack - after her son nearly dies, she vows to make amends for her past and escape the clutches of the powerful criminal she has been working for, Col McHugh (Andrew Buchan). Deciding to change her life and actually changing it for the better, are two very different things for protagonist Lou. Read on to find out everything that happened in the Better finale, with some major spoilers ahead.
Also at the BBC, Wild Isles with Sir David Attenborough (opens in new tab) has started airing. Filmed over the course of three years, the five-part series investigates how woodland, grassland, freshwater and ocean habitats support wildlife of all kinds. Fans of another popular police drama were pleased to see it return for another outing - The Bay filmed (opens in new tab) in a popular seaside destination, and we have all the details. For those who like to know where their favourite shows were shot, Father Brown filmed (opens in new tab) across several charming Cotswold locations that can be visited.
Better series 1 ending explained
The Better series 1 finale begins with Vernon taking the blame for the murder of Bulgey. Previously, Bulgey had broken into Vernon's house in an attempt to murder Lou, after Col sacked him.
Things went south for Bulgey, after Vernon responded to the break-in by shooting him dead, and removing any signs that Lou had ever been in the house by burning it down. When he confesses his crime to the police, Lou is one of the interviewing officers, but Vernon is adamant she leaves the room.
As Vernon's confession was happening, Esther found out about Lou's involvement in corruption, deciding to take some extended time off. When Lou hears of Esther's plans she pays her a visit in an attempt to change her mind, arguing the force needs her and people like her, as encouragement for her to stay. Still struggling with what she's done, Lou later has a discussion with Ceri about how to live with herself. The hatch a plan to get rid of Col's money, in an attempt to relieve some of Lou's guilt.
She asks to be taken off Col's case, while dishing out his money and offering up anonymous tips about the crimes he's been involved with - the mission to be better is well underway. As part of her conscience cleansing, Lou visits Noel in prison, but is met with derision from the young offender. Saying he doesn't need her to be his mother, Noel leaves the visitors room.
By this time, Col has become quiet and withdrawn, putting plans to build his drug empire on hold, in favour of gardening. His second in command offers to take care of business during Col's more reflective period, with his first plan being taking out Vernon in prison. It's not long before Noel arrives at Vernon's prison cell to stab him and display his loyalty to Col. Although he does whisper his apologies, the deed has been done, and allegiances are settled.
Lou is told about Vernon's death and is devastated. When she attends his funeral, things are made worse when she's handed his personal belongings. Still out for redemption, she then visits her mother. Although their relationship is tempestuous, they manage a civilised conversation about whether or not a person can be saved.
Deciding Col has to be confronted, Lou tells Ceri and Owen they have to move away to safety, until the dust settles. Retrieving a gun she's stashed away, she begins plans to bring about the confrontation. To ensure Col arrives, she lies, telling him she has a suicide note written by his daughter, Aoife.
Col is aware that Lou was never in possession of a suicide note, but had gone to see her anyway. When they meet, Col tells Lou he knew she was lying about the note, because he was the one to find his daughter's body when she'd taken her life - she had taken a deliberate overdose of Col's drugs supply. He'd also found the note she'd actually left, that professed love for her mother and brother, but expressed hatred for Col. Recalling the devastation this made him feel, he speaks of a wish to have lived life differently. Lou responds to this by telling him to give himself up.
What happened to Lou in the Better finale?
Lou makes it out of the Better series finale alive. After meeting with Col and urging him to hand himself over, she agrees that they'll admit everything they've done to the police.
Telling him that neither of them have anything to show for what they've done, she just wants everything to end - confessing is the only way to make that happen. In a twist nobody saw coming, Col agrees to attend the station. But when they arrive there nobody at the front desk, but the pair decide they'll wait.
Determined to find a way out, Lou is firm that they'll wait for somebody to arrive and take their statements. But they wait, and they wait...
What happened to Col in the Better series finale?
Col is also alive in the Better series 1 finale, and looking like he could atone for his sins.
After miraculously agreeing to hand himself in with bent officer Lou, the pair spend their final moments of the show at the station. When they arrive raring to get on with confessing, their plan is thwarted by nobody being available to see to them. They wait for a lengthy period of time, and just when it appears the enormity of the consequences they'll face dawns on them and they look set to change their minds, a door opens.
Although viewers don't see who is behind the door, whoever it is could have implications for another series of the show - there has as yet been no word from the BBC about a renewal. In the meantime, viewers will have to remain on the edge of their seats to see what happens to the corrupt stars of Better.
Better series 1: Reviews
Better has received both a positive audience and critical reception. However, the finale did leave fans somewhat disappointed after a promising start.
Rebecca Nicholson from the Guardian (opens in new tab) said "The question of who is in charge here – the drug lord paying off the bent copper, or the bent copper who has kept the drug lord out of prison – is much more complicated than it first seems and when Lou refuses to stick to the rules, it turns into a gripping cat-and-mouse story. Farzad and Buchan are at their best when playing against each other, and each scene they share teases as to which way it will flip."
Sean O'Grady from the Independent (opens in new tab) was very enthusiastic about the series. Offering 4 stars, he said "The dramatic tension is building, incrementally but surely. It is as if Farzad and Buchan are gradually tightening the screws on one another's characters, scene by scene, and line by line: there is a great sense of impending mutual destruction between these protagonists. Without the essential quality of flawed humanity Farzad brings to the role of Lou, and Buchan's subtle treatment of his urbane monster, complete with kindly face and a warm Irish brogue, the script by Jonathan Brackley and Sam Vincent would probably struggle."
#Better (BBC1) was a promising, well-acted crime drama but sputtered out in tonight's final episode like a damp squib. As in chess, the endgame is everything, and scriptwriters who can't end their drama should find another line of work ...March 13, 2023
See more
Of the finale, one viewer took to Twitter to say "#Better (BBC1) was a promising, well-acted crime drama but sputtered out in tonight's final episode like a damp squib. As in chess, the endgame is everything, and scriptwriters who can't end their drama should find another line of work..."
Another added "I really feel like spontaneously combusting when a series is ruined by a totally unbelievable crap ending #Better," with another angrily reiterating "That's 5 hours of my life I won't get back. Started off lame, improved bit by bit, but what a ridiculously poor ending. Did the writer get fed-up & give up? Felt like it. Wish I'd given up watching."
Related BBC Features:
Video of the Week
Lucy is a multi-award nominated writer and blogger with six years' experience writing about entertainment, parenting and family life. Lucy has contributed content to PopSugar and moms.com. In the last three years, she has transformed her passion for streaming countless hours of television into specialising in entertainment writing. There is now nothing she loves more than watching the best shows on television and telling you why you should watch them.