Nine Perfect Strangers: When is the next episode and who wrote the theme song?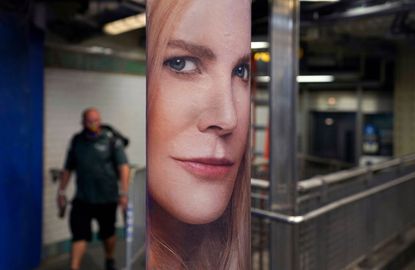 (Image credit: AFP via Getty Images)
Following the dramatic seventh instalment, the last episode of Nine Perfect Strangers is almost here.
Over the season, the action follows a group of strangers who travel from the city to a health and wellness resort which promises to transform and heal the guests during their stay. But everything is not what it seems and the guests slowly discover secrets about each other - and the resort's host. The new drama stars Nicole Kidman (opens in new tab) and Melissa McCarthy (opens in new tab) among other Hollywood stars and the show is based on the novel of the same name by Liane Moriarty.
It's one of the latest anticipated dramas to come out recently, following the release of HBO's The White Lotus in the UK (opens in new tab) and BBC One's new drama, Vigil, which is filmed in Scotland (opens in new tab).
When is the next episode of Nine Perfect Strangers?
Nine Perfect Strangers has now finished for the season with the last episode on September 22 2021.
There were eight episodes in the series in total with a new episode released every Friday.
All the previous episodes are available to stream now, so you have the chance to catch-up on the nail-biting drama if you've missed out.
Hulu released a first look trailer for the programme during the Academy Awards earlier this year and the series premiered in the US on August 18 2021, with a new episode up weekly.
We now know the names of all episodes in the series.
Random Acts of Mayhem, released: August 18
The Critical Path, released: August 18
Earth Day, released: August 18
Brave New World, released: August 25
Sweet Surrender, released: September 1
Motherlode, released: September 8
Wheels on the Bus, released: September 15
Ever After, released: September 22
The final episode aired just a few days apart from the latest instalment of another must-watch new show, Married at First Sight UK (opens in new tab), which is available to watch on E4.
Ahead of the final episode, fans were sharing their thoughts about the series on social media - from casting to wardrobe choices and props.
"I am OBSESSED with everything Melissa McCarthy wears in Nine Perfect Strangers. Give me this wardrobe pls!!!! (Also imo she's easily the best part of this show)," wrote one fan on Twitter.
"Television Academy, I'm going to say it again. Give Regina Hall an Emmy for her portrayal of Carmel in #NinePerfectStrangers This last episode, she DELIVERED," said another.
Another said, "Just dreamt about the smoothies in Nine Perfect Strangers".
Will there be a season 2?
The show is a "limited series" meaning there's no guarantee of another season. And as the material for the show was based off the book, logic would suggest there would need to be another book to have another series.
However, writer and producer David E. Kelley and Nicole Kidman got together to make Nine Perfect Strangers, just as they did Big Little Lies. Just like this show as well, Big Little Lies didn't have a second book to guide it - but it did get another season. So, not all hope is lost.
If you're looking for more nail-biting drama to keep you occupied, BBC's much anticipated drama Ridley Road (opens in new tab) is coming out in October.
What is the theme song?
Nine Perfect Strangers' theme song is "Strange Effect" by the band Unloved.
https://www.youtube.com/watch?v=XRIyQ5p0BPM
The band only released the song last year and their music has featured heavily in other much-loved television shows, including BBC's Killing Eve.
Where to watch Nine Perfect Strangers
Nine Perfect Strangers is available to watch on Amazon Prime now in the UK.
You'll need an Amazon Prime membership to access the show though, so it's important to sign up before trying to watch. If you're not already a member, you can opt for a free 30-day trial (opens in new tab) to watch the show and then cancel it before being charged. Monthly, an Amazon Prime membership costs £7.99.
Also on Amazon Prime, catch up on the US Open final between Emma Raducanu (opens in new tab) and Leylah Fernandez.
For anyone not in the UK, the series is also streaming directly on Hulu.