Who won The Apprentice 2022 last night?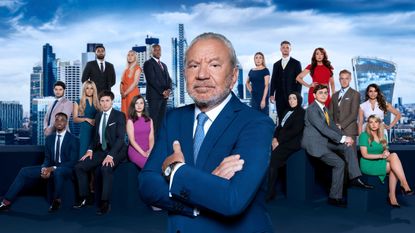 (Image credit: Getty)
The Apprentice on the BBC is in full swing as 2022 candidates work their way through the difficult challenges set each week by Lord Alan Sugar (opens in new tab) as he searches to find his new recruit, and fans who missed the show are wondering who won The Apprentice last night?
Lord Sugar tests the nerves and brains of the hungriest hopefuls in the business world but after a week of sweat and tears, someone has to go and it's down to the boss himself to choose who will make it through to the next recruitment stage and eventually win a six-figure salary job as his apprentice.
So is your favourite candidate the winner? Let's see...
Who won The Apprentice 2022 last night?
Harpreet Kaur from West Yorkshire won The Apprentice 2022 last night. For the final, the 30-year-old dessert parlour owner was up against fellow contestant Kathryn Louise Burn, 29, from Swindon who owns an online pyjama store but she won over Lord Alan Sugar at the last hurdle to secure the £250,000 investment for her sweet treat business Oh So Yum!
On making his decision, Lord sugar said, "It is a very, very difficult situation for me… Harpreet I'm not sure whether this business is scalable or whether you are trying to do too much and that's what I'm worried about at the moment.
"Kathryn, I'm concerned on the longevity of it, and the popularity of it, it's very hard, this is difficult for me…"He went on, and shared of his decision: "A lot of the companies that I invest in are a start from scratch situation, basically what Kathryn is proposing, so ladies, I think that I've decided now…
"Harpreet, you're going to be my business partner."
The Apprentice congratulated their season winner, it posted, "HUGE congrats to @Lord_Sugar's newest business partner Harpreet! 🙌 Things are about to get even sweeter for Oh So Yum! 🍰."
Speaking about her victory, Harpreet posted on Instagram, "Introducing @Lord_Sugar latest business partner….ME!🎉 Lost for words that I've won the @apprenticeuk but I'm so excited for this new chapter with @ohsoyum__ 🙌🏼 Thank you to everyone who showed their support! Celebrate with me by ordering using the link in my bio💜"
Having previously described herself as a born leader, fearless and funny, Harpreet's and her plan to "level up" her successful, six-figure coffee and cakes business to become a leading brand in the UK is one huge step closer to becoming a reality.
Her family and friends threw a celebration party where they could be seen dancing to Bhangra music.
You can watch her journey to winner below...
Meanwhile, Kathryn, the 14th contestant to leave The Apprentice last night and be runner up tried her hardest to impress Lord Sugar, and his assistants Claude Littner - who returned for the first time since his accident - and Baroness Karren Brady but failed to make the cut and they finally waved goodbye to the idea of becoming the mogul's next business partner in the boardroom.
Kathryn was one of the women who made it to the first all-female semi-final and final of the show - a first in it's history. And the pair are said to have both impressed Lord Sugar. The Apprentice posted, "If @Lord_Sugar's smiling you know it was a success! Harpreet and Kathryn absolutely bossed their final pitches 🎉"
Speaking about missing out on the investment from Lord Sugar, Kathryn posted, "Wow, what an INCREDIBLE journey… Runner up baby!! 😍♥️🎉 and still on cloud 9 from even getting to the FINAL of @apprenticeuk ahhh!!!!
"Unfortunately I didn't get the investment for @myeverydaypyjamas but I couldn't be anymore happier for my beautiful bestie @harpsi_kaur 🥺 you really do deserve this and I'm so proud of you ♥️
"I am so thankful to have even been given this amazing opportunity and honestly had the time of my life. I have taken so much from this process; new skills, new experiences and the best part… amazing new friends that I will have for life."
She went on to promote her business, and added, "My brand new collection, BELEAF Matching Sets, that I hand designed in tonight's episode are now available to pre-order on my website 😍 I'm so proud of this range as so much passion went in to designing these, so check them out (link in bio) 🐶♥️
And gave thanks to those that helped her on her journey to being a runner up, "A special thanks to @lord_sugar @karren_brady_official @timcampbell_mbe for all of the guidance and teaching me so much throughout the process, and @pbr1978 for giving me the opportunity to take part in the best show on tv!! 😜
"Last of all, thank you for all of your support, kind messages and comments throughout my journey, I do read them all and they really mean a lot 🥺
"I'm feeling so excited for my future and honestly can't wait to get stuck in! Next chapter, let's go… 😍✨"
Who has been fired from The Apprentice?
The following candidates have been fired from Season 16 of The Apprentice 2022 after being unsuccessful in their journey to be crowned winner:
Week 12 - Kathryn Louise Burn [runner up]
Week 11 - Brittany Carter and Stephanie Affleck [semi finalists]
Week 10 - Aaron Willis and Akeem Bundu-Kamara
Week 9 - Akshay Thakrar
Week 8 - Nick Showering
Week 7 - Sophie Wilding
Week 6 - Amy Anzel
Week 5 - Francesca Kennedy Wallbank
Week 4 - Alex Short
Left due to illness - Shama Amin
Week 3 - Navid Sole
Week 2 - Connor Gilsenan
Week 1 - Harry Mahmood
If you missed who won The Apprentice 2022 last night, you can watch the Final of The Apprentice airs on BBC iPlayer.