The Apprentice 2023 candidates: Meet the hopefuls looking for an investment from Lord Sugar
Lord Sugar is back to belittle a brand new set of aspiring entrepreneurs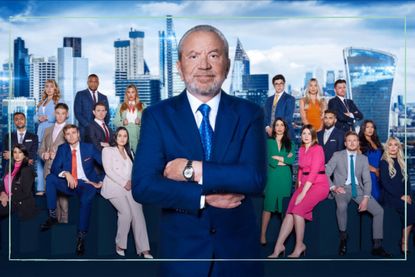 (Image credit: BBC/Fremantle Media/Ray Burmiston)
The Apprentice 2023 is back for more candidate shenanigans and showdowns with Lord Sugar, but who has put themselves forward to face the boardroom this year?
Fans of long-running reality series The Apprentice (opens in new tab) will be delighted that the search for the next big entrepreneur is well-underway after the 17th season of the reality returns each Thursday at 9pm on BBC One with The Apprentice: You're Fired airing immediately afterwards on BBC2. It feels like forever since viewers last heard Lord Sugar's prolific putdowns, and guffawed at the sometimes hapless candidates being monitored by Lady Brady, Claude Littner and Tim Campbell as they eye roll at the camera. Keep reading to find out which candidates will be staying in the luxury The Apprentice house (opens in new tab), while praising their own skills and making promises they often fail to deliver on.
Also on BBC One, the long awaited return of an old fan favourite has made a comeback - the latest iteration of Waterloo Road filmed (opens in new tab) in various Northern locations and we delve into where. The new instalment of the detective adventures of Cormoran Strike and Robin Ellacott also had viewers hooked recently. Strike: Troubled Blood filmed (opens in new tab) in some unusual locations for its latest outing, with fans eager to find out if they could visit them. Audiences are delighted to hear that SAS: Rogue Heroes season 2 (opens in new tab) is definitely happening, and we have everything you need to know about the second chapter of the Steven Knight penned drama.
The Apprentice 2023 candidates
Avi Sharma
Job: City Banker
From: London
"Some say I'm delusional. I prefer the term optimistic."
Avi is the youngest candidate taking part in this year's series, and hopes that Lord Sugar's investment can help him out of the "rat race" of his current job.
Bradley Johnson
Job: Director, Construction Company
From: North Yorkshire
"A lot of people in business – I'm not saying everyone – have inherited their businesses, this is not the case for myself. I was made redundant in 2019 and now, we're turning over half-a-million, which is something I'm immensely proud of."
Bradley is a director of a construction company and self-made. He says he has "a proven business and a strong can-do attitude" as he seeks out that ultimate investment from Lord Sugar.
Dani Donovan
Job: Owner of a hair salon
From: Hertfordshire
"My unique selling point is my personality, I bring something unique. I'm a different kind of business owner, which is a lot more relatable to people."
Dani started her salon business as a teenager, and argues "business is something that doesn't need to be fancy words and suits". She's hungry for the investment as she has "a business that there is a huge gap in the market for" and "will appeal to lots of different people".
Denisha Kaur Bharj
Job: Financial Controller
From: Leicestershire
"I have always known what I wanted in life. I know the dreams I want to achieve. There's only one Denisha Kaur."
Denisha says she "wants to create an empire and have it all", arguing she knows her worth and what she can achieve. In winning an investment from Lord Sugar, she believes she will be "mentored by the best to be the best".
Denisha left The Apprentice in week 4.
Emma Browne
Job: Senior Account Executive
From: County Kildare
"I am disgustingly competitive. I will go to any lengths to win this investment."
Emma not only describes herself as competitive, but also "beyond determined". She's also promised that whether or not she wins the show, her business idea will be "one of the most successful ideas to ever come out of The Apprentice".
Emma left The Apprentice (opens in new tab) in Week 1.
Gregory Ebbs
Job: Owner, Online Antiques Marketplace
From: Shropshire
"I would say, a willingness to try different things and not being afraid to be slightly different is one of my biggest strengths."
Gregory describes himself as a "little too unusual", having previously worked as a cannon-firer. The local councillor also believes his "ability to think outside the box" is another strength that will see him through Lord Sugar's tasks.
Gregory left The Apprentice in week 3.
Joseph Phillips
Job: Safari Guide, South Africa
From: Worcestershire
"I don't deserve Lord Sugar's investment more than anyone else in the process, but I do think I have something that they don't."
Safari guide Joseph has a degree in zoology and also calls himself the "James Bond of the business world". He's thinks that "if Lord Sugar wants to invest in a business to help save the ocean, one lip balm at a time, then I'm his guy".
Kevin D'Arcy
Job: Accountant
From: Dublin
"I can be a little outspoken... not knowing when to shut up."
Accountant Kevin started a water sports equipment business during lockdown. He's hoping to expand from Ireland into the UK with Lord Sugar's investment, stating he has the drive to succeed to achieve this dream.
Mark Moseley
Job: Owner, Pest Control Company
From: London
"People like confident people, people buy into confidence. And that's why people buy into me."
Former soldier Mark runs his pest control company in London. He says he's "very talkative with the charm to match", though can be "a little bit over-confident from time to time". He says if Lord Sugar doesn't pick him, he's "missing a trick".
Marnie Swindells
Job: Court Advocate
From: London
"I have fought tooth and nail to get to where I am today with my business. I deserve the chance to have that investment to show him what I can do with it."
Marnie is a former gold medal winning boxer who now works as a court advocate. She says she "can see opportunity everywhere" and is "headstrong", and predicts her and Lord Sugar would be a "winning combination".
Megan Hornby
Job: Owner, Sweet Shop & Café
From: East Yorkshire
"I think that no matter what situation I am thrown into, I will always give one hundred percent truth, even if it's hard to hear."
Megan says her USP is her "honesty" and the fact she will "always give one hundred percent truth". Also admitting to being "overly ambitious", Megan has high hopes Lord Sugar's investment will help her "niche" business get national recognition.
Reece Donnelly
Job: Owner, Theatre School
From: Glasgow
"I'm here to prove that Scotland is filled with forward-thinking entrepreneurs and that we are not in fact a haggis-eating, kilt-wearing nation."
Reece cites himself to be "the youngest CEO of a further education college in the UK", and has high hopes of being the first Scottish candidate to win the show.
Rochelle Anthony
Job: Owner, Hair Salon & Academy
From: Bedfordshire
"My biggest weakness is that I don't like the word 'no' and I don't listen to it – I will always turn it into a 'not yet', and I cannot let go."
Bedfordshire born Rochelle prides herself as being a "tenacious, fierce, and determined businesswoman". Partnered with Lord Sugar, she's confident the pairing would be "an absolute force to be reckoned with".
Shannon Martin
Job: Owner, Bridal Boutique
From: West Yorkshire
"When I come up with an idea, I want to just do it there and then and take everybody along with me on the ride."
Shannon is hoping to bring Lord Sugar into the lucrative bridal industry. She feels her biggest weakness is "probably the fact that I want everything now", but is very confident her idea is a "really good opportunity" for Lord Sugar.
Shannon left The Apprentice in week 2 when she resigned before Lord Sugar had chance to complete the boardroom firing.
Shannon left The Apprentice in week 2.
Shazia Hussain
Job: Technology Recruiter
From: London
"I hope that I'll encourage more people like me not to be ashamed of their difference. It's okay to be different. It can make you extremely successful within business."
Shazia is hoping to represent more neurodiverse women in business, as she has been diagnosed with ADHD. She said this leads her to "process information faster than others", and "look at things differently". She says she deserves Lord Sugar's investment, as she has an "ability to identify niches in business and to develop them into USPs".
Simba Rwambiwa
Job: Senior Sales Representative
From: Birmingham
"My USP is myself. If people can't buy into you, they'll never buy anything from you."
Simba cites his his biggest weakness as being a "perfectionist". His business idea "not only guarantees profit, but also guarantees to improve the quality of peoples' lives".
Sohail Chowdhary
Job: Owner, Martial Arts School
From: Southampton
"My biggest weakness would be sometimes not listening to others when on the very rare occasion I might be wrong."
Sohail beleives that he can "achieve the same results as others in half the time". However, he acknowledges he has a tendency not to listen to others, but will "always be the person that looks out for the little guy". He's had "to fight hard to achieve the comfortable life I lead today" and has "a proven track record" behind him.
Victoria Goulbourne
Job: Owner, Online Sweet Business
From: Merseyside
"I know what consumers want. I've travelled all over the world and I'm not afraid to take on a challenge."
Former flight attendant Victoria, started an online sweets business during lockdown. She says she's "adaptable and [has] a keen business acumen", and is hoping Lord Sugar's investment will really make her business take off.
Do The Apprentice contestants get paid?
Yes, The Apprentice contestants get paid for appearing on the show. However, the sum isn't as much as you'd think - they reportedly receive a £2,000 fee.
According to the Evening Standard (opens in new tab), each contestant will be given the money even if they're fired after the first challenge. The sum is for the candidates to continue paying their mortgages and bills, as most give up their day jobs to appear on the show. It's very much a gamble to give up their jobs, as 2017 star Jeff Wan found out. He became the second contestant to be fired from the series and later suggested he found it hard to replace the job he'd left behind. He told Radio Times (opens in new tab) at the time: "I actually left a career in finance to join the show so I gave in my resignation a week before I came into the house. So right now, I'm just looking for opportunities!"
What happened to Claude on The Apprentice?
Claude Littner was forced to miss the last series of The Apprentice after he suffered a bike accident. He was replaced by the winner of the first series, Tim Campbell who temporarily took over from Claude.
In April 2021, 73-year-old Claude was riding an electric bike in London when he fell off. His right leg was so severely injured, amputation was considered. However, after 10 surgeries, his leg was saved. Speaking about the incident in June 2021, The Independent (opens in new tab) reported Littner said "I was just pottering along, I must have been doing no more than 10 kilometres an hour on this sort of two-track road. The next thing I knew, I was on the left-hand side of the street, my bike was in the middle of the road and I didn't know what happened."
He continued "My wife and my sons were there as well and [the doctors] decided they were going to amputate my leg. And then they had another chat about it and they said, 'Look, let's get him into theatre right away tonight and let's see if we can save his leg'. And I went into theatre and it was a very long operation and they didn't take my leg off."
Related BBC Features:
Video of the Week
Lucy is a multi-award nominated writer and blogger with six years' experience writing about entertainment, parenting and family life. Lucy has contributed content to PopSugar and moms.com. In the last three years, she has transformed her passion for streaming countless hours of television into specialising in entertainment writing. There is now nothing she loves more than watching the best shows on television and telling you why you should watch them.