Where is First Dates filmed 2023? New location of the Channel 4 dating show explained
There have been a number of location changes in recent years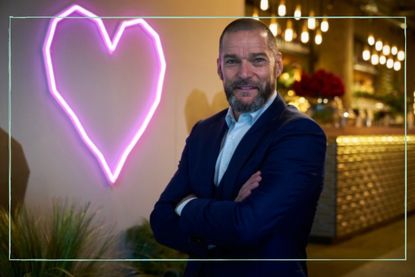 (Image credit: Channel 4/Future)
With a few changes to the First Dates restaurant location in recent years, viewers were wondering if the series 20 backdrop was different again...
The popular reality dating show First Dates returned to Channel 4 for its 20th series on April 17. Proving we are a nation of romantics who love to watch potential matches be made, First Dates has spawned a series of spinoffs including First Dates Hotel and Teen First Dates. For the majority of the the original First Dates life, the charismatic Fred Sirieix has overseen hopefuls looking for love at a London restaurant. The series then made a move to the North, with circumstances forcing yet more changes to the location once a Manchester location had been found. Those tuning in for the latest series have been asking where exactly the series filmed for 2023, and we have all the answers.
For anyone looking for love and doesn't mind it happening in front of an audience, Love Is Blind UK is happening - we have details of how to apply. For single parents looking for their perfect match, Romance Retreat, dubbed "Love Island for grown ups," is another exciting upcoming addition to the world of reality dating.
Where is First Dates filmed 2023?
First Dates 2023 is filmed at The Anthologist in St Peter's Square, Manchester.
The first 15 series were filmed in London, at D&D Group's Paternoster Chop House in St Paul's. On moving filming to Manchester, the crew initially set up at The Refinery, in the Spinningfield area of the city. However, the Drake and Morgan owned business closed permanently shortly afterwards.
Due to The Refinery's closure, the move to The Anthologist was made. However, The Anthologist is also owned by Drake and Morgan, and considered the sister restaurant to The Refinery.
A notice on The Refinery's website reads "Thank you for all of the good times! We've now permanently closed our doors but don't worry, this isn't goodbye! You can still find all of your favourite Drake & Morgan cocktails, treats & little touches at our closest sister bar & restaurant The Anthologist One St Peter's Square & for even more D&M goodness, view all of our locations here. Lots of love, The Refinery Spinningfields x."
When not being used for filming, the public are welcome to visit The Anthologist, which has an extensive menu ranging from nibbles and small plates, to large and classic dishes. As showcased by their Instagram feed, the venue's cocktails also look amazing.
Has anyone got married from First Dates?
Five couples who met on First Dates went on to get married.
Adam and Dan met on the show in 2014, and hit it off immediately. They announced their engagement in 2016, and were last heard to be saving for their dream wedding in South Africa.
Although Hema and Ajai got off to a rocky start in 2016, the pair eventually went on to get married. When Hema announced she was not a fan of Ajai's handlebar moustache, viewers didn't hold out much hope. However, she agreed to a second date, and love blossomed into an eventual wedding in Mallorca in 2019.
Greig and Shaun met on series 8 of the show, with their episode airing on June 20, 2017. The pair announced their engagement in December of the same year, and they wed the following year.
2017 was a good year for First Dates, with Fran and Will meeting and falling in love the same year. The sweet couple both admitted to having spent much of their lives single, immediately bonding over this and a love of tweed. An engagement followed three years later, with wedding bells chiming in June 2021.
With 2017 still proving to be a lucky year for the participants, Elan and Cindy also met during this time, eventually going on to marry. After two covid-related wedding postponements, the pair married in September 2021.
Numerous other couples from the series remain together, but not married. Notably, the heart warming older couple Doreen and James. James was 87 when he appeared on the show, still grieving the loss of his wife. Doreen revealed her husband had left her for a much younger woman after being married for 46 years. Although not married, the pair remain together.
How to apply to be on First Dates
Applying for First Dates is a simple process, that involved filling out a form on the website from the people behind the show.
When visiting the TwentyTwenty TV website, the form can be easily accessed. The BAFTA award-winning series is always on the lookout for those wanting to find their match, with each couple matched based on their answers to a set of questions.
After collecting some basic information from potential participants, the application form asks for details about hobbies, what you're looking for in a potential partner, and other details that will enable a possible perfect match.
Related Features:
Video of the Week
Lucy is a multi-award nominated writer and blogger with six years' experience writing about entertainment, parenting and family life. Lucy has contributed content to PopSugar and moms.com. In the last three years, she has transformed her passion for streaming countless hours of television into specialising in entertainment writing. There is now nothing she loves more than watching the best shows on television and telling you why you should watch them.