Is The Sixth Commandment a true story? The real-life case behind the BBC drama
The brand-new BBC One series follows the story of two lonely neighbours and murderer Ben Field.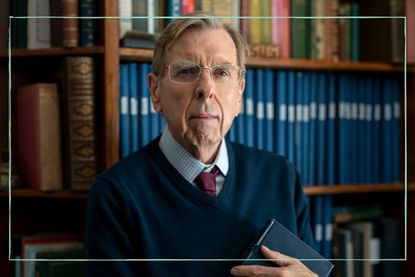 (Image credit: BBC)
The brand-new true crime drama is set to air on BBC One, and viewers want to know if The Sixth Commandment is based on a true story.
Starring Timothy Spall and Anne Reid, the new four-part drama tells a chilling story of deception, fraud and murder in the village of Maids Moreton, Buckinghamshire, and the extraordinary events that unfolded over the following years. Despite the events taking place in Buckinghamshire, The Sixth Commandment was filmed in and around a bustling area of the South West. What viewers also may not know, is that the tale is based on the real murder of former teacher and lecturer Peter Farquhar and the manipulation of his neighbour Anne Moore-Martin.
Much like BBC viewers asked whether Best Interests is based on a true story or if Blue Lights is a true story when they aired earlier this year, true crime fans are also asking about the details behind The Sixth Commandment - such as where is Ben Field now and what happened to Martyn Smith. The show promises to have TV fans gripped throughout its four-part release while celebrating the lives of two "cherished mentors, much loved relatives and adored friends." Here's the story behind the new drama...
Is The Sixth Commandment a true story?
Yes, The Sixth Commandment is based on a true story. The true crime series is based on the events leading up to the 2015 murder of former teacher Peter Farquhar by Ben Field.
Peter had been tricked by Ben, who was a warden at his local church in Stowe and hoping to inherit Peter's estate. The pair entered into a romantic relationship, but what followed was months of mental torment and the eventual murder of Peter by Ben.
Ben had convinced Peter to change his will and moved into his home, then started to poison him with a mix of alcohol and drugs, which he'd disguise in food and cups of tea.
But it wasn't until Ben allegedly tried to do the same to Peter's neighbour, Ann Moore-Martin, that Peter's death was brought back under the microscope.
The story is being told in a four-part drama written by Sarah Phelps, who's known for writing the true-life drama A Very British Scandal in 2021 and adapting several Agatha Christie novels for TV.
The new show was made "in full cooperation" with Peter and Ann's families and aims to celebrate the lives of both, who were much-loved figures within their close-knit community.
Sarah Phelps said of the story, "This is such a shocking and brutal case; how a murderer hid his manipulation and malevolence in plain sight of a small community, how he insinuated his way into the lives of his victims.
"It's a heartbreaking story of such desperate longing and loneliness but even within the darkness, there is the most astonishing blazing love and courage."
According to the BBC's synopsis, The Sixth Commandment "tells the story of how the meeting of an inspirational teacher, Peter Farquhar, and a charismatic student, Ben Field, set the stage for one of the most complex and confounding criminal cases in recent memory."
What is The Sixth Commandment based on?
The Sixth Commandment is based on the murder of Peter Farquhar, who was found dead in his home in October 2015. Initially, his death was ruled as an accident, with friends and family believing he died in his sleep after a short illness.
However, when his neighbour and former headmistress Ann Moore-Martin entered a relationship with Ben Field just a year later, alarm bells began to ring and the police began to look more closely at Peter's death.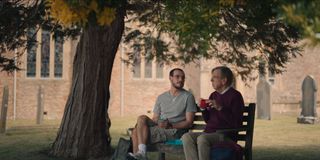 Ben Field had duped both Ann and Peter into fake relationships, deceiving and defrauding Peter to get him to change his will. In November 2014, Farquhar changed his will, leaving half of his house and £15,000 to Field, and appointing him his literary agent.
Ben went on to kill the 69-year-old, making it look like Peter had drunk himself to death by leaving a half-empty bottle of whisky in his room after suffocating him.
While Peter was still alive, Ben had lined up Ann Moore-Martin as his next victim, convincing her that he had fallen in love with her and eventually moving into her home.
It was uncovered that during his relationship with Ann, Ben would put pressure on her to change her will and did this by writing messages 'from God' on her mirrors, which said she should leave her house in her will to Ben and not to her niece.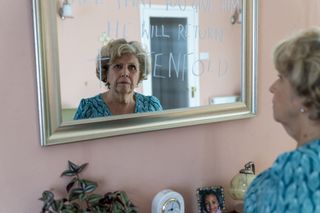 Ann eventually changed her will to include Ben, before being admitted to hospital after suffering a seizure in 2017. It was then that Ann's niece, Anne-Marie Blake, contacted Thames Valley Police and alleged her aunt was being manipulated by Ben into changing her will.
In August 2018, Ben was convicted of the murder of Peter Farquhar and sentenced to life in prison with a minimum sentence of 36 years in October 2019.
In a statement after the sentencing Mr Farquhar's brother, Ian Farquhar, said: "Ben Field is a deeply malevolent and thoroughly evil man who callously and greedily seduced his way into my brother's life.
"His sentence today brings some justice to this horrific event in our family's life. Though of course the wound will always remain
Meanwhile, Mark Glover, of Thames Valley Police, said Field was "unlike any other criminal" he had encountered in his 31-year career.
"The extent of his planning, deception and cruelty towards his victims is frankly staggering, and I do not believe he has ever shown an ounce of remorse or contrition," he said.
"If he is sorry for anything it is that he got caught."
The Sixth Commandment cast
Timothy Spall as Peter Farquhar (previous credits include Harry Potter, Enchanted, A Series of Unfortunate Events)
Anne Reid as Ann Moore-Martin (previous credits include Last Tango in Halifax, Sanditon and Coronation Street)
Éanna Hardwicke as Ben Field (Normal People and Fate: The Winx Saga)
Sheila Hancock as Liz Zettl (Unforgotten, A Discovery of Witches, Great Canal Journeys)
Annabel Scholey Ann-Marie Blake (The Split, The Salisbury Poisonings)
Ben Bailey Smith as Simon Blake (The Split, Andor)
Jonathan Aris as DCI Mark Glover
Anna Crilly as DS Natalie Goulding
James Harkness as DS Richard Earl
Speaking ahead of the new drama, Timothy Spall said, "When I received [writer Sarah Phelps'] brilliant scripts, I knew this was an essential story to tell. I am honoured to be playing the remarkable Peter Farquhar and hope I do him justice, which is the very least he deserves."
The Sixth Commandment release date
The Sixth Commandment first airs on Monday 17 July on BBC One at 9pm. The next episode will be broadcast the following day on Tuesday 18 July at the same time.
The final two episodes will air July 24 and 25, and all episodes will become available on BBC iPlayer to catch up or watch online.
In other TV news, we've explained the ending of Wolf and revealed when The Woman in the Wall will be on TV - both of which are also new BBC dramas. And if you're after more true stories behind the drama, we've taken a look at where Richard Sackler is now from Netflix's Painkiller and looked at a similar tale in our breakdown of the Pain Hustlers true story.