Is Blue Lights based on a true story? The new BBC drama is making a splash
Are the storylines in the series based on fact?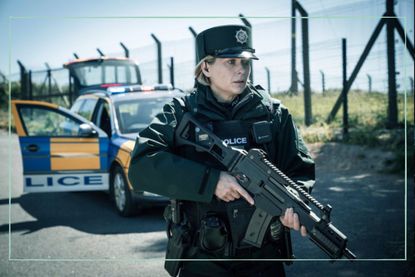 (Image credit: BBC/Gallagher Films/Two Cities Television)
The BBC are keeping the gritty police dramas coming thick and fast, and newest addition Blue Lights, is no different. But is it based on a true story?
New BBC police drama Blue Lights, has been created and written by Declan Lawn and Adam Patterson, the minds behind hit drama The Salisbury Poisonings. The show follows three rookie police officers on probation in Belfast, depicting what a uniquely dangerous time that would have been to become an officer. Grace (Siân Brooke) is a 40 something mother who has left her social work job to join the Police Service of Northern Ireland (PSNI). Fellow rookie Annie (Katherine Devlin), struggles with the fact that her new career could mean leaving everything she's ever known behind. Tommy (Nathan Braniff), is desperate to prove himself, despite showing how inept he can be at the practical side of frontline response policing. Read on to find out whether Blue Lights is based on a true story.
Elsewhere on the BBC, Steven Knight's adaptation of a Dickens classic is dividing opinion. Great Expectations filmed across multiple counties, and we look at every location featured in the series. On ITV, The Bay filmed in some of its usual, as well as some brand new locations for its fourth series - we have the lowdown on exactly where. Also on the channel, for those asking where is Grace filmed, we break down everywhere in a popular seaside city the cast and crew were spotted.
Is Blue Lights a true story?
No, Blue Lights is entirely a work of fiction from writers Declan Lawn and Adam Patterson, who were looking to step away from dramatising true events.
Speaking to the BBC, the writers spoke about how other recent work caused them to be beholden to truth, as they were based on true stories. The Salisbury Poisonings was a factual drama based on real events. Similarly, their Netflix film Rogue Agent with James Norton and Gemma Arterton, was a fictionalised version of a real incident. Blue Lights however, is pure fiction.
Two-and-a-half years in the making, the Blue Lights storylines are based on things Lawn and Patterson uncovered or were told during their research and time spent interviewing real police officers. Lawn said "We have tried to make it as authentic as possible. We spoke to upwards of thirty serving and retired police officers and we spent two years researching it. But when it comes down to it the characters and the scenarios are fictional."
Speaking about the character Grace, who is leaving behind her stable social work to become an officer in her 40s, Lawn continued "So Grace is forty-one when she joins. That is not as unusual as you might think. Quite a few people tend to join the PSNI after having had a separate career. People join in their thirties, forties, even their fifties.
We were intrigued at that time by this idea of an early middle-aged person leaving behind everything they had ever known, the career that they thought they were always going to have and doing something completely different. Partly, maybe subconsciously, we were intrigued by it because that is what we had just done ourselves! We had just left the BBC, I had left my staff job to finish The Salisbury Poisonings. That was a huge gamble and a risk for me so there was a commonality that I felt with that character."
How many episodes of Blue Lights are there?
There will be a total of six episodes of Blue Lights, with a new instalment airing weekly on BBC One on Mondays, at 9pm.
Adam Patterson and Declan Lawn were keen to showcase other writers, and give creatives outside of their writing duo a chance to write for the series. Patterson said "Part of the concept of Blue Lights was to bring people in and give them the chance of a script, maybe one or two people per season. Our approach was that we would write episodes 1 and 2, 5 and 6 and we'd bring in one or two people and give them the chance of a script. People need a break. Maybe they'd written a script that hadn't been produced or they had really inspired us when we'd met them. Our show benefits from them and their energy and their talent."
He continued "You can end up in places that you wouldn't if it was just Dec and me. In the first writers' room for Blue Lights we literally talked only about character for the first week. We'd been in rooms where you start chasing plot around and then get to Thursday and people don't really know how a character will respond in that moment – that's a room that's in a bad place. So, we've learnt when it works well and when it doesn't. We tried to make it character focussed. When you know your characters well enough then you can put them anywhere and the plot will revolve around them."
Blue Lights: Cast
Siân Brooke (Good Omens, Trying) as Grace Ellis
Katherine Devlin (Vikings, The Dig) as Annie Conlon
Nathan Braniff as Tommy Foster
Martin McCann (Maze, Marcella) as Stevie Neil
Richard Dormer (Game of Thrones, Fortitude) as Gerald 'Gerry' Cliff
Hannah McClean (Sick Note, Josh) as Jen Robinson
Valene Kane (The Fall, Gangs of London) as Angela Mackle
Jonathan Harden (Humans, Time) as David 'Jonty' Jonson
John Lynch (Sliding Doors, The Fall) as James McIntyre
Andi Osho (Line of Duty, Sex Education) as Sandra Cliff
Speaking of her thoughts when reading the script for the first time, Grace actress Sian Brooke said "I instantly fell in love with these scripts, Declan and Adam's writing is quite extraordinary. I've always been drawn by character-driven pieces and I think, having both been journalists, it makes them great observers. You can really see that come together in these scripts. We meet these characters in what's seen as positions of power and responsibility but Declan and Adam show a very personal journey for each of them."
On her character's place in the series, the actress added "We meet her at a moment in her life where she's made this huge career change from social worker to police officer. I think that decision is hugely informed by the job she used to do and the frustrations of working in that environment. She wants to do a job where she can make a difference and be on the frontline of that change. She has a 17-year-old son and she's juggling being a mum, a single parent, and learning to do a new, challenging job at the same time. She's just trying to hold it all together and do the best she can."
Blue Lights: Review
An early response to Blue Lights appears to be very positive.
Ellen Jones from The Guardian said "Blue Lights' story of uniformed rookies and their training officers grips from start to finish. This is partly because of the show's textured depiction of Belfast – a place with complex, particular policing issues – and partly because the characters are so rounded and believable. The series' emotional pay-off, when it comes, hits hard because it's so well earned."
David Roy from the Irish News, added "There have been crime serials shot in Belfast before - Line of Duty, Marcella, The Fall to name but three - but the upcoming new six-part cop drama Blue Lights is the first to zero-in on the confrontation-packed, sectarian tensions-charged work of a recognisably realistic Police Service of Northern Ireland. While it's immediately apparent that Blue Lights is no PSNI-endorsed recruitment ad for policing, it does strive to reflect a reality in which cops' lives are still very much under threat from dissidents."
Related BBC Features:
Video of the Week
Lucy is a multi-award nominated writer and blogger with six years' experience writing about entertainment, parenting and family life. Lucy has contributed content to PopSugar and moms.com. In the last three years, she has transformed her passion for streaming countless hours of television into specialising in entertainment writing. There is now nothing she loves more than watching the best shows on television and telling you why you should watch them.