The Catch book ending explained: The Channel 5 series ending could be different to the book it's based on
There appear to be many differences between the book and the series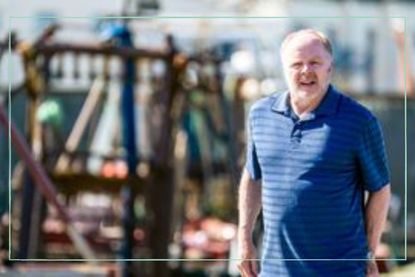 (Image credit: Channel 5/Future)
The ending of The Catch book by TM Logan is incredibly dark and tense - will the characters from the show experience the same fate?
Fans of TM Logan were excited to find out Channel 5 psychological drama The Catch, would be based on (opens in new tab) his book of the same name. The popular author has been sharing his own excitement on social media at seeing the likes of Jason Watkins, Aneurin Barnard, and Brenda Fricker, bring his dark thriller to life. When a novel is adapted for television, those who have read it are usually keen to find out how true to the source material the show will be. When episode 1 of The Catch aired on January 25, those who had read the novel were quick to want a recap of its ending, ready to compare it to the series finale. Those who hadn't read it, simply wanted to give themselves a few spoilers about what could be in store for the characters. Read on for a full explanation of The Catch book ending, and other exciting information about the TV series.
The Catch filmed (opens in new tab) in some beautiful coastal areas, and we took a look at where they can be found - although the show is set in south-western England, filming took place somewhere very different. Those who have been enjoying the series, might like Channel 4 psychological thriller The Light in The Hall (opens in new tab), following a grieving mother coming to terms with her daughter's killer refusing to give up the location of her body. The Light in The Hall filmed (opens in new tab) across some beautiful Welsh countryside, towns, and villages - we reveal where they are and how to visit.
The Catch book ending explained
The Catch book ends with Abbie stabbing and killing Ryan at Dark Peak in the Peak District - Ed had been correct to be suspicious of Ryan all along.
According to Woman & Home (opens in new tab), prior to the showdown on the moor, readers find that Ryan murdered Ed to prevent him making Abbie suspicious of him. Fed up with Ed's persistent interference in their relationship and wanting full control over Abbie, Ryan had killed him and buried him on the moor. Feeling Abbie's ex-boyfriend George was also a threat to his control over her, he murdered him also. It transpires Ryan is a serial killer who lived for the high of taking the life of another.
After Ed goes missing, Abbie finds he had been using a private detective to dig up Ryan's past, and it's pretty horrifying stuff. Newspaper articles reveal he'd been born Ryan Steven Getzler in Canada. At the age of 11, he'd burned his family home to the ground, killing his parents and sister, Stacey. When the narration turns to Ryan's point of view, he gleefully recounts to readers how he enjoyed standing in the snow watching the house burn down.
Nobody had suspected Ryan was responsible for the fire, and the now-orphaned child was sent to the UK to live with a distant great-aunt in Manchester. Following this, he was fostered by a lady named Eileen Jackson. Eileen went missing a few years after taking Ryan in, and readers are correct to surmise Ryan was responsible.
Abbie continued to find out that at the age of 20, Ryan had married a woman named Lori. However, shortly after their union he was sent to prison for assaulting his wife, and possession of an offensive weapon. While he was inside, Lori began divorce proceedings. However, on Ryan's release, it was no surprise to find Lori had mysteriously gone missing. Abbie makes the decision to confront Ryan about the information the PI had turned up, after the pair had been handing out missing person flyers near the Dark Peak.
In another switch to Ryan's narrative, we find Ryan uses Blackden Moor as his own private area for disposing of the bodies of his victims. He'd deliberately made Ed more suspicious of him by staging phone calls to fake girlfriends and other attempts to make his future father-in-law mad with mistrust. Using Ed's anger to encourage him to pursue him, Ryan lured him to Blackden Moor, where he murdered and buried him.
Ryan had also turned Ed's family against him, by staging Ed's mental health decline. He'd planted an empty bottle of Vodka to look like Ed had taken to heavy drinking. He also placed misleading Google searches on Ed's computer, and planted blood in his car, to add authenticity. However, being a killer who is fond of keeping trophies from his murders, Abbie suspicions about her future husband are heightened when she finds Ryan in possession of a Grand Canyon souvenir knife she'd bought her dad, with no explanation regarding why he'd have it.
After deciding to confront Ryan after the leaflet drop, Abbie reveals to him that she is pregnant. This information isn't enough to stop him, now he knows she has the potential to uncover his secrets. As he tries to kill her, readers find he had no real feelings for her, and was only entering in to a marriage because he felt a married man would garner less suspicion than a single one - this would allow him to continue murdering with ease. Ryan tells Abbie he'd lied to her with both actions and words. Luckily, Claire arrives on the scene - her own suspicions about Ryan had been increasing in strength. She and Abbie desperately fight back against Ryan and although Claire is seriously injured with a knife, Abbie is able to stab and kill him.
In a time jump to a year in the future, Claire and Abbie visit the graves of Ed and his son's graves. Ed's body was recovered from the moor, along with those of Lori, foster mother Eileen, and a further two unidentified women. Ryan would pre-dig the graves of his victims, and fill them with a lilo to prevent them caving in and to keep them ready for burial. At Ed's graveside, readers find Abbie has given birth to her and Ryan's son, and the final words of book state the child has "His father's eyes."
How many episodes of The Catch are there?
There are 4 episodes of The Catch on Channel 5. Episodes will air weekly on the channel at 9pm on Wednesdays, and will be available on catch up service My5 (opens in new tab) immediately after airing.
In an interview with What To Watch (opens in new tab), Jason Watkins spoke about taking on the role of Ed. He said "Ed is trying to be a good parent, but he's a man in extremis. His business is in a critical state and he's under a lot of financial pressure. If there's no fish, there's no money; it's pretty simple. He also doesn't want his daughter to be with the wrong person. Ryan is a bit flash and he's not a local, so Ed feels challenged by him."
He added "There's a lot of turmoil beneath the surface of anyone who's had this sort of trauma and he's tested all the way. When people hit a crisis in their lives, it's often a combination of issues. You can deal with one problem, but when you have several, that's when people struggle."
The Cast of The Catch
Alongside Jason Watkins, key cast members of The Catch include Poppy Gilbert, Aneurin Barnard, Cathy Belton, and Brenda Fricker.
Poppy Gilbert plays Ed's daughter Abbie in the drama, and has previously appeared in the BBC1 drama Chloe, in the title role. She has also starred in the Netflix drama Stay Close. Aneurin Barnard plays the shady new boyfriend of Abbie, Ryan. He is known for his roles in Cilla, and The White Queen. Cathy Belton appears as Ed's wife, Claire. Viewers are most likely to recognise her from roles in Miss Scarlet & The Duke, A Little Chaos, and Philomena. Legendary actress Brenda Fricker, appears as Claire's mother, Phyllis Doyle. In 1989, the actress was an Academy Award recipient for her role in My Left Foot - her extensive career spans six decades.
Further cast members include:
Ian Pirie (The Last Duel, Halo) as Bob Chapman
Jade Jordan (The Virtues, Rosie) as Katz
Morgan Palmeria as George
Tracy Wiles (Doctors, Shetland) as DI Nott
Cameron Jack (Waterloo Road, Eastenders) as Craig
Menyee Lai (Stay Close, The Tower) as Pauline
Paul Sparkes (Where Have You Been, Cold Courage) as Wayne Pendrick
Jacob Hickey as Josh
Karl Hogan (Teen Life, Otherworld) as Baxter
Who plays Ryan in The Catch?
Ryan is played by 35-year-old Welsh actor and musician, Aneurin Barnard. The actor was born in Bridgend, Wales, on 8 May 1987.
Barnard speaks Welsh as his first language, and attended primary and secondary school in Wales, before continuing his education at the Royal Welsh College of Music and Drama. His first television role came towards the end of his secondary school years, when he in HTV Wales series Jacob's Ladder.
He is married to businesswoman Lucy Faulks-Barnard. The pair have been married for 5 years, and have a 4-year-old son together. Lucy's Instagram page shares her journey of building a business, sprinkled with plenty of pictures of her adventures with the couple's little boy.
Aneurin Barnard movies and TV shows
Movies:
2005: A Night on the Tiles as Bev
2007: Owl Creek Bridge as Damien
2008: In Deep as Phil Matthews
2011: Elsewhere as Nick
I2011: Ironclad as Guy the Squire
2011: Powder as Miguel
2011: Queen of Hearts as Bad Knight
2011: Hunky Dory as Davey
2012: Citadel as Tommy
2012: Elfie Hopkins as Dylan Parker
2012: The Facility as Adam
2013: The Truth About Emanuel as Claude
2013: Trap for Cinderella as Jake
2013: Mary Queen of Scots as Darnley
2014: The Adventurer: The Curse of the Midas Box as Mariah Mundi
2017: Bitter Harvest as Mykola
2017: Interlude in Prague as Wolfgang Amadeus Mozart
2017: Dunkirk as Gibson
2018: Run as Jorey
2018: Bigger as Ben Weider
2018: Dead In A Week (or your money back) as William
2019: The Personal History of David Copperfield as James Steerforth
2019: The Goldfinch as Boris Pavlikovsky
2019: Radioactive as Paul Langevin
TV shows:
2003: Jacob's Ladder as Young Jonathan
2007: Y Pris as Tupac
2008: Casualty as Damien
2009: Doctors as Chas Murdoch
2012: We'll Take Manhattan as David Bailey
2013: The White Queen as Richard III
2013: Agatha Christie's Marple as Robbie Hayman
2013: Moonfleet as John Trenchard
2014: Under Milk Wood as Drowned
2014: Cilla as Robert "Bobby" Willis Jr.
2015: The Scandalous Lady W as Captain George Bisset
2015: Killing Jesus as James
2016: War & Peace as Boris Drubetskoy
2016: Thirteen as Tim Hobson
2017: SS-GB as PC Jimmy Dunn
2019: Sherwood as Gisbourne
2019: Midsomer Murders as Freddie Lamb
2020: Barkskins as Hamish Goames
2021: The Pact as Jack Evans
2021: Time as Bernard
2022: Peaky Blinders as Doctor Holford
2022: 1899 as Daniel Solace
Related Channel 5 Features:
Video of the Week
Lucy is a multi-award nominated writer and blogger with six years' experience writing about entertainment, parenting and family life. Lucy has contributed content to PopSugar and moms.com. In the last three years, she has transformed her passion for streaming countless hours of television into specialising in entertainment writing. There is now nothing she loves more than watching the best shows on television and telling you why you should watch them.