Where is The Light in The Hall filmed? Locations in Wales featured in the Channel 4 murder mystery drama
A bleak story juxtaposed with beautiful scenery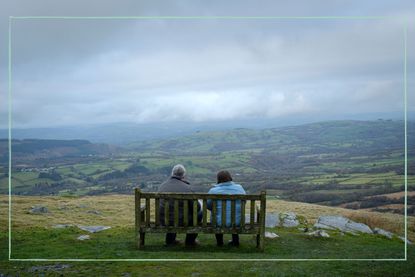 (Image credit: Alistair Heap/Channel 4/Future)
A dark and intriguing drama is set against stunning Welsh scenery - if you're wondering exactly where The Light in The Hall was filmed, look no further.
The Light in The Hall follows Sharon Roberts who is full of grief following the disappearance of daughter Ela who went missing 18 years earlier, and has left viewers asking if it's based on a true story (opens in new tab). Joe Thomas (Game of Thrones' Iwan Rheon), considered a quiet and humble gardener, was arrested and charged with her murder shortly after Ela's disappearance when her DNA was found in his caravan. Joe confessed to the murder but refused to give up the location of the body. Now Joe is up for parole and if released, Sharon realises she might never find out where her daughter's body lays and could never have closure. Journalist Cat Donato enters the mix, having always had a personal interest in the story - her intrigue in the mystery is once again piqued on hearing Joe could be released. Will Joe ever reveal the truth, and can Sharon ever find the peace she needs? Read on to find out which Welsh locations acted as backdrops to the compelling drama - we also have intel on how many episodes (opens in new tab) will feature in the show.
Over on BBC One, a revived fan favourite drama has been causing quite a stir. Waterloo Road filmed (opens in new tab) in some Northern locations, but were they the same as the original show? A highly anticipated police drama also made a return to the BBC recently, with fans also keen to know where Happy Valley filmed (opens in new tab). Roald Dahl fans have been eagerly awaiting the musical remake of a classic fan favourite film. We have the full lowdown on where Matilda The Musical filmed (opens in new tab), and it turns out Crunchem Hall is a real place!
Where is Light in The Hall filmed?
The Light in The Hall was filmed in Carmarthenshire, namely the Tywi Valley, Llandovery, Llangadog, Llandeilo and Carmarthen. Some scenes were also filmed in Cardiff.
The Tywi Valley is the route taken by Wales' longest river, the Tywi, as it weaves from it's Cambrian Mountains source to the sea at Carmarthen Bay. This 75 mile route is said to have some of the most stunning scenery to be found in Wales, making it unsurprisingly chosen to be part of the filming for The Light in The Hall.
The market town of Llandovery sits in northeast Carmarthenshire. Situated on the banks of the River Tywi, it is also in close proximity to the Brecon Beacons National Park, and is a gateway to the Cambrian Mountains. Stills from The Light in The Hall show characters Cat and Cary sat in the beautiful Llandovery Square.
The small village of Llangadog sits in the heart of the Tywi Valley, halfway between Llandeilo and Llandovery - the population currently stands at approximately 1000 people. Found on the western edge of the Brecon Beacons National Park, it is known for its stunning views towards the Black Mountain.
Full of colourful houses, boutique shops, fantastic places to eat, and surrounded by historic architecture, Llandeilo is considered one of Wales' best kept secrets. With winding streets and plenty to do, the town is Instagrammable without the hordes of people trying to actually do so.
Carmarthen is the county town of Carmarthenshire, also sitting on the River Tiwy. It is thought to be the oldest town in Wales, with Old Carmarthen and New Carmarthen becoming one borough in 1546.
The Light in The Hall: Cast
Alexandra Roach (Sanditon, Killing Eve) as Cat Donato
Iwan Rheon (Misfits, Game of Thrones) as Joe Pritchard
Joanna Scanlan (The Larkins, After Love) as Sharon Roberts
Siân Reese-Williams (Emmerdale, Silent Witness) as Caryl
Aled Bidder (35 Diwrnod, Pobol Y Cwm) as Rhys
Annes Elwy (Little Women, Electric Dreams) as Greta Roberts
Hannah Daniel (Hinterland, Eastenders) plays Izzy Vaughan
Iwan Rheon who plays Joe, spoke about whether it was more difficult playing Ramsay Bolton in Game of Thrones, or his character in The Light in The Hall. He said "The thing with Game of Thrones was that you spent a lot less time on set because there were so many different characters. With The Light in The Hall, Joe's character is so intense and in so much pain – nothing good happens to him!"
He continued "I had to work out in every scene what he was feeling and what had happened to him. In a way, because Game of Thrones was a fantasy, it didn't feel so 'real'. The Light in The Hall is quite naturalistic and it feels quite heavy to play a character like that for a long time."
The Light in The Hall: Reviews
So far, it appears that reviews of The Light in The Hall are mixed, with critics disagreeing over the show.
Vicky Jessop from The Evening Standard (opens in new tab) offered the most praise, with 4 out of 5 stars. She said "this is a fascinating, slow-burn study of grief, obsession and the need for some kind of closure. And Scanlan is exquisite, while Rheon matches her beat-for-beat. They're worthy adversaries, and their battle is a gripping watch."
Lucy Mangan from The Guardian (opens in new tab) offered 3 stars. She said "The Light in the Hall is at its strongest in the interpersonal scenes. The friendship between Sharon and Dai is beautifully and tenderly drawn and Sharon's tyrannical oversight of the bereavement group she runs and the members' forbearance is lovely, as well as preventing Sharon becoming an anodyne saintly-grieving-mother figure."
Louis Chilton from The Independent (opens in new tab) only offered 2 stars. He said "Characters speak in dialogue that's often painfully overliteral, and the actors struggle to give it verisimilitude. Scanlon, usually an eminently capable performer, struggles to really articulate Sharon's character; lines such as "I'm genuinely surprised I haven't got cancer from hating him so much" never really ring true. Rheon fares better, perhaps because his character is more the haunted, quiet type – he uses his naturally flat affect to his advantage. What The Light does have going for it is a willingness to show the uglier sides of pretty much all its characters. Everyone's got a secret, it seems."
Related Channel 4 Features:
Video of the Week
Lucy is a multi-award nominated writer and blogger with six years' experience writing about entertainment, parenting and family life. Lucy has contributed content to PopSugar and moms.com. In the last three years, she has transformed her passion for streaming countless hours of television into specialising in entertainment writing. There is now nothing she loves more than watching the best shows on television and telling you why you should watch them.