Where is The Catch filmed? Real locations featured in the Channel 5 psychological thriller
You might be surprised to learn where the drama really filmed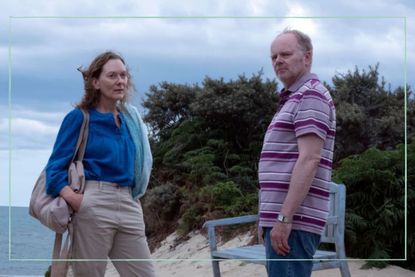 (Image credit: Channel 5)
The Catch on Channel 5 features some beautiful settings, and viewers might be surprised to find out exactly where they are.
Psychological drama The Catch landed on Channel 5 on January 25. The 4-episode series is based on (opens in new tab) the book of the same name by popular author TM Logan, with Jason Watkins heading up the very strong cast. However, those who have seen episode 1 and noted changes between the book and the series, already believe The Catch book ending (opens in new tab) will be totally different on screen. The story centres around bereaved father Ed, who tries desperately to keep his family together when the arrival of his daughter's suspicious boyfriend threatens to shatter the life he's managed to build in the wake of grief. With the drama unfolding against a beautiful coastal backdrop, audiences have been eager to find out exactly where the show was filmed. Read on to find out where locations featured in the drama can be found - fans might be surprised to find out the action was shot in a totally different location to where it's set.
Fans of psychological mysteries have been enjoying a similar drama over on Channel 4. The Light in The Hall filmed (opens in new tab) across some beautiful locations, and we took a look at exactly where. Viewers were also quick to ask for The Light in The Hall true story (opens in new tab) - the interesting experiences of the show's writer contributed to the narrative. For those who have seen the drama and need the ending explained (opens in new tab), we tie up any The Light in The Hall loose ends, and delve into who the killer was and why.
Where is The Catch filmed?
The Catch was filmed in and around Dublin, namely Bray, and Balbriggan Harbour.
Bray is a coastal town in situated around 12 miles south of Dublin city centre on the east coast. The town is home to Ardmore Studios, which is likely where some interior shots for The Catch could've been filmed. is The studio is Ireland's only four wall studio, and has been operating since 1958. Many prominent Irish and international productions have been filmed there, including The Spy Who Came in from the Cold, Fair City, Braveheart, My Left Foot and Veronica Guerin.
On the decision to film in Ireland, The Catch Director Robert Quinn said in a statement "There are many reasons to come to film in Ireland, two of which are that it has great crews and it's easier to film here. I don't think we would have had the same versatility at locations in England, and at the harbour we were working in tandem with the fishermen."
Jason Watkins added "It's surprising because you think Dublin is a city but it's actually sort of a seaside resort in some respects," he added. "It's surrounded by beaches, so when it was extraordinary weather it was 10 degrees hotter than it normally is at that time of year and it was sort of tropical."
Balbriggan harbour is a small fishing port on the east coast of Ireland, siting on the north County Dublin coast, roughly three miles northwest of Skerries. According to eOceanic (opens in new tab), the outer Balbriggan Harbour area was built by Baron Hamilton in 1763 for the price of £15,000. The harbour brought with it a coastal trade in grain, and a sea-fishery quickly developed.
Robert Quinn spoke about filming in Balbriggan, saying "Where we filmed looks like an English fishing town. I've shot in Whitehaven, Morecambe, and other coastal towns, and Balbriggan harbour looks the same. We were there for nine days, right in the middle of the harbour, and I doubt we would have been able to have had that access in England. I love the idea of people watching this and thinking it's England when it's not. I love that."
Jason Watkins weighed in on using locations outside of English coastal towns for filming, saying "You did feel like you were in a capital city by the seaside, which I think is a really well-kept secret. I think most people think that you'd go and have a weekend as a cultural thing but actually when you spread out, there's the beautiful coastline, so we made the most of that in this."
Where is Phyllis's house in The Catch
Phyllis's house in The Catch is believed to be Grasmere house in Sutton, Dublin. The home formerly belonged to Irish President Dr Patrick Hillery.
According to the Irish Times (opens in new tab), Grasmere is a large, early 20th-century house with the sand and sea less than 100 yards from the front door. Dr Patrick Hillery and his family lived at the property for over 40 years, until his wife Maeve died in 2008.
Cathy Belton who plays Claire, said "Phyllis's house was where the president of Ireland Paddy Hillery used to live many years ago," she said. "It's now empty and is used for various film projects. That was filmed on one side of the city and the set designer put sand up by the door and around the house. And we shot all the beach scenes in the other side of the city. It was all around Dublin."
Grasmere, the former home of President Patrick Hillery will be sold at auction on June 14th. https://t.co/ZzrJSqxx6w pic.twitter.com/n2jh3GoL2lJune 3, 2016
See more
Where is The Catch set?
Despite being filmed in Ireland, The Catch is set in south-west England, in an unnamed coastal town.
However, both settings differ greatly from TM Logan's novel on which the series is based, which is set in Nottingham and the Peak District - particularly, Dark Peak. Ed is also not a fisherman in the book, this line of work has been changed to tie in with the coastal location for the show. The Peak District is a huge focus in the book, and is the setting for final showdown between the major characters in the closing pages of the novel.
TM Logan spoke to Book After Book (opens in new tab) about why he chose Dark Peak for so many key scenes in the novel. He said "A: I love this area for its remoteness, and the name is so evocative too. It's in the heart of the Peak District and is really quite wild, somewhere you could genuinely get lost. It was actually my father-in-law who suggested it as a good location: we were having a conversation about good places to bury a body (!) and he mentioned the Dark Peak. So I went up there for a day and explored the area, and knew right away it would be perfect to feature in The Catch."
The Catch on Channel 5: Reviews
Both critical and audience reactions to The Catch have been mixed.
Anita Singh from The Telegraph (opens in new tab) offered 3 out of 5 stars. She said "It's one of those second-tier thrillers that the broadcaster does so well – barrels along, doesn't tax the brain, will not appear on any Bafta shortlists but is an enjoyable, easy watch with plenty of twists that you may or may not see coming. It's the TV equivalent of a page-turner – this was adapted from a novel by T M Logan – and, having watched all episodes, I can tell you that it descends into histrionics in the final half hour."
A reviewers at iNews (opens in new tab) suggested that "Jason Watkins is wasted on bland thriller The Catch. With more atmosphere and sharper dialogue, The Catch would have the makings of something really memorable and less disposable."
What on earth is a fabulous actor like Jason Watkins doing in this show?Terrible script, dire acting by most of the cast and just extremely dull Shame as was really looking forward to seeing this #TheCatchJanuary 25, 2023
See more
One Twitter user used the platform to share their feelings about the show, and they weren't very positive. They wrote "What on earth is a fabulous actor like Jason Watkins doing in this show? Terrible script, dire acting by most of the cast and just extremely dull Shame as was really looking forward to seeing this."
However, another viewer stepped in to tweet " I've got to say that I thoroughly enjoyed the first episode of #TheCatch and I'm thirsty for the next one. The fact that we're all discussing it still on #Twitter right now shows it's success so far."
Related Channel 5 Features:
Video of the Week
Lucy is a multi-award nominated writer and blogger with six years' experience writing about entertainment, parenting and family life. Lucy has contributed content to PopSugar and moms.com. In the last three years, she has transformed her passion for streaming countless hours of television into specialising in entertainment writing. There is now nothing she loves more than watching the best shows on television and telling you why you should watch them.