What is The Catch based on? Real Inspiration behind the Channel 5 Jason Watkins drama
Watkins stars as a man determined to keep his family together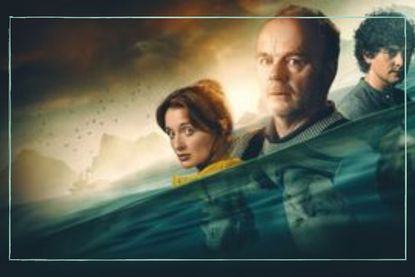 (Image credit: Channel 5/Future)
The Catch is about to drop on Channel 5, and is set to be a tense psychological thriller with shocking twists to keep viewers hooked.
Channel 5 is bringing a new, 4-part psychological drama to our screens. With veteran actor Jason Watkins at the helm, there has been a steadily growing buzz around The Catch for some time. Episode 1 lands on Wednesday, January 25, at 9pm - the remaining episodes will air weekly at the same time. The drama unfolds against a south-western England coastal backdrop, but The Catch filmed (opens in new tab) somewhere entirely different. Exploring themes of grief and toxic masculinity, important questions are raised throughout the series about overcoming a difficult past, and when to stop apportioning blame to others for previous disastrous life choices. Read on to find out the inspiration behind the exciting thriller, and how filming some parts of it were very difficult for star Jason Watkins due to real life personal tragedy.
A recent true-crime investigation on Channel 5 had viewers asking what really happened to Natascha Kampusch (opens in new tab)? Inaccuracies and conspiracy theories about the girl missing for 8 years were explored in The Girl in The Cellar. Australian soap Home & Away is about to celebrate its 35th anniversary - we take a look at the most famous cast members (opens in new tab) to come from the long-running show. Channel 5 is also host to a popular veterinary drama. All Creatures Great and Small filmed (opens in new tab) in some beautiful Northern locations, and we reveal exactly where.
What is The Catch based on?
The Catch is based on the book of the same name, by TM Logan. The novel was originally published in 2020, and Logan's previous novel The Holiday (opens in new tab) was also adapted into a drama for Channel 5, airing in the summer of 2022.
TM Logan was a national newspaper journalist before becoming a bestselling author. He now writes novels full time, and his thrillers have sold over than two million copies in the UK. His work has been translated into 22 different languages, and sold around the world. The Holiday was a Richard & Judy Book Club pick, spending ten weeks in the Sunday Times paperback Top 10. The four-part Channel 5 adaptation can also currently be found streaming on Netflix. Viewers who have seen the first episode of The Catch have noted obvious differences between the book and the series - they believe The Catch book ending (opens in new tab) might end up completely different in its television counterpart.
Book review site Good Reads (opens in new tab) is full of praise for The Catch. One reviewer wrote "I love Mr Logan's thrillers they never fail to entertain, the characters always highly engaging and always with clever underlying fault lines to mess with your perception of them. The Catch was excellent- A father's obsession, a daughter who has seemingly found the perfect life partner, the mother caught in the middle and a twisty plot that keeps you fully immersed throughout."
Another reader added "Now this is the epitome of a psychological thriller! Absolutely superb. I'll admit, I was slightly terrified that it wouldn't match up to my expectations. The Holiday was and still is my no*1 read from last year and didn't think anything could match up BUT Oh My Days this was incredible. The characters were perfectly scripted, you could picture them so clearly and I felt every emotion possible. You go from sadness to feeling terrified in a split second, it got to the point where I could literally feel Ryan's breath on my neck... he's one scary and manipulative character, one of the best baddies I've encountered on page."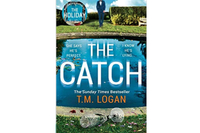 (opens in new tab)
The Catch by TM Logan £6.29 | Amazon (opens in new tab)
Read the number 1 bestselling psychological thriller now a major Channel 5 drama starring Jason Watkins.
The Catch: Plot
The Catch is about fisherman Ed (Watkins) whose family life spirals out of control with the arrival of his daughter's suspicious new boyfriend. Ed finds himself going to excessive lengths to keep his family safe - and together.
The official synopsis reads "Ed Collier, a proud husband, father and local fisherman determined to do whatever it takes to keep his family together. But when rich, handsome younger man Ryan Wilson enters the life of his daughter Abbie Collier and threatens to take her away from him, Ed finds his life spiralling out of control.
Secrets and lies are exposed with every twist and turn, including from Ed's own past. As he is faced with the very real possibility of losing everything he's worked so hard to achieve, can Ed discover the truth about his daughter's new boyfriend before it's too late?"
Speaking about playing the role of Ed, Watkins told What To Watch (opens in new tab) "I've always loved thrillers on-screen and The Catch has all the ingredients to keep audiences hooked. Three-dimensional characters, a family unit under stress, with a tragedy at the heart - all brilliantly framed in the thriller genre."
The Catch: Cast
Jason Watkins (Trollied, The Crown) as Ed Collier
Cathy Belton (Red Rock, Miss Scarlet and The Duke) as Claire Collier
Aneurin Barnard (The White Queen, Dunkirk) as Ryan Wilson
Poppy Gilbert (Stay Close, Chloe) as Abbie Collier
Brenda Fricker (My Left Foot, Albert Nobbs) as Phyllis Doyle
Ian Pirie (The Last Duel, Halo) as Bob Chapman
Jade Jordan (The Virtues, Rosie) as Katz
Morgan Palmeria as George
Tracy Wiles (Doctors, Shetland) as DI Nott
Cameron Jack (Waterloo Road, Eastenders) as Craig
Menyee Lai (Stay Close, The Tower) as Pauline
Paul Sparkes (Where Have You Been, Cold Courage) as Wayne Pendrick
Jacob Hickey as Josh
Karl Hogan (Teen Life, Otherworld) as Baxter
On whether viewers are right to be suspicious of his character Ryan, actor Aneurin Barnard told What To Watch "I love messing with an audience's perception of what they think they know and there's a lot of discovering to do, good and bad. It'll be interesting to see which route you take as a viewer, and who you trust and when. I see Ed as a man who's in the grip of mental health turmoil. This has a ripple effect on everyone around him and the reactions are fascinating."
On what it was like playing such a mysterious character, he continued "It's a gift as a storyteller. Ryan's journey is extremely delicate, but I love dancing on the edge of that stuff. I'm not a crazy method actor, but I played melancholic 1960s/70s music to get into character, then listened to rock bands like Rage Against the Machine for what's going on with him underneath the surface."
What else was Jason Watkins in?
Jason Watkins is best known to audiences for his BAFTA winning role in The Lost Honour of Christopher Jefferies. He is also recognisable as portraying William Herrick in Being Human, Gavin Strong in Trollied, Simon Harwood in W1A, and Prime Minister Harold Wilson in Season 3 of The Crown.
Having enjoyed an extensive acting career on both stage and television, Watkins has also appeared in popular police procedural Line of Duty as Tim Ifield. Fans of the recent Steven Knight penned drama SAS: Rogue Heroes, will also remember Watkins portraying Winston Churchill. Children and families will instantly recognise the actor from his role in popular Christmas films Nativity! Nativity 2: Danger in The Manger, and Nativity 3: Dude, Where's My Donkey? In the trilogy, he played the role of Mr Gordon Shakespeare.
What happened to Jason Watkins daughter?
On New Year's Day 2011, Jason Watkins' 2-year-old daughter Maude sadly died of sepsis. He now campaigns for greater awareness of the condition, and is a patron of Child Bereavement UK (opens in new tab), a charity supporting children, young people and families when a child grieves or passes away.
The actor spoke about playing a grieving father in The Catch, and how this crossed over into his personal life - his character Ed lost a son in a boating accident in the show. He said "Yes, they've lost a child, which has happened to my family, so that drew me to Ed. It does make one more protective of one's children, and while Ed understands that he needs to let his daughter go, how can he when he's lost one child and now he sees his daughter falling in love with someone he mistrusts?"
He continued to speak openly about how he copes with the feelings that come up when a role imitates real events from his life. He said "I had some slight trepidation but everyone was brilliant at understanding that I would go through things that might be close to the bone during filming. I try not to shy away from these things, though. If it's a well-written piece, like this, then I'm happy to do it, because illuminating the extreme instances of what life can throw up and being able to share that is a bit of a privilege."
Related Channel 5 Features:
Video of the Week
Lucy is a multi-award nominated writer and blogger with six years' experience writing about entertainment, parenting and family life. Lucy has contributed content to PopSugar and moms.com. In the last three years, she has transformed her passion for streaming countless hours of television into specialising in entertainment writing. There is now nothing she loves more than watching the best shows on television and telling you why you should watch them.