Where is Death in Paradise filmed? Key locations in the series
While the island and the town where Death in Paradise takes place are both fictional, the gorgeous locations you see on screen do exist.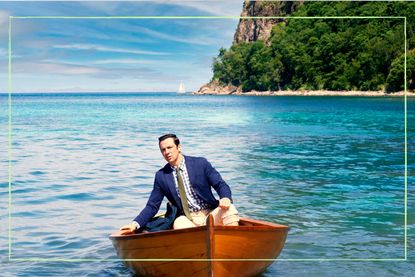 (Image credit: BBC)
GoodTo newsletter
Sign up to the GoodTo Newsletter. You can unsubscribe at any time. For more information about how to do this, and how we hold your data, please see our privacy policy
Thank you for signing up to . You will receive a verification email shortly.
There was a problem. Please refresh the page and try again.
Surrounded by such gorgeous scenery, it makes you wonder how so many people on the island of Saint Marie can be drawn to murder.
Death in Paradise has been a firm favourite amongst TV audiences since it first hit screens in 2011. The gripping who-dunnit-storylines keep viewers coming back series after series, and it's proven so popular that an upcoming Death in Paradise spin-off (opens in new tab) was announced in June this year.
The show features several famous faces - from ex-Strictly Come Dancing (opens in new tab) contestant Danny John-Jules to Sanditon season 2 (opens in new tab) actor Kris Marshall and current leading man Ralf Little - but the sunny setting has remained the same throughout. And many want to know more about those stunning island locations where Death in Paradise is filmed.
Where is Death in Paradise filmed?
Death in Paradise is filmed across the islands of Guadeloupe, an overseas territory of France located in the eastern Caribbean Sea. So, while the island and the town where Death in Paradise is set place are both fictional, the gorgeous locations you see on screen do exist.
Guadeloupe is made up of a butterfly-shaped collection of five islands. The island's official website (opens in new tab) shares all kinds of exciting things you can do while visiting Guadeloupe, including getting married and going island hopping. Executive producer Tim Key told Express.com (opens in new tab), "Not only is the island one of the characters in the show and not only is the town of Deshaies one of the main characters of the show, but about 50 per cent of our crew are from France or Guadeloupe. A lot of them are sort of family to us because we've known them for so long."
And much of the on-screen talent is local too. While the guest stars often fly in from the UK, all of the supporting artists are local to the island, and the team works with graduates from a film school on Guadeloupe. Key told What to Watch (opens in new tab) "I think at the start they were slightly baffled by us, then when French TV started showing Death in Paradise it all made sense to them."
Where is Death in Paradise set?
Death in Paradise is set on the fictional island of Saint Marie, in the town of Honoré. This imaginary island is supposed to be about a 10th of the size of neighbouring Guadeloupe.
Unlike Guadeloupe, Saint Marie is not French Overseas territory but British. However, it only came under British control in the seventies, and around 30 percent of its inhabitants are French - which explains the French accents you hear on the show. The main religions on the island are supposedly Catholicism and Voodoo, making for some interesting local festivals every year.
Does Catherine's bar exist?
The scenes of the beloved detectives sipping cocktails and discussing cases in Catherine's Bar are shot at a beachside restaurant called 'Le Madras' in Deshaies, Guadeloupe. So, while you won't actually find Catherine herself running it, the bar is more than just a set.
Just like Catherine's Bar, 'Le Madras' serves beer, cocktails and sensational seafood. It currently has a four-star rating on Tripadvisor (opens in new tab) and the many reviews left on the site reference the restaurant's part in the hit drama.
Is Honoré police station a real police station?
In the real world, Honoré police station is not a police station but a plain building next to a church. You can visit the place where the exterior shots of the police station are filmed, and the building's neighbours are more than welcoming to fans of the show.
"We get on very well with the priest, we've worked with him since the beginning," producer Tim Key previously told What to Watch.
Where is the Inspector's shack?
The picture-perfect Inspector's shack can be found at La Perle Beach - which translates to 'Pearl Beach' - three miles north of Deshaies.
The shack is not quite as secluded as it might seem in the TV series, in reality there are several bars and restaurants as well as a car park nearby. Much like most of the filming locations in Death in Paradise, La Perle Beach is near the town of Deshaies, roughly a seven minute drive up the coastal road.
La Perle has an impressive five-star rating on Tripadvisor (opens in new tab), with reviewers praising its beauty and the miles of unspoilt sand and palm trees.
Can you visit the Inspector's shack?
Unfortunately, the inspector's prime beach real-estate spot can only be found during filming months, and even then it is fenced off from the public beach.
The wooden shack, which all four detectives have now inhabited, is simply a set constructed on a public beach. It's put up for the six months of filming but is then taken down for the rest of the year.
Executive Producer Tim Key told Radio Times, "We've had years where we've kind of left it to the elements, and then people were having parties in it at weekends, like tourists having parties. We were like, 'We have to secure this a little bit more now!'"
Where do the actors stay when filming Death in Paradise?
The Death in Paradise cast and crew are based in Deshaies for the six months or so each year that they film the series. Though a traditional fishing village, Deshaies boasts numerous restaurants and bars, and is surrounded by picturesque beaches perfect for snorkelling.
According to the Mirror (opens in new tab), much of the cast and crew stay in the Langley Fort Royal Hotel (opens in new tab), though some of the core cast who stay for the whole six months live in local villas with their families.
The hotel is situated a ten minute drive to the east of Deshaies, right on the Plage du Petit Bas Vent, and offers a spa, pool and a whole host of activities, including tennis, surfing, scuba diving and a kids club.
When is Death in Paradise season 12 being filmed?
Death in Paradise season 12 began filming in June 2022, along with the series' Christmas Special.
Leading man Ralf Little, who plays D.I. Neville Parker, shared the news on Instagram with a video of himself in Guadeloupe. The 42-year-old is clearly enjoying his time on the island, as he's shared plenty more behind-the-scenes snaps already, including a video (opens in new tab) of him getting his hair ready for shooting, and another (opens in new tab) sharing the work of the art department.
And Little isn't the only cast member who relishes his time on the island. Speaking to HELLO! (opens in new tab) early this year, Joséphine Jobert, who plays Florence Cassell, said "Filming in Guadeloupe, it's amazing. The sceneries, the people, the vibe, the crew, it's like a family. During the weekends, we'll go and see waterfalls, swim in the sea, eat in good restaurants, and the weather is so lovely."
The 12th season was commissioned back in 2021, at the same time as the 11th, and Tim Key said in a press release "We are hugely proud of series ten and delighted we'll be heading back to Saint Marie to continue the story. Our amazing cast and crew have delivered against the odds this year and we can't wait to get going again – we've got huge plans for the future, with lots of surprises to come."
The date for Death in Paradise season 12 is yet to be announced, though it's thought that it will air in January 2023.
"I saw Death in Paradise being filmed"
Death in Paradise was a favourite family watch in my home, so when I headed to the island where it's filmed, Guadeloupe, back in 2018, I was intrigued to see how the crystal clear water and magical sunsets measured up in real life.
We were staying right by Deshaies, slightly inland on top of hill with fantastic views out to sea, and just a ten minute walk from Plage de Grande Anse. The town itself was pretty and quaint, and it came alive at night as the bars and restaurant filled up.
Of course, we had to try Le Madras, the restaurant where Catherine's Bar is filmed. The food was delicious and boasted a variety of fresh seafood dishes and West Indian food, such as curried goat and bananas flambé.
Other Death in Paradise locations we checked out were Honoré Police Station and the Inspector's shack. To our delight, the film crew were on location during our stay on the island, so the shack was set up. Though the fence and tape around it stopped us from getting too close, the beach where it's situated - La Perle - was one of the most beautiful places we visited.
All in all, Guadeloupe is a charming holiday destination, with stunning water falls, unspoilt beaches and (mostly) clear blue skies. If you're a Death in Paradise fan the trip is even more worth it - and don't worry, the murder rate is fictional too!
Video of the Week
Charlie Elizabeth Culverhouse is royal news and entertainment writer for Goodto.com. She began her freelance journalism career after graduating from Nottingham Trent University with an MA in Magazine Journalism, receiving an NCTJ diploma, and earning a First Class BA (Hons) in Journalism at the British and Irish Modern Music Institute. She has also worked with BBC Good Food and The Independent.