When did Kris Marshall leave Death in Paradise?
Fans were devastated by his departure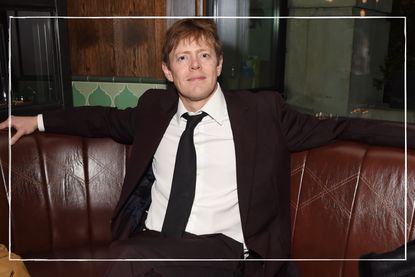 (Image credit: Future/Getty)
With the actor returning as DI Humphrey Goodman in Beyond Paradise episodes (opens in new tab) - we've taken a trip down memory lane to remember when Kris Marshall left Death in Paradise.
The arrival of the Death in Paradise spin off (opens in new tab) on BBC is a welcome respite for fans - especially those who never quite got over the departure of a certain Humphrey Goodman. Played to perfection by Kris Marshall (opens in new tab), the loveable detective left Saint-Marie for love, leaving many heartbroken at the time. But 2022 brought the good news that Humphrey and fiancee Martha Lloyd (played by Sally Bretton (opens in new tab)) would be back in an all-new adventure in 2023.
Filming on Beyond Paradise (opens in new tab) began in Summer last year and now in February 2023, audiences are finally able to see the duo back in action. But first, a quick refresher on when Kris Marshall left Death in Paradise for good and the reason behind his departure.
When did Kris Marshall leave Death in Paradise?
Kris Marshall quit his role as Detective Inspector Humphrey Goodman in Death In Paradise in February 2017. He left after season six, following four years on the show.
Kris joined the show in 2014 during the third series of Death in Paradise to replace Ben Miller's character - DI Richard Poole.
Following the news of his departure, fans took to Twitter to share their sadness. "Still really upset about kris marshall leaving death in paradise, just going to watch the whole series on repeat," tweeted @HarrietxWalton (opens in new tab). Whilst another user posted (opens in new tab): "I can't believe Chris Marshall is leaving death in paradise 😭😭😭 barely got over Ben Millers death 😩😩😩💔💔💔."
Which episode does Humphrey leave Death in Paradise?
Kris Marshall's last episode as DI Humphrey Goodman was in series 6, episode 6. In the season finale, Humphrey decided that he couldn't continuing living without Martha and returned to London to be with her.
Martha (played by Sally Bretton) first appeared on the show during season five, episode 6. An old friend of Humphrey's, she bumps into him on the island of Saint-Marie. Sally continued in her role as Martha for season 5 and 6. At one point, Humphrey and Martha even move in together, but Humphrey's hopes are dashed when she decides to return to London.
Luckily, Humphrey's relocation leads the two to rekindle their relationship in the UK.
All-new Beyond Paradise picks up on the couple's life together post-Saint Marie, with the two living together in Shipton Abbott, Martha's hometown near the beautiful Devonshire coast.
Why did Kris Marshall leave Death in Paradise?
Kris Marshall's decision to leave Death in Paradise was down to the actor wanting to spend more time with his family. Kris and his wife Hannah agreed that he would star in the show until it "became impractical".
In an interview with Radio Times (opens in new tab), the now 49-year-old said: "It's something my wife and I discussed three or four years ago. When I was first offered the job, my son was six months old and my wife wasn't working, so it was a very easy decision. We decided I would do Death in Paradise for a few years until it became impractical.
"It was always quite a finite thing. I certainly didn't hide it from anyone I work with. I'm going to miss it terribly. There have already been times when I've thought to myself, 'Have I made the right decision?'"
In an interview with Lorraine Kelly (opens in new tab), Kris also joked that he was leaving the show for his son's education. "I realised I had to get my son to school," he told her. "He was becoming a bit too Caribbean – he refused to wear shoes and would only drink coconut water and eat pineapple."
The comment recently resurfaced and led to some backlash from fans in July 2021. In a statement shared with HELLO! magazine (opens in new tab), Kris apologised for his words. "I expressed part of this in an uneducated and poor manner and in doing so, I unintentionally hurt people I care about and caused offence to others," he said.
"For this, I am deeply sorry. In my naive use of words, I propagated negative cultural stereotypes, which was offensive and insensitive. I now understand the damage this type of ignorant language, when used by a privileged white man like myself, can have."
At the time of his leaving in 2017, Kris touched upon his sadness in another interview - this time on Good Morning Britain. "I've done four years. It's been an absolutely amazing show. I've loved it," he said. "But it's time to move on and give someone else a chance to enjoy some sun."
Who replaced Humphrey in Death in Paradise?
After Kris Marshall quit Death in Paradise, his character was replaced by the arrival of a new detective - Jack Mooney (Ardal O'Hanlon). The Irish actor - known for his role in Father Ted - made his debut as Jack in series six, episode 5.
Jack is brought to the island of Saint-Marie to help the Honoré Police Station on a case in the latter part of season 6. Whilst staying with Martha back in London, Humphrey invites Jack and his daughter Siobhan to stay in his shack and continue to assist the island's police force.
Detective Inspector Jack Mooney, from Death in Paradise. pic.twitter.com/63a73q6eBuMarch 15, 2021
See more
Jack helps the team at Honoré Police Station solve a murder case that is re-opened eight years later. After this Commissioner Selwyn Patterson asks Jack to stay as the permanent Chief of Honoré Police. Widowed Jack eventually agrees after getting his daughter's blessing to stay.
Related features:
Video of the Week
Emily Stedman is the Features Editor for GoodTo covering all things TV, entertainment, royal, lifestyle, health and wellbeing. Boasting an encyclopaedic knowledge on all things TV, celebrity and royals, career highlights include working at HELLO! Magazine and as a royal researcher to Diana biographer Andrew Morton on his book Meghan: A Hollywood Princess. In her spare time, Emily can be found eating her way around London, swimming at her local Lido or curled up on the sofa binging the next best Netflix show.