How many episodes of Beyond Paradise are there and is there a season 2?
The spin-off series is here!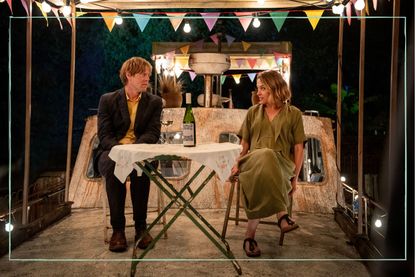 (Image credit: Future/BBC)
Kris Marshall is back as DI Humphrey Goodman - and we've shared exactly how many Beyond Paradise episodes viewers have to look forward to.
February officially marked the arrival of Beyond Paradise - and it was a big moment for fans of the original BBC drama who have been eagerly counting down for the Death in Paradise spin-off to land on screens since being announced in June 2022. The first episode dropped last week and revealed some familiar faces in the cast - including Kris Marshall (opens in new tab) and Sally Bretton (opens in new tab). We learnt that Beyond Paradise is filmed (opens in new tab) in a slightly different location to where Death in Paradise is filmed (opens in new tab) - in a stunning setting that's a bit closer to home. But we've no doubt that despite the less than tropical weather, the series will prove just as popular as the original.
As viewers await the second instalment, many want to know how many episodes of Beyond Paradise there will be to enjoy. We've shared details on this and what's been said of a season 2.
How many episodes of Beyond Paradise are there?
Death in Paradise spin-off Beyond Paradise is made up of six episodes - each one lasting for approximately 60 minutes each. The series airs on BBC One on Friday nights at 8pm and is available on BBC iPlayer after the episode has been broadcast.
The total number of episodes was confirmed by Tony Jordan, writer and executive producer for Beyond Paradise. "Humphrey and Martha's relationship is a drama in its own right, we follow their journey throughout the duration of the six episodes," he confirmed to Radio Times (opens in new tab).
In the trailer we see the return of DI Humphrey Goodman (Kris Marshall) - but in a slightly less sunny and tropical setting. Yet whilst solving crimes in a different location, it looks like fans can expect the same funny mishaps from the detective that made the character so popular with Death in Paradise fans.
"Wherever he goes, he leaves a sort of mini tidal wave of madness behind him and he's causing that tidal wave to ripple through the village of Shipton Abbott," actor Kris Marshall said of his role in Beyond Paradise.
What is Beyond Paradise about?
The official show synopsis reads: "Beyond Paradise follows DI Humphrey Goodman and his fiancée Martha Lloyd (Sally Bretton) after their nail-biting will-they-won't-they romance reached its emotional finale in 2017. Viewers were delighted when Humphrey took control of his destiny and followed Martha back from Saint Marie to London to declare his undying love for her.
"A new adventure awaits as we find them arriving in Shipton Abbott, Martha's hometown near the beautiful Devonshire coast, having left London. As they embark on their new life, the couple are quickly thrown in at the deep end as Martha sets out to pursue her dream of running her own restaurant and Humphrey joins the local police force. Quickly making an impression on the somewhat eclectic team: DS Esther Williams (Zahra Ahmadi), PC Kelby Hartford (Dylan Llewellyn) and Margo Martins (Felicity Montagu), Humphrey sets out to help crack a host of baffling cases, with the Shipton Abbott squad witnessing a whole new approach to police work...
I highly recommend you tune in to this excellent show this Friday. Spooky, funny, mysterious and moving- with a folk noir soundtrack by yours truly @magnusfiennes to boot! https://t.co/Jf0oGEZQ2zFebruary 22, 2023
See more
"Each week the team are faced with a new crime with a unique puzzle at its heart. The not-so-sleepy town of Shipton Abbott will be rocked by an entire family disappearing without a trace; a woman claiming she was attacked by a suspect from the seventeenth century; the robbery of a highly prized painting; a body bizarrely discovered in a crop circle and a serial arsonist with a mysterious penchant for nursery rhymes.
As Humphrey gets stuck into his new job, he and Martha must also navigate life's ups and downs, as faces from the past, the decisions they make and the challenges of setting up life in a new town put their relationship to the ultimate test."
Touching on what Death in Paradise fans can expect from the spin-off, Kris Marshall said: "Beyond Paradise has the same sort of structure as Death in Paradise, but we're also a completely new show. There's some of the favourite characters from Death in Paradise, but with a whole new spin on it. It's still paradise, it's just a different kind of paradise."
Is there a season 2 of Beyond Paradise?
The BBC have yet to confirm whether a second series of Beyond Paradise will happen. However, show creator and writer Tony Jordan has admitted he's already began work on a possible season 2.
"I've started writing. I don't wait for it to be commissioned," he said in an interview with BT (opens in new tab). "We have loads of stories we couldn't use in series 1. And Tim (producer Tim Key) has a long-held ambition about filming on a steam train. Not that he's a nerd or anything. If there's a season 2, there will definitely be an episode on a steam train."
There's more exciting ideas being thrown around behind the scenes of the Beyond Paradise and Death in Paradise franchise. Asked whether there could be a crossover between the two shows. producer Tim Key replied: "The potential is there".
"Universe is the right word. You need to believe the two shows could feed into each other. We've been so lucky to work on the show with people we're still friends with and there isn't anyone we wouldn't want to work with again."
Kris Marshall has also made it clear that he'd love to get all former and current Death in Paradise detectives together in some capacity too. This would include fellow actors Ben Miller, Ardal O'Hanlan and Ralf Little.
My favourite 'Death in Paradise' detectives :1) Ardal O' Hanlan2) Ben Miller3) Kris Marshall4) Ralf LittleThey're all excellent and I change this list frequently 🥴 pic.twitter.com/vzAwo9blC0July 30, 2021
See more
"I think it would be awesome to have all four detectives in one show together. Where their worlds collide," he said, adding: "I would love to see Dwayne (Danny John-Jules) again. Humphrey and Dwayne had a wonderful relationship together."
He also expressed an interest in the "marvellous" Don Warrington being involved too - who plays Commissioner Selwyn Patterson on the flagship show.
"I'd love them all back," Kris said. "I had a wonderful time with those guys."
We've no doubt that fans would very much agree.
Related features:
Video of the Week
Emily Stedman is the Features Editor for GoodTo covering all things TV, entertainment, royal, lifestyle, health and wellbeing. Boasting an encyclopaedic knowledge on all things TV, celebrity and royals, career highlights include working at HELLO! Magazine and as a royal researcher to Diana biographer Andrew Morton on his book Meghan: A Hollywood Princess. In her spare time, Emily can be found eating her way around London, swimming at her local Lido or curled up on the sofa binging the next best Netflix show.