Where is Beyond Paradise filmed? Filming locations of the Death in Paradise spin-off
Kris Marshall returns as DI Humphrey Goodman. But this time, he's not in the Caribbean...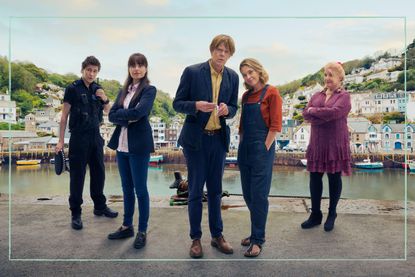 (Image credit: BBC)
With a number of Beyond Paradise episodes (opens in new tab) to look forward to, many fans want to know where Beyond Paradise is filmed.
We've bid goodbye to season 12 of the hit show - in a gripping finale that led many wondering if Ralf Little is leaving Death in Paradise (opens in new tab). But amidst the good news of Death in Paradise season 13 (opens in new tab) comes the ever better news of Beyond Paradise's arrival on screens - a spin-off the original series that features some familiar faces.
Just like TV viewers are eager to know where is Death in Paradise filmed (opens in new tab), now the same question is being asked of the upcoming new show, which sees Kris Marshall (opens in new tab) return to his role as DI Humphrey Goodman, alongside Sally Bretton (opens in new tab) as his fiancée Martha Lloyd. Only in this series they've returned to the UK.
Where is Beyond Paradise filmed?
Beyond Paradise is filmed in locations across Cornwall and the South West of England. During filming, the cast were spotted in Looe, the Tamar Valley, Bere Ferrers and Weir Quay.
Filming also took place at Port Eliot House and Gardens, in the parish of St Germans, Cornwall, and the estate is said to be a key shooting location for the series. Meanwhile, the Guildhall in Looe was turned into the police station for the show, and scenes were also shot at Pentillie Castle and Estate.
In fact, D.I. Humphrey's house in the show can be found on Pentillie Estate, and is filmed at the riverside cottage and quay there.
Filming for the series began in August 2022, and in September Kris Marshall and the rest of the crew were spotted by a bridge in Looe town centre, before moving to the fire station and then The Sail Loft restaurant, according to local resident Allan Collins, who spoke to Cornwall Live (opens in new tab).
Speaking to Radio Times (opens in new tab), the series' writer Tony Jordan said the show will look "100 per cent as beautiful as Death in Paradise", with the team having filmed in "glorious Devon". He added, "You know what? It may rain less, because we film in the rainy season in Guadeloupe."
When comparing filming in Cornwall with the tropical island of Guadeloupe, leading man Kris Marshall added, "It's a very different heat. Also when it's hot in England, it's joyful. Although it was hot on occasion, the main differences are there's no mosquitoes, not yet anyway, down South West. There's no bitey things, a few jellyfish, but that's a welcome difference."
Where is Beyond Paradise set?
The Death in Paradise spin-off is set in Shipton Abbott, Devon. The series picks up after D.I. Humphrey Goodman followed fiancée Martha Lloyd back to London, and now the pair find themselves in Martha's home town.
The BBC has said the series will see the pair temporarily living with Martha's mum Anne Lloyd (Barbara Flynn), and the couple are quickly thrown in at the deep end as Martha sets out to pursue her dream of running her own restaurant and Humphrey joins the local police force.
Shipton Abbott is a fictional town, and though it's set in Devon in the show, Beyond Paradise is actually filmed in Cornwall.
Kris Marshall takes #TheOneShow on an EXCLUSIVE behind-the-scenes look at Beyond Paradise, #DeathInParadise's Devon spin-off! 🏝 pic.twitter.com/7bVmiGzDmoFebruary 17, 2023
See more
Kris Marshall said: "I'm from South West anyway, from Somerset, so born and bred, and so I know that area of the world extremely well. You sort of feel a bit more at home, I guess."
But despite being closer to home, he continued that the "day to day challenges are the same." He said: "You're still filming sort of 60,70 hours a week. Those challenges remain, but they're great fun. I love it, the best job in the world."
Why was Devon chosen as the location for Beyond Paradise?
Executive producer Tim Key described the South-West coast as matching the "spirit and DNA" of Saint Marie from Death in Paradise.
He said: "We left Humphrey and Martha in the UK and we did talk early doors about where abouts that might be.
"It was about the DNA of the Death in Paradise universe, and it needed to be somewhere beautiful and somewhere that felt a bit different.
"It needed similarities with Saint Marie, but also its own personality and identity. Devon and the South-West just felt like the perfect place."
Kris Marshall told Radio Times that he believes the South West is the most beautiful part of the UK. He said: "It has everything; cider, cheese, countryside, amazing coastline."
He added that his favourite spot in the region is Kynance Cove in Cornwall. "It's like a smuggler's paradise down there," he said. "The sand is white and there's crystal clear blue sea. If it wasn't so cold, you would think you were in the Caribbean."
Where can I watch Beyond Paradise?
Beyond Paradise airs at 8pm on BBC One every Friday. The show first started on 24 February and you can watch all the episodes so far on BBC iPlayer as well as Britbox - for which you can now sign up for a seven day free trial (opens in new tab).
Related TV features:
Video of the Week
Ellie joined Goodto as a Junior Features Writer in 2022 after finishing her Master's in Magazine Journalism at Nottingham Trent University. Previously, she completed successful work experience placements with BBC Good Food, The Big Issue and the Nottingham Post, and freelanced as an arts and entertainment writer alongside her studies. In 2021, Ellie graduated from Cardiff University with a first-class degree in Journalism.