Where is Everything Now filmed? Filming locations of the new Netflix show
Where is Everything Now filmed? The new Netflix teen drama might have some backdrops you recognise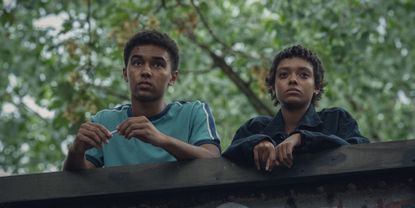 (Image credit: Netflix / LeftBank)
Where is Everything Now filmed? Viewers are curious to know the exact filming location of the British drama.
As with any gripping TV show, you can always rely on viewers to scope out the small details of how it came to be – docuseries Beckham has them wondering where does David Beckham live, for example, and of course, always wanting more (see: will there be a new season of Sex Education?).
The same applies to Netflix's newly released Everything Now which stars Sophie Wilde from You Don't Know Me who plays a teenager called Mia navigating an eating disorder.
With its underground club scenes and dining hall dramas, fans are keen to know where is Everything Now filmed? Here's a breakdown of all the filming locations.
Where is Everything Now filmed?
Everything Now is filmed in London, where typically-British high streets, city skylines and impressive Victorian buildings often feature.
A particular gift store in North London spotted its corner shop in the background of one of the scenes and shared the news on its Instagram page.
Map Gift Shop on Junction Road uploaded a blurry photo of its dark pink exterior lit up by bulb lights with the caption: "Well this is exciting! Our fabulous corner shop in all it's [sic] glory is featured in a Netflix Trailer for a new series 'Everything Now' which starts next week. it's been spotted a few times! Thanks so much @seamusph for this awesome pic. & Emma @the_toy_project for your eagle eyes…will post the full trailer on stories later."
What is Everything Now about?
The official summary from Netflix reads: "After months in recovery for an eating disorder, 16-year-old Mia devises a bucket list of quintessential teen experiences to make up for lost time.
"Equal parts irreverent and authentic, this British coming-of-age dramedy offers a nuanced, heartfelt look at tough teen issues and modern mental health."
Reviewers have praised the series for its accurate depiction of what it's like to live with an eating disorder, and separately, have drawn similarities to hit shows such as Sex Education and Heartstopper.
This could be because Everything Now follows a group of school-age characters navigating love, sex, parties and friendship. Plus, the director of Sex Education (Alyssa McClellend) even managed two of its episodes.
Where can you watch Everything Now?
Everything Now was available to stream on Netflix from 5 October 2023.
Watch the trailer for Everything Now
If you loved Everything Now, Heartstopper season 2 should be next on your list. Also on Netflix, viewers asking where mind-bending police procedural Bodies filmed, need look no further. Elsewhere on the streamer, their latest festive film offering Best. Christmas. Ever! filmed in a suitably snowy area.
Parenting advice, hot topics, best buys and family finance tips delivered straight to your inbox.
Daniella is a qualified journalist specialising in fitness, nutrition and women's health. She has written for a number of consumer titles including Health & Wellbeing, Stylist, Women's Health UK, and Fit & Well.
With four years' experience in the wellness space, Daniella has tried and tested the best fitness kit on the market worth buying and has a keen eye for up and coming brands to look out for. She's also interviewed celebrities and co-produced a wellbeing podcast.