Where was Bodies filmed? Filming locations of the new Netflix crime series
Everywhere the cast and crew were spotted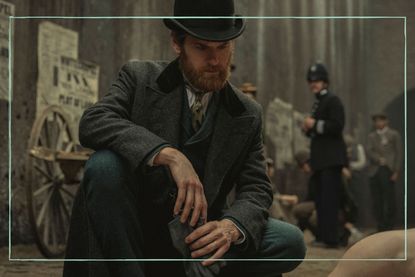 (Image credit: Matt Towers/Netflix)
Where was Bodies filmed? Those tuning into the new sci-fi Netflix crime series, have been asking questions about the filming locations.
Netflix's latest police procedural comes with a brilliantly mind-bending twist - detectives are called to investigate the appearance of the same body in London's East End in 1890, 1941, 2023 and 2053. Stephen Graham leads the Bodies cast as political leader Elias Mannix, who may or may not have had a part to play in the murder. As one detective from each period investigates, sinister links are made in unpicking a conspiracy spanning over 150 years - and the complicated plot has many wanting the Bodies ending explained, and hoping for a Bodies season 2. Building a world depicting so many different time periods was no mean feat, with filming locations carefully selected to resemble each one - read on to find out where the Bodies cast and crew were spotted during shooting for the series.
Viewers were also keen to know where fellow Stephen Graham series Boiling Point was filmed, and it was a different location to the original film. Elsewhere on Netflix, we looked at the backdrops where All the Light We Cannot See was filmed. Those tuning in to Disney+ mystery series A Murder At the End of the World have also been interested in where it was shot.
Where was Bodies filmed?
Bodies was filmed mostly in and around Leeds, with the crew also setting up in Rotherham, Hull, Bradford, Grimsby and Bolton.
Lister Mills in Bradford was the filming location for the parts of the show that took place in 2050, with the cast and crew seen on the Beamsley Road side of Lister Mills while filming was underway. Other areas of Bradford that were used in Bodies include City Hall, Salts Mill, and Burnett Street in Little Germany.
Speaking to the Telegraph and Argus, former director of Bradford UNESCO City of Film, David Wilson, said "We've been working to support Netflix on this production for almost a year now and they've been using a warehouse in Little Germany as a studio base." He added, "It's a great team to work with, they're hugely impressed with all the locations the district has to offer and the continued support from the team at the Bradford Film Office."
Meanwhile, in Rotherham, filming took place at the stately home Wentworth Woodhouse. This Grade I listed country house was rebuilt from an original Jacobean house by Thomas Watson-Wentworth.
In Hull, Hull Old Town and Princes Quay shopping centre were used in the filming of Bodies. Hull Live previously reported that extras were seen waving Union Jacks and English flags, shooting what appeared to be a protest scene, with actors also posing as policemen in riot gear.
Many residents were keen to share the pictures they had taken of their local area being transformed into a set. One user wrote on X - the platform formerly known as Twitter - "How exciting to see even more filming taking place for another major drama - Netflix's "Bodies." Hull's Old Town is definitely the place to be seen!"
The cast and crew also set up at Grimsby docks and The Kasbah - an important part of Grimsby heritage known as "a town within a town," developed in the 1870s to serve the expanding fishing port.
In Bolton, Le Mans Crescent was once again used for filming - this iconic street has been used as a set for multiple films and TV series in recent years. The crescent has appeared in Peaky Blinders, It's A Sin, The Ipcress File, The Stranger, and Nolly, to name but a few.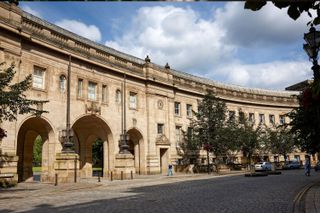 Where is Bodies set?
Bodies is set in London's East End, despite being filmed in West Yorkshire. Series producer Susie Liggat explained why the series was largely filmed in and around Leeds: "The whole show is set in Whitechapel, London. It's an essential part of its DNA, but having relatively recently made Giri/Haji [the 2019 TV series that aired on BBC Two], I know how difficult and expensive it is to film in London."
She added, "Also most of historic Whitechapel got flattened in World War Two, so we made a patchwork of locations in the North that served our story beautifully. Big shoutouts to Grimsby Docks and Wentworth Woodhouse!"
Series writer Paul Tomalin echoed this sentiment, saying of the sets constructed in Leeds, "It really felt like we were stepping into Victorian England, which must have been pretty grim and I don't think I'd have survived back then. The entire shoot, across all these different time zones, was really difficult but that's good because it meant that everyone was stretching themselves.
"Everyone was like 'Wow, it feels like we're doing something different'. I could see everybody in the crew and the directors trying to jump between time zones, different sets and different plots. I was just content in my tweed."
What is Bodies based on?
Bodies is based on the DC Vertigo comic and graphic novel of the same name written by Si Spencer. When asked about the history of the series and the adaptation process, Paul Tomalin told The Upcoming "I think we had no idea what the patchwork was going to end up like, so we kind of went in all guns blazing and tried to see how thrilling it would be."
He added "It was originally a graphic novel by the author Si Spencer, and it did very well; it had a cult following. Then Will Gauld came to me and said, 'We want to do the show. There's four different cops and a murder and it's the same but over four different timelines.' I immediately said 'No.'"
Reflecting on his knee-jerk reaction to refuse, the writer later considered the many themes from well-known history and much-loved TV shows he could incorporate into the new Netflix release, and had second thoughts.
"As I walked away I thought I was an idiot because Jack the Ripper stuff, the Blitz stuff, Line of Duty stuff, the future, the dystopian stuff – this was wild," he said. He concluded, "The unique ingredients were too good not to be bound together. At first I thought it was just too strange to exist, but then I thought I'd love to get involved in the research, these timelines, absorb it all and put it on the page."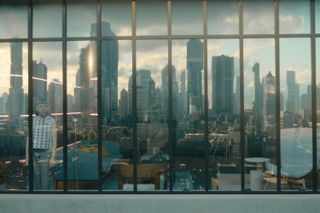 Bodies: Cast
Stephen Graham as Elias Mannix
Jacob Fortune-Lloyd as DS Karl Whiteman
Shira Haas as DC Iris Maplewood
Amaka Okafor as DS Shahara Hasan
Kyle Soller as DI Edmond Hillinghead
Tom Mothersdale as Gabriel Defoe
Synnove Karlsen as Polly
George Parker as Henry Ashe
Michael Jibson as DCI Jack Barber
Gabriel Howell as Elias
Chloe Raphael as Esther Jankovsky
Derek Riddell as Calloway
Emily Barber as Kathleen
Nitin Ganatra as Ishmael Hasan
Andrew Whipp as Ladbroke
Greta Scacchi as The Woman
Nicholas Farrell as CI Paxman
Alexandra Roach as Maggie Skinner
What To Watch reported that Stephen Graham spoke about his character of Elias, saying, "He's the leader of a twisted utopian society. It's so suspenseful, you don't know what will happen next!"
He added "Mannix was abandoned as a child, then became part of a cult and the architect of a twisted, utopian society. It sounds mad, but it's a beautiful madness!"
Speaking of the multiple genres and timelines featured in the show, Amaka Okafor - who plays DS Hassan - said "I love that the show breaks so many rules, plus each time period is filmed in a different style. For 2023, we were told to think of horror and suspense. But it's a mystery, it's noir, it's action-packed and it's a thriller!?"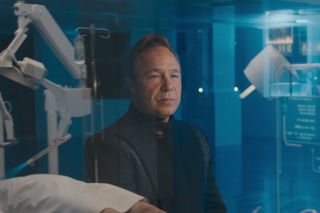 For more shooting location information, we've also looked at where new Apple TV drama The Buccaneers was filmed, and where popular Netflix series Sex Education filmed for its fourth and final outing. Those tuning into Love is in The Air on the streamer, were also keen to know where to find the locations featured in the sunny backdrop.
Parenting advice, hot topics, best buys and family finance tips delivered straight to your inbox.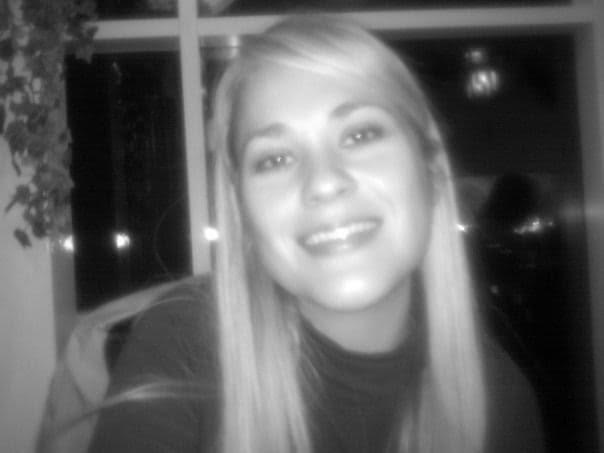 Lucy is a multi-award nominated writer and blogger with six years' experience writing about entertainment, parenting and family life. Lucy has contributed content to PopSugar and moms.com. In the last three years, she has transformed her passion for streaming countless hours of television into specialising in entertainment writing. There is now nothing she loves more than watching the best shows on television and telling you why you should watch them.