Will there be a new season of Sex Education?
If you took no time at all to race through the latest series, you're probably wondering, will there be a new season of Sex Education?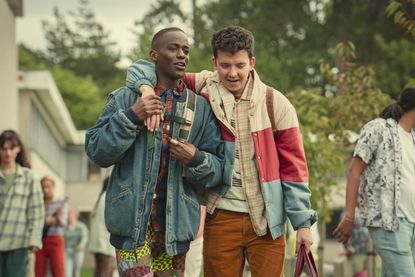 (Image credit: Samuel Taylor/Netflix)
Sex Education season 4 is back with a bang and we are *so* glad that school is in session.
Expect painfully awkward clips, powerful representations of what teenagers are going through today and laugh-out-loud moments that are unique to Sex Education.
So, with all this to look forward to, will there be a new season of Sex Education?
Will there be a new season of Sex Education?
After almost half a decade on our screens, it appears the popular Netflix show has reached a climax and there won't be a Sex Education season 5.
Making what Instagram called "a bittersweet announcement", the official account for the show posted a detailed explanation as to why the beloved series is coming to an end. Signed off by Laurie, the post was simply captioned: "love from us to you".
"A lot has happened since our first writers' room in 2017, when we spent a month in a cramped office above a sex shop, talking about what it felt like to go through puberty. The painful awkwardness, the crushes, and big, big, feelings," Laurie wrote.
"Writing this feels bittersweet, as we've decided the fourth season will be the final instalment of our show. This was not an easy decision to make, but as the themes and stories of the new season crystallised, it became clear this was the right time to graduate."
The letter concluded by saying "Goodbyes are the worst, but let's celebrate the good times we've had. Laurie xo."
Sex Education season 3 recap
It's been a long summer, so we'll get you up to speed with everything that happened in Sex Education season 3.
Otis and Ruby got together but broke up after responding, "That's nice" to her declaration of love for him. Jean had her baby and decided to raise her (Joy) on her own.
Maeve and Isaac called it quits when Isaac clocked on that she still had feelings for Otis. Eric kissed another boy in a club and broke it off with recently 'out' Adam, and realised he was probably more invested than he was.
Maeve and Otis finally admitted that there was still unfinished business between them after avoiding each other all season but Maeve was accepted to a Gifted and Talented International Programme and left to go Stateside.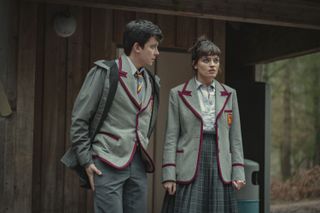 Sex Education season 4 cast members
While the heavy hitters of the show – like Gillian Anderson and Asa Butterfield – are still involved, you might be wondering why are some of the Sex Education stars missing?
Patricia Allison (Ola), Chaneil Kular (Anwar), Tanya Reynolds (Lily), Simone Ashley (Olivia) and Rakhee Thakrar (Emily) all didn't feature in the final season of Sex Education.
Patricia told the Capital 1Xtra breakfast show that she absolutely "loved being on Sex Education" but has decided to pursue other opportunities instead.
Simone, who is having a major break in Hollywood right now after featuring in the new rendition of The Little Mermaid and Greta Gerwig's Barbie), is currently filming Bridgerton season 3.
Writer of the show Laurie Nunn has said that their departures were deliberate and felt content with the characters' imprint.
She told Ladbible: "Those storylines felt like they had just come to a really lovely ending in series three, and I felt like the characters of Lily and Ola just really felt like they ended in a really happy place.
"Particularly because they're a lesbian couple, I wanted them to not have any more pain or trauma, and just be left happy together. So that felt like a very organic place to leave them."
Find out what's next for Sex Education's Ncuti Gatwa here and if you're wondering why some of your favourite Netflix shows are being interrupted by ads, this is the reason.
Parenting advice, hot topics, best buys and family finance tips delivered straight to your inbox.
Daniella is a qualified journalist specialising in fitness, nutrition and women's health. She has written for a number of consumer titles including Health & Wellbeing, Stylist, Women's Health UK, and Fit & Well.
With four years' experience in the wellness space, Daniella has tried and tested the best fitness kit on the market worth buying and has a keen eye for up and coming brands to look out for. She's also interviewed celebrities and co-produced a wellbeing podcast.