Who left Love Island last night - and which islanders could make it to the finals?
Wondering who left Love Island last night? Four islanders were sent packing after a public vote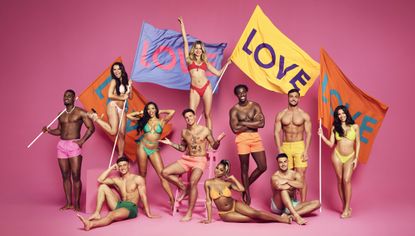 (Image credit: ITV)
GoodTo newsletter
Sign up to the GoodTo Newsletter. You can unsubscribe at any time. For more information about how to do this, and how we hold your data, please see our privacy policy
Thank you for signing up to . You will receive a verification email shortly.
There was a problem. Please refresh the page and try again.
You may well be wondering who left Love Island last night if you need reminding of the details of the most recent villa dumping.
As we inch closer to the Love Island 2022 final (opens in new tab), the drama is certainly hotting up in the Mallorcan villa with more and more contestants heading for the door.
Earlier this month, Jacques O'Neill quit Love Island just days after this year's dramatic Casa Amor. Prior to that, Chyna Mils and Jay Younger were voted out of the series, with Summer and Billy being dumped shortly after Jacques' departure.
On Friday two more islanders were sent packing following a surprise public vote, which saw Summer Botwe, Tasha Ghouri, Coco Lodge, Andrew Le Page, Josh Le Grove, and Deji Adeniyi at risk.
And Sunday night's episode saw not one but two couples dumped from the villa, with just a week to go before the 2022 winners are crowned.
Who left Love Island last night?
Last night (Sunday 23rd July) saw four islanders dumped following a public vote. It was couples Deji and Lacey and Reece and Nathalia who came last in the vote, with Danica and Jamie narrowly escaping being dumped.
Lacey, Reece and Nathalia spent just days in the villa, having entered as bombshells, along with Jamie, on Wednesday.
Meanwhile, Deji was brought back to the villa by Indiyah following a testing week at Casa Amor.
Fans of the show were particularly gutted to see Deji cut from the villa ranks, taking to social media to share their disappointment.
"Was hoping Deji would stay," one wrote, with another adding, "Danica is nice but I would have preferred Deji to stay."
Other annoyed viewers pointed out that the voting off process is unfair, with original villa residents often being favoured to stay.
"No point bringing in the new people, they get kicked off before they've even joined 😂," one commenter penned.
"The newest people, with the fewest followers, and the least air time leave, no shock there love island 🥴 Bring a fairer process," one more chipped in to agree.
Who has left Love Island so far?
The 2022 series of Love Island has once again seen a whole host of singletons come and go, with some choosing to leave and others having no choice but to pack their bags and go after a dumping.
Liam Llewellyn
Liam Llewellyn was the first of 2022's islanders to leave the villa, departing voluntarily after just 36 hours on the show.
Having been coupled up with Michael Owen's daughter, Gemma Owen, on day one thanks to a public vote, Liam was left single when Italian stallion Davide entered as a bombshell and re-coupled with Gemma.
Sharing news of his decision to leave the villa with his fellow islanders, Liam explained, "Obviously we all came here for the same sort of reason, but I haven't been giving 100 per cent Liam. I know what 100 per cent Liam is and I'm miles off that.
"Trying to find someone you leave the villa with that you love, that's the goal. But when you're not feeling that, it makes it a very hard sort of time to find that. I've been thinking long and hard, it isn't spur of the moment, so I've made a decision I'm going to leave the villa."
Afia Tonkmore
Afia joined the Love Island ranks as part of a double bombshell drop, arriving with Ekin-Su.
Afia's Love Island journey was cut far shorter than Ekin's when she was dumped from the island days after arriving, failing to couple up with any of the boys and find a romantic spark.
"Obviously I'm going to miss everyone in the Villa but I'm going to keep trying to find love. I'm sure Mr Right is out there somewhere. Initially I was attracted to Dami but then throughout the experience it was more Ikenna," she said after learning she was packing her bags and going home.
Remi Lambert
Bombshell Remi Lambert arrived in the villa with Scottish hunk Jay Younger but was dumped soon after when new girl Danica was given the power in a shock re-coupling.
With Danica causing waves by choosing to couple up with Luca, Remi was left without a partner and had to leave for good.
I'm a bit disappointed - I wish I could stay longer to get to know Indiyah and Danica mostly," Remi admitted as he departed.
"At the same time, I feel like it was my time to leave. I was getting mixed signals and I wasn't getting a clear answer from the girls."
Ikenna Ekwonna and Amber Beckford
Having entered the villa on day one as part of the original line-up, Ikenna and Amber were dumped after the public voted for their favourite boy and girl.
With Amber having been coupled up with Dami and Ikenna with Indiyah, the couples ultimately failed to find a spark.
After Ikenna and Amber's departure, Indiyah and Dami set their sights on one another.
Antigoni Buxton and Charlie Radnedge
Bombshells Charlie and Antigoni were the next to go after the islanders were forced to chose a pair to leave.
With the contestants opting to save Danica from the boot, songstress Antigoni said, "One of us was going to have to go, so obviously I'd rather I got to stay, but it is what it is."
"Perhaps I could have had a bit more chance to find someone but it is what it is," added Charlie as the two of them wheeled their suitcases away from the island.
Samuel, George, Jack, Cheyanne, Mollie and Jazmine from Casa Amor
With six new boys and six new girls being brought into the mix to stir up some drama as part of the annual Casa Amor challenge, the majority of the bunch were sent home after many of the original islanders decided not to recouple and bring them into the villa.
Ronan Keating's son Jack was among those to leave, along with Sam, George, Cheyanne, Mollie and Jazmine.
Jay Younger and Chyna Mills
Bombshell Jay and Casa Amor girl Chyna left the villa after coming last in a public vote along with Dami and Summer, leaving it up to the islanders to decide who stayed and who went.
It was Dami and Summer who were saved from being ditched, with the villa crew deciding to keep Dami on the island in order to pursue his connection with Indiyah.
Jacques O'Neill
Jacques was the second islander of the series to opt to leave the villa, breaking down in tears and saying his goodbyes when his romance with Paige was tested by the return of infamous former contestant, Adam Collard.
Upon his teary exit, former rugby player Jacques said that he needed to get back to "himself" in order to be his best self for Paige so that they can "work" as a couple on the outside.
""You're still enjoying your time here. I'm not. You just do what you need to do and listen, I'll be waiting for you, I will," Jacques added. "Just do what you have to do, it's fine. Don't even think about me when I leave."
Summer Botwe and Billy Brown
Events decor business owner Summer, 22, and roofing company director Billy, 23, were among the four contestants that got the lowest public vote but it was their fellow housemates who had to decide who they wanted to send packing. The boys voted to save Danica and the girls voted for Dami, resulting in Summer and Billy having to leave the villa.
The VIP party and #LoveIsland experience is over for Summer and Billy 💔 pic.twitter.com/NNkLM22f8ZJuly 20, 2022
See more
Who is left on Love Island?
The contestants still in the Love Island villa and who stand a chance of making it to the final are as follows:
Adam Collard - The 26-year-old personal trainer from Newcastle might look familiar to some Love Island fans as he spent four weeks in the villa during 2018's series but was dumped on Day 31. Ahead of entering the 2022 villa on Day 36 he vowed, "I'm going to ruffle a few feathers when I go in."
Luca Bish - A 23-year-old fishmonger from Brighton who revealed his best dating experience was taking a girl on a private plane for a first date. He said, "She wanted flying lessons. She flew the plane and I was in the back!"
Gemma Owen - The 19-year-old daughter of former professional footballer Michael Owen, is a dressage rider and business owner from Chester. Hoping to score love on the show, Gemma describes herself as "Fun, flirty and fiery," adding, "I think I'm good at giving advice, I'm a good person to talk to, I'm very honest. If I want the same guy, I'd do it but in a nice respectful way."
Ekin-Su Cülcüloğlu - The actress from Essex admits, "I'm quite picky and I'm not just looking for looks, I'm looking for brains! I'm looking for someone with intelligence, someone who can have good chats. Nothing like cockiness! I'm looking for a serious man and a serious relationship."
Davide Sanclimenti - A 27-year-old business owner originally from Rome and now living in Manchester. "I think Love Island is going to be so much fun. I'm going to be the Italian stallion in the Villa! With my Italian charm, I can also be a very romantic guy," he said.
Tasha Ghouri - A 23-year-old dancer from Thirsk who describes her dating life as a "shambles" and claims men are intimidated by her.
Andrew Le Page - He's the 27-year-old real estate agent from Guernsey, now living in Dubai. "I've got the apps, the chat is quite fun. But I definitely prefer meeting people on a night out - it's a lot better in my opinion," he confessed.
Dami Hope - the 26-year-old senior microbiologist from Dublin revealed his pet hates on dates, "Bad hygiene or girls that talk about money too much. I like material things myself but it can get too much. "I like girls that have initiative to be like, 'No I'll get this'. Even just showing me that, I'll still pay," he admitted.
Indiyah Polack - As a 23-year-old hotel waitress from London, she promised to bring 'a lot of flavour and vibrancy' and added, "I feel like I'm quite a down to earth person, so it shouldn't be an issue to meet a lover or a friend."
Paige Thorne - The 24-year-old paramedic from Swansea is hoping she can find love outside her hometown, "In Swansea there is just no-one I can find, I've tried and there's just nobody there anymore."
Danica Taylor - As a dancer from Leicester, aged 21, she joined Love Island on day 12, and threatened to shake things up in the villa. "I am definitely going to go in there and step on a few toes and I am more than happy to go after what I want," she teased.
How can I watch Love Island?
You can watch Love Island weeknights and Sunday nights 9-10pm on ITV2 and the ITVHub with a special highlights show Love Island: Unseen Bits aired on Saturday nights. Love Island is also available to stream on BritBox but you will need a subscription (£5.99 per month rolling contract or £79.99 per year).
The Love Island Aftersun is a weekly live studio show that keeps fans updated on the series so far, hosted by Laura Whitmore, it airs on Sunday nights.
If you're planning to go on holiday but don't want to miss a thing, fear not, while you can't watch Love Island live abroad, you can still watch on catch up just make sure that before setting off, if you download ITV Hub, then you'll still be able to watch every episode of Love Island outside of the UK.